HelpAge International received the Hilton Humanitarian Prize at the Global Philanthropy Forum in Washington, D.C. on April 16.
HelpAge International is the only global organisation with a singular focus on providing assistance to and advocating for disadvantaged older people. It helps older people claim their rights, challenge discrimination and overcome poverty, so that they can lead dignified, secure, active and healthy lives.
The current Chairman of HelpAge International and HelpAge Sri Lanka is well-known Sri Lankan business leader Tilak de Zoysa, President of Associated Motorways (Pvt) Ltd., and former Chairman of the Ceylon Chamber of Commerce.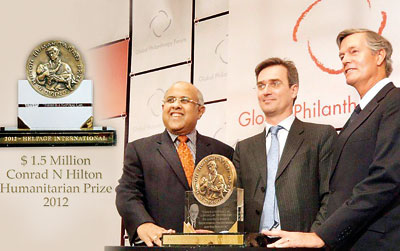 HelpAge International Chairman Tilak de Zoysa, HelpAge International CEO Richard Blewitt and Conrad N. Hilton Foundation President and CEO Steven M. Hilton in Washington D.C. on April 16.
At $1.5 million, the Conrad N. Hilton Humanitarian Prize is the world's largest humanitarian award. Inaugurated in 1996, the annual award is presented to a non-profit organisation judged to have made exemplary and extraordinary contributions in alleviating human suffering. Following initial background and legal review, the Hilton Humanitarian Prize staff conducts an extensive evaluation of the candidates, before submitting to an independent, international jury that makes the final selection.
World Bank President D.C. Robert Zoellick, made the keynote address at the award ceremony. HelpAge International CEO Richard Blewitt accepting the award paid tribute to the millions of older people throughout the world who struggle daily with extreme poverty and discrimination. "It is through their considerable achievements and passionate selflessness that the world has become a better place for their grandchildren and ours. This day is theirs. This award is theirs. It is our privilege to accept it on their behalf," he stressed.
Some past recipients of this award are Handicap International (2011) Aravind Eye Care System (2010), International Rehabilitation Council for Torture Victims (IRCT) (2003), SOS Children's Villages/SOS-Kinderdorf International (2002), Doctors Without Borders/Médecins Sans Frontières (1998), and International Rescue Committee (1997).
The Conrad N. Hilton Foundation selects independent jurors from around the world whose experience in the humanitarian and development sectors uniquely position them to identify exceptional organisations.