Corporate sector financial support is needed by students and undergraduates to become successful entrepreneurs so that they could support the development of the country. Unfortunately today, the university system in Sri Lanka is not producing even 5% in entrepreneurship, according to Chandra Embuldeniya, former Vice-Chancellor, Uva Wellassa University, a university set up to nurture entrepreneurial skills. He was speaking at the launch last week of this year's "HSBC Youth Enterprise Awards 2012", a business plan contest aimed at recognizing young entrepreneurs in Sri Lanka held at the British Council.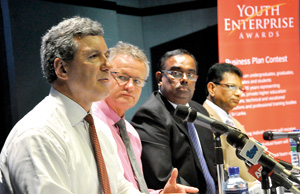 At the launch
The contest jointly conducted by HSBC and the British Council is open to Sri Lankan undergraduates, postgraduates and students aged 16 to 26 years representing universities, private higher education institutions, and professional training bodies in Sri Lanka. Mr Embuldeniya who was assigned the task of 'Lead Judge' at this contest, further said that students do not have money to further their innovative findings and entrepreneurial skills. Therefore as in the present case where HSBC is funding the contest, the corporate sector should support these students.
He said that innovations should come from the university system. On the sidelines of the event, Mr Embuldeniya told the Business Times that the country requires persons with high entrepreneurial skills for the country's ongoing development strategy and the universities could accommodate such skills training. Nick Nicolaou, CEO, HSBC Sri Lanka and Maldives said that the HSBC's objective of identifying and recognizing young entrepreneurs of Sri Lanka works well with the British Council's objective of supporting and promoting enterprise education.
Tony Reilly, Sri Lanka Country Director, British Council said that the next generation entrepreneurs will drive Sri Lanka's economy. He said that the British Council has pioneered a number of initiatives to promote graduate entrepreneurship in Sri Lanka by working closely with the Ministry of Education, University Grants Commission, Vice Chancellors and Lecturers in Sri Lanka and UK's entrepreneurial universities. This year the prize money has been enhanced and the winning individuals/teams will receive Rs 500,000; the first runner up individual /team will receive Rs 200,000 and the second runner up individual/team will receive Rs 100,000 as cash prizes to implement their winning business plans.