At least 1000 depositors of the Golden Key (GK) credit card scheme which collapsed in 2008 have filed fresh appeals to the Supreme Court in a new effort to regain their lost money. This came as one desperate depositor threatened to commit suicide along with his wife and children if the failed company didn't return his money. Earlier in the week, in a dramatic and often emotional move, depositors filed petitions (affidavits) in court urging the judiciary to help them as they are not in a position to present their case to any other court. The fresh information was filed in their FR case against objections filed by Lalith Kotelawala, former Chairman of the Ceylinco Group and GK directors.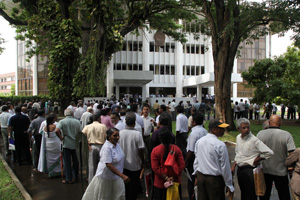 Waiting to file appeals. Pix by M. A Pushpa Kumara
People who deposited their hard earned money keeping faith on Mr. Kotelawala have faced severe difficulties since 2008 December and the GK scam has led to the suicide and deaths of 23 persons, including freelance journalist G.S. Manamendra.
Mr Manamendra committed suicide in August in 2009 by hanging at his apartment in Colombo as he was depressed over the loss of his deposit. Well-known musician Peter Prins was another victim of the Ceylinco scam along with Bietrice Mendis of Kohuwela. Another depositor who had invested Rs. 20 million committed suicide by hanging at his residence in Mount Lavinia and another, M. Dhanapala died due to the pain and illnesses he suffered as a result of the loss of his money. From Monday to Wednesday, several depositors waited patiently in long queues to file their petitions as the court authorities had given permission for 10 depositors to enter at a time, over these three days.
They appealed to the Supreme Court to continue their fundamental rights case, as the Chief Justice had earlier ordered that the case now before the Commercial High Court for the liquidation of GK be proceeded with and a liquidator would be appointed. These depositors noted that they were in financial difficulties and they cannot afford to go to any other court to get back their deposits given to GK which crashed some years back, triggering a part collapse in finance companies. Several of them in their affidavits mentioned that they cannot even afford one meal per day due to financial difficulties as they depend on the interest of their deposits earlier. A 73-year-old depositor told the Business Times that they were urging President Mahinda Rajapaksa to consider the plight of the approximately 8,000 GK depositors who are still awaiting their payments and make arrangements to repay the matured deposits as soon as possible.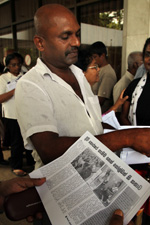 Saman Shantha
Haththota Ralalage Saman Shantha (48), a resident of Rambukkana who deposited Rs. 30.5 million, said he plans to start a hunger fast in front of a Ceylinco branch in Kegalle. He has threatened that if he doesn't receive a response he would take his whole family in front of a Ceylinco head office at Havelock Road, Colombo, and set fire to himself, wife and children in a family-pact suicide.
Veteran Sinhala film actor Baptist Fernando, among those filing petitions, told the Business Times that his life-time savings had gone with the wind following the GK collapse. He had led a decent life with interest he received from the GK deposit. But today he is finding it difficult to live as the cost of living is very high.
Ajith Perera, confined to a wheel chair a year after the GK collapse, said that he suffered a stroke due to mental stress and financial difficulties. With tears in his eyes he said that he is now suffering alone in a wheel chair and there is no one to look after him thanks to Lalith Kotelawala. In their affidavits, the depositors informed the Court that Mr Kotelawala had failed to repay the depositors the money they had deposited with the company though giving an undertaking in Court 30 months ago that he would do so by disposing of his assets and personal wealth.
It was on that undertaking that Mr Kotelawala was given bail and the depositors were now urging the Court to revoke the bail order owing to failure on the part of the former Ceylinco chief to keep his side of the bargain. Kotelawela and GK Director Kawan Perera, recently filed objections in Court - in the fundamental rights violation application filed by the aggrieved depositors, seeking to dismiss the case.
Chairperson of the GK Depositors Society Anusha Emmert told the Business Times that all depositors were in favour for hearing the case in the Supreme Court. They have no money to pay for lawyers to go to Commercial High Court for arbitration. For the past 18 months, not a cent has been repaid to GK depositors, she said, adding that it was the Supreme Court which authorized the payment of Rs. 100,000 rupees each to depositors on two separate occasions.
GK had a deposit base of Rs. 26.5 billion with 9,054 depositors making it one of the biggest asset-based financial institutions before its downfall in December 2008