Triple S Shipping, the company to which the country's sole surviving cargo vessel, the 'Lanka Mahapola', was leased in June last year, at US$ 1,000 per day, is in the red Rs. 43 million to Ceylon Shipping Company (CSC), the owner of the ship, maritime officials said yesterday.
According to officials, the shipping company is alleged to have bungled the smooth operations of the vessel, by not complying with maritime laws and regulations, and the non-payment of wages to the ship's crew.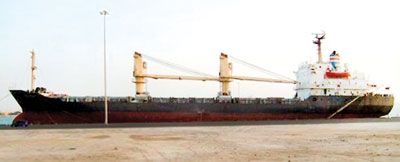 Lying in Durban awaiting its fate: The cargo vessel, Lanka Mahapola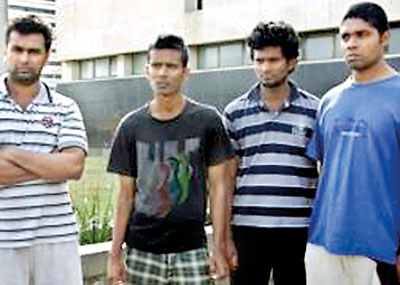 Some members of the crew members after they were released in Durban
"Triple S Shipping is in arrears to the State, but I cannot give the exact figures right now," CSC Chairman Kanchana Ratwatte told the Sunday Times. He also conceded that the shipping company had messed up in its operations that eventually led to the seizure of the vessel in Durban.
"Payment of the crew's wages, maintenance of the vessel and all other procedures is the responsibility of the shipping company. What has happened in Durban is disturbing, and the shipping company must take total responsibility," Mr. Ratwatte said.
Officials of the International Transport workers Federation (ITF) in Colombo said that the vessel which was commissioned in1984 - an outright gift from Japan - has outlived its life, and hence was not seaworthy.
"It is a floating coffin and should be sent to the scrap yard, which is probably going to be its fate in Durban, once the officials finish a full inspection of the vessel," they said. The ship was initially arrested on May 17, on a court directive, after 13 Sri Lankan crew members complained of non-payment of wages and poor working and living conditions aboard the vessel.
Following the court directive, the authorities in Durban boarded the ship for inspection and found the safety and living conditions appalling, while the vessel was without proper documents and whose sailing certificates had expired, the officials said.
"It has no insurance cover, simply because it had outlived its time and was not fit for sailing," one former senior officer of the Lanka Mahapola told the Sunday Times. The officer who signed off from the vessel in December last year, along with 15 others, following a heated standoff over non-payment of wages, said the ship would never be allowed to return home, but instead, will have to be sold for scrap.
He added that the shipping company was still in arrears of a month's wages to the 16 crew members who signed off in December last year. Officials with Triple S Shipping could not be reached for comment, as they had left for Durban to settle the ongoing standoff with the local authorities.