As British High Commissioner to Sri Lanka, one of my favourite duties is marking Her Majesty Queen Elizabeth's birthday each year. This year is particularly special, as we celebrate Her Majesty's Diamond Jubilee. Around the world, hundreds of events this weekend will pay tribute to her personal contribution as head of the Commonwealth and as a monarch who has been a constant through sixty years of dramatic change in Britain and the world.
In my role I spend a lot of time thinking and talking about the UK. And the Jubilee celebrations this weekend mean that others are also focussing on what the UK means and represents. So I would like to share my personal reflections on the UK and the Commonwealth on this special occasion.
When I talk to Sri Lankans about my country, many comment on our traditions and history. They picture men in bowler hats carrying umbrellas, the traditional guard changing ceremony at Buckingham Palace, idyllic cottages in green fields and beefeaters protecting the Crown jewels. We are proud of the traditions.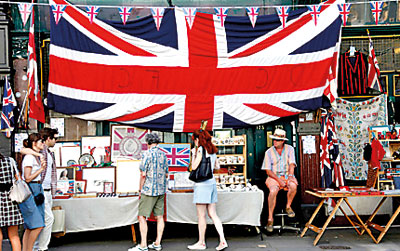 A large Union Jack Flag hangs above an antique store in west London as celebrations to mark Britain's Queen Elizabeth's Diamond Jubilee begin. Reuters
And many Sri Lankans also know the UK as a modern country. People have commented to me on how the London Eye has come to dominate the capital's skyline, on the world class shopping and on fantastic modern art galleries. To many thousands who have studied in the UK, it represents the best possible education. And to others, it means fantastic business opportunities. Even Sri Lankans who haven't visited the UK understand modern Britain through film, music and literature, or will come to do so watching the Olympics and Paralympics this summer.
These are some of the many things that make me proud to be British. And my long list of reasons for believing the UK is a great place to live and visit brings me to the thing that really makes the UK stand out.
Of all the comments Sri Lankan visitors to Britain make, the most common and positive is their enjoyment of its diversity. There is huge racial and cultural diversity, brought by the thousands of immigrants who enrich British society every year. But I also mean the diversity of viewpoints, of religious beliefs, of lifestyles and of politics found in the UK. This diversity is reflected in every facet of British life, from restaurants serving every imaginable variety of cuisine, through education which accommodates people from all backgrounds, to legislation which outlaws discrimination on any grounds.
The UK of course faces challenges, such as increasing minority representation in politics and administration. But the lesson of the last 60 years is that we have a richer and more diverse society because we have come not just to tolerate differences, but to celebrate them.
Her Majesty's Jubilee is also a celebration of the Commonwealth, as a group of independent nations united by common values. To me, the strength of the Commonwealth is the same as the strength of the UK - that we are strengthened and enriched by our differences. It is an organisation that creates links between individuals around the world, links that are essential to promoting understanding and acceptance of different viewpoints, as well as shared values. It is easy to be scared by difference, but the Commonwealth helps overcome this, ultimately helping to create a better and more tolerant world.
Part of my role here is to understand Sri Lanka better, just as Sri Lankan diplomats in London are tasked with understanding the UK. But this is not just important at government level. It is also essential that people learn to know each other better, across borders and within them. It is only when we really listen to what others have to say that we can start to build bridges and create the peaceful and tolerant societies we want to live in.
So I hope that all Sri Lankans will join me in celebrating Her Majesty's 60 years on the throne, and will use this opportunity not just to look back, but also to look forward. The changes wrought over the past six decades have changed the world, and in most ways improved it. By remembering what unites us and recognising that differences do not have to divide people, we can continue to make it an even better place to live.
(The writer is British High Commissioner to Sri Lanka and Maldives)