7th September 1997
Contents
---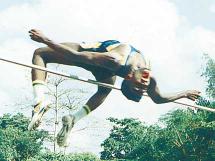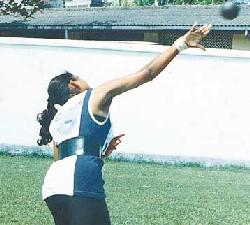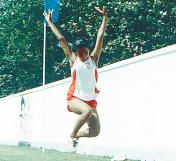 ACTION AT THE JUNIOR ATHLETICS CHAMPIONSHIPS. From left: Sandamalee Weerasinghe of Ave Maria Convent Negombo throws the putt to set up a new achievement in the Under - 16 girls event. Janaka Rajapakse of Ibbagamuwa Central goes over the bar at 1.97 metres to establish a new record in the Under - 20 boys high jump. B.Wasanthi of Olaboduwa MV clears a distance of 10.31 metres to win the Hop-Step -and Jump for girls under 18. - Pictures by Dunstan Wickremaratne.
---
Outstation athletes excel at Junior National Athletic Championships at Shalika Grounds Narahenpita
By Annesley Ferreira
Two more records were set on the penultimate day of the Junior National Athletic Championships, bringing the tally of lowered records to three at the Shalika Grounds, Narahenpita.
The second and third records were in the Under 20 age group: 400 metres hurdles and the shot putt events respectively.
J.M.A.K.Jayasundare of the Army accounted for his own record in the 400 metres clocking 54.6 seconds whilst his old record stood at 55.5 seconds and S.Anura Prasanna Silva of St. Sebastian's Moratuwa improved on the old mark of 12.68 metres with a heave of 13.09 metres in the shot putt event.
The first record belonged to Upul Rajapakse of Ibbagamuwa MMV in the high jump event for boys under 20.
Rajapakse cleared 1.97 metres thus shattering the existing record held jointly by B.M.Piyadasa and Milan Fernando of 1.95 metres.
The second place in this record breaking event was won by Dinesh Harsha Jeeva of Anuradhapura MMV who cleared 1.80 metres with Randika Sampath of Asoka MV Colombo in third place clearing 1.75 metres.
The winners of the respective events are:
Boys under 23
Discus Throw - Amil Mohan - St. Sebastian's, Kandana 36.22 metres
Long Jump - Sampath Weerasinghe - Pannala MV 6.68 metres
800 metres - S.A.N.V. Bandara - Vidyartha - 1 minute 56.6 seconds.
400 metres hurdles - Roshan Priyantha (Puttalam DCA)
Boys under 20
Javelin Throw - Chandimal Thilakaratne (Balangoda MV) - 57.52 metres.
Under 16 - R.G.A.I. Ranatunga (Ananda) - 12.87 metres.
Girls
Under 23 - Long Jump - S.C.K. Ranasinghe - Mahamaya - 5.26 metres.
200 metres - N.S. de Soysa - Sri Lak - 25.7 seconds.
Discus Throw - Anuradha Rodrigo - University of Colombo - 36.66 metres.
800 metres - Ramani Subasinghe - Army - 2 minutes 24.8 seconds.
Under 20 High Jump - Ruwani Pattiarachchi - Thakshala MMV Horana - 1.56 metres.
400 metres hurdles - Jayanthi Mangalika - Puttalam DCA - 1 minute 11.4 seconds.
800 metres - Purnima Nivanthi Somarathna - Sumana BMV Ratnapura - 2 minutes 27.0 seconds.
Javelin Throw - M.M. Subasiri - 32.06 metres.
Under 18 - Triple Jump
B. Wasanthi - Olaboduwa BMV Ratnapura - 10.31 metres.
800 metres - Niroshini Jayasinghe - Sumana BMV Ratnapura - 2 minutes 31.4 seconds.
Under 16 - Shot Putt - L.S.S. Weerasinghe - Ave Maria Convent Negombo - 8.49 metres.
---
KATHMANDU, Sept 6 (AFP) - Sri Lanka Saturday defeated Pakistan 2-0 on the third day of the 100,00 dollar South Asian Football Federation (SAFF) Championship Gold Cup here.
Pakistan could not match the pace and brilliance of the Sri Lankan players.
After a goal less first half, Sri Lanka's Roshan Perera took the ball eight minutes into the second half, dribbled past a stream of Pakistani players and put the ball in the back of Pakistan's net.
Sri Lanka's M. Amanulla repeated the feat 41 minutes into the second half.
Pakistan seemed to lack tactics and confidence, depriving them of baldy needed goals, although the same Pakistani team easily defeated Nepal 2-0 in the tournament's first game on Thursday.
---
Sri Lanka turned in a sizzling performance to pull off a 49-42 win over Malaysia in the final of the Asian Netball Championships concluded in Kuala Lumpur yesterday.
The scores were dealocked at 23 each at 'lemons'.
'A red carpet welcome awaits the Sri Lanka netball team', said an official of the Sports Ministry when contacted yesterday. Sri Lanka had to compete with teams from Singapore, India and Malaysia at the championships.
The Sri Lankan girls were far superior to the other teams in the competition as they excelled in positioning, speed,skill and overall play to win the title.The team is expected to return today.
---
Sri Lankan rugby fans will be lucky to watch some leading foreign teams in action here for the first time at the Singer Cup 75th Anniversary celebrations of CR&FC, to be held at Longden Place from September 11 to 20.
CR&FC and Kandy SC, the two leading rugby clubs in Sri Lanka, will scrum down with NSW County RFC, De A Hong Kong, Dubai Exiles and North Court Berken Head SC.
The tournament will be played in two groups with the champions and runners up meeting in the semi finals on Wednesday and Thursday, September 17 and 18, followed by the final on Saturday September 20.
All matches will be played at 5 p.m.
CR&FC will meet NSW Country RFC in the opener on Thursday September 11, while Kandy SC will take on Dubai Exiles on Friday September 12th. This game is expected to be keenly contested.
On September 13 CR&FC will battle De A Hong Kong with Dubai Exiles coming out for the second time meeting North Court Berken Head on Sunday September 14th.
On September 15 and 16, NSW Country RFC will encounter De A Hong Kong and North Court Berken Head will contest Kandy SC in deciding the semi finalists. - (AF)
---
President's Trophy rugby final
By Bernie Wijesekera
It's going to be yet another battle royal between the two leading club rugby teams in Sri Lanka. Defending champions Kandy S. C. led by Lasantha Wijesuriya and CR & FC led by Alfred Hensman are expected to provide top flight rugby today in Carlsberg President's Trophy at 5 p.m. at Longden Place.
This season Kandy S.C. has got the better on three occasions against CR&FC in both the Div. 'A' league at home and in Colombo to win the Carlsberg league championship.
This was followed when they beat CR&FC in the Clifford Cup final.
Today's final will be the fourth time that the two teams will clash in the final.
Playing under tremendous pressure, the red shirts will go flat out against the high riding Kandy S. C. who have reigned supreme - thanks to their tough foreign players.
The foreigners have helped clubs to win trophies, but they are not eligible to play in the national team, though other countries have foreign stars to represent the country.
The two semi-finals saw Havelocks S. C. lose to CR&FC 16-5, while CH&FC went down fighting to Kandy SC. It was due to the return of KSC No 8, and Sri Lanka's ace Priyantha Ekanayake, who walked into the middle at half time that proved the decisive factor for the defending champions.
It will be tough going for Kandy S. C. as their forwards will have to give their best against CR&FC, who will be going flat out against their opponents, with a set of tough forwards.
Unlike the earlier opponents that Kandy S. C. played, the CR & FC too led by wiry Alfred Hensman have players of class such as wiry Alfred Hensman, Shanitha Fernando, Savantha de Saram, Viraj Prasanna, Paul Benett, Anslem de Zilva and Shantha Rohana who are strong, fit and fast in the open who can outplay their opponents.
Both teams have a penetrative back division to make gaping holes in the oppenent's defence. The team that will dominate this match will be the team that has a skillful back division.
Though the foreigners have been the winning factor in the respective teams, it will depend how well the local players use their skills.
CR&FC have the edge over Kandy S.C. with their halves combine of Champika Nishantha and Asanga Rodrigo, against Tuan Bohoran and Nalin Dissanayake.
This is one reason why the selectors make it a point to watch the other games, when they look for players for the national team.
Whatever the outcome, this final is bound to be great and a match to be remembered.
With a view to encourage fans to come in their numbers, the S. L. R. F. U. has decided to reduce the price of the tickets for this final - open Rs 10 and covers Rs 30.
The CR&FC team will be picked from the following; Shanitha Fernando, Viraj Prasanna, Shantha Rohana, A. de Zylva, C. Hapugoda, Alfred Hensman (Capt.), S. de Saram (No. 8), Champika Nishantha, Asanga Rodrigo, Harien Perera, Paul Benett, N. Raheem, L. Musafer, C. Chinthaka, I. de Silva, Harien Gabriel.
---
---
A cricket note from New Delhi
By Bandula Jayasekara
Wherever I went, the Indians spoke to me of Sri Lankan cricketers for whom they have great respect, for they say that the Lankan cricketers are very humble and down to earth.
Female fans think that Arjuna Ranatunga is rolly-poly. They like his cool and calm ways. They have heard about his love for 'buth' curry and want to feed him with Dosai, chappati and chicken tikka when he visits India in December.
The girls are sad because Aravinda loves cars more than girls!
I am writing what the female fans of India said to me and they want Marvan Atapattu to have more hair or to wear a cap all the time and smile more often. Roshan Mahanama and Hashan Tillekaratne are considered very good-looking and how disappointed they were to hear that the two cricketers were married. They had only one more complaint. Kaluwitharana is too short one girl said and he cannot be seen behind the wickets!
One Indian newspaper carried the headline 'Doctor Sanath Jayasuriya, as Sanath had said that he would have become a Doctor of Medicine if not for his cricket. Sanath was in southern India to open a jewelllery shop with Indian cricketers Rahul Dravid, Abey Kuruwila and Ravi Shastri recently. Wonder what Shastri was doing? Jayasuriya was forced to leave early as cricket fans surrounded the open jeep he was travelling in. Company heads in India have a new method for motivating their staff. They say, "Be like Jayasuriya. Be a Man of Action".
Sports Star' has given much prominence to our Murali's story this month. Indian Airlines carry the magazine and it reaches out to many, giving Lanka the much needed publicity, specially among business travellers. High Commissioner Mr. Mangala Moonesinghe is a very happy man. I was told how excited and thrilled he was when our boys kept on winning and winning. He is looking forward to their visit to India in December.
I contacted our first Test Captain Bandula Warnapura to get an interview for The Sunday Times after the Test series and he said: "I am sorry I cannot speak to the press on legal advice but speaking to the electronic media is OK".
However I was surprised to read the Indian Express recently. It was Warnapura all the way. A very candid interview with H. Natarajan of Indian Express. I am sure Bandula will not mind me sending this article to The Sunday Times to reproduce it for our readers, this week. But we are not electronic. Read on. It is very special.
---
Harischandra Nanayakkara better known as "Nana" emerged triumphant in the Seychelles Scrabble Association's 1997 National Championship held at Scouts headquarters, Stade Populaire, Seychelles in mid July 1997.
Nana a Sri Lankan hailing from Imaduwa in Galle district had his primary and secondary education at Royal College Colombo before joining Colombo University where he completed his BSc degree. He joined his alma mater as a teacher of physics in 1965, where he was made warden of college hostel since 1973 and was master in charge of 1st XI cricket and college rugby teams. During this period he was able to mould the young Royalists to become schools rugby champions and went on to produce the champion 1979 centenary team which was captained by Ranjan Madugalle.
Having left Sri Lanka in February 1981 Nana was among the handful of Sri Lankans living in Seychelles at that time. However his love for cricket and other sports never in anyway dried up and he represented Seychelles at club level cricket earning much respect both as a player and a master tactician. He excelled in bridge and was the president of Seychelles Bridge Association.
Well, his greatest love was scrabble and after missing Seychelles crown by narrow margin in 1994,95 and 96(runner up) he achieved his cherished goal in 1997 to reach the top to Seychelles scrabble.
The final was a repeat of last year's encounter between Nana and Johnson Fasuba in which Nana had lost by the narrowest of margins, three games to two with one game tied.
The first game of this year's best of five series was a close battle, Nana edging ahead with "leisure" and Johnson hitting back with "attired" as both players searched for those elusive seven letter play 50 points bonuses, known amongst scrabble enthusiasts as a bingo play.
Nana finally captured the game one by 373 points to 358 following some well placed shorter words in the closing moves. Game two saw Nana run out a comfortable winner by 403 points to 339.
Game three almost saw Nana take the championship in a clean sweep as he landed "troupes" early on before Johnson struck back with "inbreed". With his last play of the game, Nana found a gap for "storage" to go ahead by 42 points and take the last three letters from the bag. Johnson saved the whitewash with a magnificent bingo play of "dusting" to snatch the win 450 points to 397.
All Seychellois and Sri Lankans living in Seychelles have now pinned their hopes on Nana to bring home the World Crown and the prize money of $25,000/- at the world scrabble championships to be held in Washington DC later this year. The Seychelles Scrabble Association is now looking forward for sponsorship where this is only the second such occasion that Seychelles is represented at world scrabble championship. Compiled by D.H. R
---
H. Natarajan Colombo
Bandula Warnapura was Sri Lanka's first Test captain. He was also the man who led the infamous Sri Lanka rebel team on the tour of the then apartheid South Africa in 1982-83. In a candid interview with The Indian Express, Warnapura discloses the men who were responsible for organising the tour and how he is still being hounded for the 'crime' for which he has served out punishment more than anyone else.
Warnapura admits that finance was one of the reasons for undertaking the tour. "But more than that it was the pressure I was under from some of the senior Board of Control for Cricket in Sri Lanka members. I was not sure if I was wanted in the side. They were gunning for me. So, after some hesitation, I decided to secure my future," he explains.
What pains him most is the fact that the men who organised the tour are holding key positions in Sri Lankan cricket, while he is still the target of some elements. "The tour was the brainchild of Tony Opatha, Duleep Mendis and Roy Dias. When we (the rebels) were in South Africa, the official Sri Lankan team was in Zimbabwe. Duleep, Roy and DS (de Silva) wanted to join us directly from Zimbabwe but could not do so as their passports were withheld by the Manager (K.N.T. Perera)—obviously under instructions from the Board. They had signed the documents (to be part of the team in South Africa) and I still have the copies of their contracts with me."
Warnapura says that Mendis and Dias backed out after they were spoken to by Minister Gamini Dissanayake. "Had he spoken to a few others and given some assurances like he gave to Duleep and Roy, the tour would never have taken place. Duleep and Roy were made captain and vice-captain respectively for two years when the Lankan Board policy was to make such decisions on a series-by-series basis. But the impression we got was they wanted us to go. There is freedom of movement in our country, so even the Government could not have stopped us."
Warnapura accepts that the decision of the rebels to go to South Africa did not go well with the people of Sri Lanka. "What, however, changed their attitude was the 25-year ban that was slapped on us when no attempt was made to stop us from going to South Africa. In fact the ban was slapped on us even before we played our first match in South Africa.
It was nine years after the ban that an inquiry was initiated by the Sports Minister, who then requested the Board to lift the ban. Warnapura's ban was for nine years, a year longer than the rest of the rebels.
"The ban was slapped without any inquiry. How can anyone be charged in a civilised society without a trial?" he asks.
"The 25-year ban was at all levels — domestic and local. It came as a complete shock to us.
We thought our punishment would be on the lines of that faced by the English rebels, who were banned from playing for England but not from the counties." Warnapura feels that had the Board conducted a proper inquiry, a lot of things would have come out like the people who masterminded the tour. "The people who organised the tour and picked the team went scot free. Today Duleep is the manager of the Sri Lanka team and Roy is a national selector."
Warnapura says that Opatha, in fact, wanted to give evidence against the players in the inquiry. But why ? "Maybe somebody would have assured him too of something. Anyway, he has realised that what he did was wrong."
Warnapura says that the ban, personally, was a blessing. "I learnt a lot in those nine years. I can now prepare turf wickets, do coaching and do cricket commentaries. Of course, if they had known I would do all this, they would have banned me from all these activities too."
Most of the rebels bought houses from the money they earned in South Africa, but almost everybody got into unemployment problems. It was an added blow for most of them.
Warnapura, Ajit de Silva, Anura Ranasinghe and Mahesh Goonatillake were the only Test players in the side, but there were several others who would have in good time earned the national colours.
Warnapura is candid in saying that in similar circumstances he would still have done what he did then. "Anybody would have done the same thing. Why else did Duleep and Roy want to join us in South Africa after the 25 -year ban was slapped on us ? "
Warnapura is determined that the 'real truth' must surface. "The real truth has not come out yet. Only a part of it is known. Before I die, it will all be documented in a book.
| HOME PAGE | EDITORIAL/OPINION | NEWS / COMMENT | BUSINESS | PLUS
Please send your comments and suggestions on this web site to
info@suntimes.is.lk or to
webmaster@infolabs.is.lk