---
CH teams display Sevens power
CR beat arch rivals Havelocks 14-7
By Bernie Wijesekera
Defending champions CH and FC 'A' and their 'B' teams, playing true to form are strongly tipped to make it to the last four in the Cup championships of the Carlsberg sponsored rugby "sevens", played for the Denzil Kobbekaduwa trophy, worked off at the CR and FC Grounds, Longden Place yesterday.
Last year's runners-up, Kandy SC and CR and FC 'A' teams, too are in the fray, along with "dark horse", Army 'A'. Both these teams can put on tremendous pressure for the defending champions.
CH, led by Jude Pillai have some outstanding "sevens" players in their ranks. The gutty soldiers, despite exigencies of duty, gave a gutty display, where both their 'A' and 'B' teams provided much excitement in yesterday's play, to make their way to the last six in the 'Cup', which is a commendable performance indeed.
The best match for the day was the tie between CR and FC 'A' and traditional rivals, Havelocks 'A', where they fought out a relentless battle. Ultimately, CR triumphed by 14 points to 7. Army 'A' ran riot against the Petersons 'B', crossing the line ten times- to win 64-nil (7 goals, 3 tries)- the hi
ghest score for the day.
In the Plate- Havelocks 'A', Petersons 'A' and the CR 'B' should be in the running for the title. In the bowl it should be an evenly matched contest, with two teams from the Air Force, and newcomers, Army Diyatalawa and Havelocks SC, fighting tooth and nail to come on top. With three services teams in the fray, it should turn out to be a survival of the fittest.
Today's matches should provide exciting fare to avid rugby fans and kick-off will be at 9 a.m.
Results.
CH 'A' bt Air Force 45-0,CR 'A' bt Havies 'A'14-7, Army 'A' bt Kandy 'B' 28-5, Kandy 'A' bt Navy 53-0, Petersons 'A' bt Havies 'B' 32-5, CR 'B' bt Air Force29-5, Galle RFU bt Air Force 'B' 17-7, CR 'A' bt Army (Diyatalawa) 50-0, Kandy 'B' bt Petersons 'B' 24-12, Navy bt Moratuwa University 28-19, CH 'B' bt Havies 'B' 12-0, CH 'A' bt Galle RFU 57-0, Havies 'A' bt Army (Diyatalawa) 36-0, Army 'A' bt Petersons 'B' 64-0 (7 goals and 3 tries), Kandy 'A' bt Moratuwa University 46-0, CH 'B' bt Petersons 'A' 40-7, Army 'B' bt Air Force-36-10.
Today's line-up: (Denzil Kobbekaduwa Trophy) Group A: CH and FC 'A', CR and FC 'A', Army 'A'. Group B: Kandy 'A', CH and FC 'B', Army 'B'. Plate (Group A) Galle RFU, Havies 'A', Group 'B': Navy, Petersons 'A', CR and FC 'B' Bowl Group A: Air Force 'B', Army Diyatalawa, Petersons 'B' Group B: Moratuwa University, Havies 'B', Air Force 'A'.
---
Inter-Con trophy sailing today
The Inter-Continental Trophy sailing event will be held today, at the Ceylon Motor Yacht Club at Indibedde, Moratumulla Bolgoda.
This event which is a Fleet Race for Beat class GP 14 and Enterprises 15 boats will take part. The one who is at the helm in the morning race must crew in the afternoon.
The defending champions in this event is Janaka and Upul from the Navy. The Inter-Continential Trophy is an annual sailing event held at the Bolgoda Lake, held for the past 24 years.
The General Manager of Hotel Ceylon Intercontinental Lal Leanage, will be the Chief Guest and give away the awards. An Optimist race for children has also been organised by the Optimist Convenor, Maria Olmin.
---
Tough tour for Lanka
First test - March 19-23
Second test - March 27-31
Triangular One day tournament
April 3rd - South Africa- Pakistan
April 5th - Sri Lanka-South Africa
April 7th - Sri Lanka-Pakistan (d/n)
April 9th - Sri Lanka-Pakistan (d/n)
April11th - South Africa-Pakistan
April 13th - South Africa-Sri Lanka
April 15th - Sri Lanka-Pakistan(d/n)
April 17th - South Africa-Pakistan
April 19th - South Africa-Sri Lanka
April 22nd - Final (d/n)
By Marlon Fernandopulle
The World One-day champions Sri Lanka, will go on a seven week tour to South Africa for two tests and a Triangular One day series on March 3.
It is the toughest tour undertaken after being elevated to Test level when Sri Lanka's team will face up to the South African battery of pacemen on fast, bouncy green tops to prove the teams capabilities in tests. An acid test for a team that has just three victories from 46 away tests.
Man to man the South Africans have the edge over the Lankans. However one area where the Lankans can match up to the South Africans would be their experienced batting line up.
Sanath Jayasuriya, Aravinda de Silva and Romesh Kaluwitharana have time and again displayed their skills on similar fast tracks and will be called up to shoulder the batting, De Silva in particular who is ranked among the best batsmen in the world today.
It's learnt that South African Barry Richards has corrected a few technical fault's of Mahanama, Atapattu and Jayasuriya. All this should augur well for the Lankan batsmen who will hold the key in this historical tour.
For middle order batsman, Hashan Tilekaratne it will be a make or break situation. Hashan is currently experiencing a lean period with the bat, but is expected to regain his lost touch in the two warm up games. If the left hander fails, young Mahela Jayawardena will be drafted into the final eleven for the first test.
Bowling will be an area of concern in the Lankan camp, as they attempt to contain the strong batting line up. Once again Chaminda Vaas and Muttiah Muralitharan will be Sri Lanka's trump cards. Ravindra Pushpakumara could also be lethal if he could concentrate on accuracy. The fast tracks will do the rest. With Sajeewa Silva, Wickremasinghe, Kumara Dharmasena and Upul Chandana Lanka's bowling boasts of variety but does not look threatening enough to bowl the South Africans out twice. Like Tilekaratne, Wickremasinghe is also expected to deliver the goods after his selection came in for a lot of criticism in cricket circles and even among some of the selectors.
The Lanka team which leaves on March 3 will play two three-day games and a limited over game before the first test.
---
Duncan White was the most graceful athlete
Former Royalist sprinter John de Saram says....
By Annesley Ferreira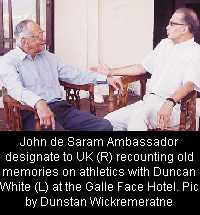 Duncan White who is 80 today will be celebrating his birthday by awarding Susanthika Jayasinghe the Duncan White Award at the Sri Lanka Foundation Institute at Torrington Square at 6. pm
While Susanthika receives her awards for the third successive year, Duncan White will be awarded the Deshamana Award, at a special ceremony to honour him.
In an exclusive interview with 'The Sunday Times', John de Saram who hero worshipped Duncan White was relaxing with Duncan at the Galle Face Hotel together bringing back memories of their competition though in different events.
While John, the former Royalist athlete excelled in the 100, 200, and 400 metre events, Duncan did the hurdles, both high and low.
John described Duncan as the most elegant, graceful runner in the world even now, and said that he could have done Sri Lanka (Ceylon) proud, had he be given a chance to run in the 1936 Olympics, when he was at his best, though winning the first silver in 1948, when he was thirty years old.
Duncan though a specialist in hurdles, went onto beat the top sprinter in Ceylon at that time, Upali S. Gunaratne, in the flat 100 yards.
Talking about Duncan's semi-final run in the Olympics in which he recorded the fastest time, he said he looked a certain gold winner.
At that time Roy Cockhran of the US Navy walked upto Duncan White at the starting point and said ôThis event is mineö. Cochran had been training for the race for three years and told Duncan so.
John told 'The Sunday Times' that Duncan White was deprived of winning the 400 metres hurdles Gold by just a fraction of a second when he missed his stride running on lane 7.
Duncan White was the first to win the prestigious Trinity Lion award, while ten years later the Minister of Foreign Affairs Lakshman Kadirgamar won the 'Lion' for athletics.
Duncan White also recalled his win over Donald Finlay of the RAF in the athletics meet beating the world's best hurdler in the 220 yards event who was one of the best hurdlers in the Berlin Olympics in 1936.
---
Colts, SSC lead
Colts SC and Sinhalese Sports Club lead their respective groups in the P.Sara Trophy (Segment A) tournament which is currently in progress. The top two teams from each group will qualify to play in the semi-finals at the end of the preliminary round games.
Group A
P WO WF LO LF ND POINTS
Colts 6 1 4 0 1 0 83
Bloomfield 5 2 1 0 2 0 67
NCC 6 1 1 0 2 1 63.5
CCC 5 1 2 0 2 0 53.5
Panadura SC 5 0 2 1 1 1 34
Police SC 4 0 1 1 1 1 21
Sebastianites SC 4 0 0 2 2 1 13.5
Matara SC 3 0 0 2 1 0 8
CCC forefeited 2 points for not submitting the captain's report vs NCC
Group B
P WO WF LO LF ND POINTS
SSC 4 2 1 0 1 0 63.5
Moors SC 4 2 1 0 1 0 63
Singha SC 5 0 3 1 0 1 45
BRC 5 1 0 2 2 0 43.5
Tamil Union 4 1 1 1 1 0 42.5
Antonians SC 3 1 1 0 0 1 32.5
Kurunegala YCC 5 0 0 3 2 0 14.5
Points forefeited
KYCC- 2 points for not submitting captain's report vs Antonians SC. 2 points for not submitting captain's reports vs Moors SC.
Tamil Union-0.5 points for incomplete score sheet.
Moors SC-0.5 points for incomplete score sheets.
M-matches played, WO-won outright, WF-won on first innings LO-lost outright, LF-lost on first innings, ND-no decision, P-Points
Tabulated from matches played upto 15.02.98. (MF)
Second Test between Pakistan & South Africa
---
Anwar extends Pakistan lead
Saeed Anwar's masterly, unbeaten 97 kept Pakistan in control of the second test against South Africa on Saturday as they took tea at 176 for three wickets ù an overall lead of 204.
Anwar, on the verge of his first century against South Africa and his fifth in tests, had faced 172 deliveries and struck 16 boundaries by the break.
Anwar and fellow left-hander Aamir Sohail extended their opening partnership to 101 in 35 overs before a tiring, struggling South African attack finally broke through.
Sohail, having concentrated on defence almost to the exclusion of attack, drove at a delivery from Allan Donald that slanted across him and edged a simple catch to wicketkeeper Mark Boucher. Sohail's 36 spanned two-and-a-half hours and 113 balls.
Two further wickets fell in the afternoon session although South Africa owed the second of them to a silly mix-up between Anwar and Mohammad Wasim.
Ijaz Ahmed missed a cleverly disguised slower ball from Fanie de Villiers and was bowled for 24 from 65 balls with three boundaries before the embarrassing mix-up resulted in a run out three balls later.
Wasim drove the ball to Hansie Cronje's right at wide mid on and called for an easy single. Cronje fumbled the ball, kicked it further to his right and Wasim called for an equally simple second run. Anwar, not concentrating, did not move and Cronje's throw to De Villiers found Wasim (5) stranded.
Allan Donald spent 45 minutes of the session off the field having ice treatment to an injured thigh muscle but returned before the interval and was expected to be fit to bowl again in the innings.
Earlier Cronje tacitly admitted the failure of South Africa's selection policy for this match by bringing himself on to bowl his very occasional off-spinners for five overs before the break. The selectors chose De Villiers as a fourth seamer for the match, relegating Pat Symcox and Paul Adams to the bench. REUTERS
---
Front Page| News/Comment| Editorial/Opinion| Business| Plus | Mirror Magazine