The show's tonight
Tonight, designer Andre Estefan will present his latest designer collection, 'The Australian Summer 2000 Collection' for men and women at the Atrium Lobby, Hotel Lanka Oberoi at 7.30 pm.
Estefan who has returned to Sri Lanka after a two year stint abroad emphasizes on the necessity to evolve a 'Sri Lankan identity' to clothing that are in keeping with our geographical, cultural and climatic realities.
The Summer 200 Collection accentuates the 'total look'- ensemble, make-up and hair coordinated to make the complete look, though very simple and devoid of dramatic effect.
And for the first time, Estefan will also present a specially designed range of men's wear.
---
Careers in the fashion world
A long felt need is now a reality in the hill capital. Former Miss Sri Lanka, Shivani Vasagam and designer/choreographer Jude Jayatilleke of J.J. Promotions have come together to boost the status of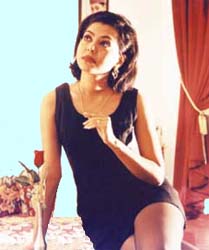 fashion in Kandy.
Models - catwalk and make-up school will be launched in the first week of March to train future fashion models and designers. Jude said that on many an occasion when fashion shows were held in Kandy, girls who had potential approached him for training. Since there was no facility available he was unable to do so.
The one month training course will be conducted on Sundays and girls will be trained in catwalk modelling, presenting clothes, posture as well as hair and make-up for fashion shows and day use. Leading personalities will be invited to speak and lectures will include practical and theory.
At the end of the course a grand graduation parade will be held with certificates and gift packs. A fashion show with the best finalists will be chosen and the best model will receive attractive gifts.
Enrol yourself today.
Contact J.J. Promotions, 58/14, Anniewatte, Kandy. Tel: 08-226536