---
Heroes' hospital
Situated in Anuradhapura, just 50 miles away from the war, the Army's Victory Hospital plays an important role in saving the lives of these brave soldiers
By Hiranthi Fernando
The "Victory Hospital" was filled to capacity last week as casualties from Oddusuddan were flown in. Doctors and staff were on alert to receive more casualties from the Kanakarayakulam Field Hospital. Patients in stable condition were being transferred to Colombo to make way for the new patients.
"Victory" the military hospital in Anuradhapura is primarily meant for the treatment of soldiers brought in from the operational areas in the North. Equipped with medical and surgical wards, the hospital can accommodate about 250 patients. On average, 200 patients are treated daily at the Out Patients'
Department (OPD). The hospital has investigation facilities for blood, urine, ECG machines and an X'ray department. With the war situation in the north, this hospital is of great advantage to the Army.
"This is a very important hospital in the area," Commanding Officer Major Tillekeratne said.
"Being about 50 kilometres from Vavuniya and the field hospital at Kanakarayakulam, injured soldiers can be airlifted for emergency treatment without delay. Blood is brought in from Colombo and is available at the hospital to be sent to the nearby field hospitals when needed. Also, many soldiers and families live in this area, so when soldiers are admitted, the families find it easy to visit and stay close to them. We can look after them and also perform emergency surgery," he said.
As the injured soldiers were brought in, some by bus and others by ambulance, they were met by the doctors and nursing staff. Stretchers and wheelchairs were ready for those who needed them. Each soldier had a diagnosis card attached to his wrist. The doctors examined the cards and tagged the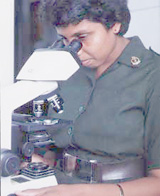 patients, classifying them as P1 for major surgery, P2 for fractures and P3 for minor injuries.
The majority of those brought in appeared to be having minor injuries. Thereafter, the patients were examined by the waiting doctors and the necessary tests and treatment prescribed without delay. They were treated with much care and concern by the doctors and the staff. A wholesome meal was served to those who did not have to undergo surgery.
Among those brought in, Ivan, Dharmasena and Saman had received injuries while in the Forward Defence Line (FDL) at Nedunkerni. Ivan had a head injury since his helmet had been knocked off by mortar fire. Their wounds had been dressed at Weli Oya and they were transported by chopper to Anuradhapura. The soldiers said that when they were evacuated, their unit was still holding the FDL.
Lance Cpl. Wickremasinghe was brought to the hospital on November 2. He had been in the FDL when they heard the sound of the attack. "I saw terrorists attacking us from all sides," Wickremasinghe said. "It was a face to face confrontation. I saw 20 -30 terrorists dead. I was wounded in the attack but we continued fighting for two hours. About fifteen of us then gathered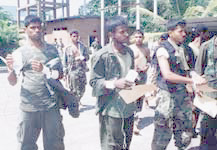 together and were stuck there for three to four hours as they were firing all around."
Sergeant Udayakumara was on standby duty. His group went to the aid of Wickremasinghe and the other men who were surrounded. Continuing to fire, they managed to get away. Udayakumara was shot in the arm. They were given first aid at the field hospital and airlifted to Anuradhapura. Udayakumara said the brigade was still being held by his unit.
"All patients are brought here before they are transferred to Colombo," Maj. Tillekeratne said. "We are equipped to do surgery on all cases except head injuries. These are sent to the General Hospital in Anuradhapura because we have no Intensive Care Unit yet. We have a good rapport with the General Hospital authorities. Their surgeons assist when we have an emergency situation. Patients often come with heavy bleeding and dehydration. We do resuscitation and stabilisation before transferring them to Colombo. Serious cases are sent to Colombo after emergency surgery."
At the operating theatre, an emergency laparotomy, an abdominal operation was being handled by a team of army surgeons. Maj. Tillekeratne said two more operating theatres were being fitted with terrazzo flooring, which would be ready in about two weeks. Once ready, they would be able to handle up to 60 minor operations when necessary. At the surgical ward, several beds were kept free for the casualties expected.
The Victory Hospital has one resident surgeon but more surgeons come from Colombo to assist when there is an operation in progress in the north. In addition to the resident surgeon, the hospital staff comprises five medical officers, 11 pre-interns plus a nursing and minor staff of about 200. Most of them are resident.
Soldiers as well as their families are treated at the OPD.
On a normal day, about seven doctors are available in the consulting rooms. Priority, however, is always given to war casualties. Maj. Tillekeratne said a special bus plies daily from Vavuniya, with patients needing treatment and investigation. "Many patients are admitted with Malaria Falciparam, which is a life-threatening disease," the Major said. Hepatitis is also common but now most soldiers on the field have been vaccinated against it.
The Victory Hospital, purchased by the army and opened in October 1997, was originally built as a private hospital by Siddhalepa. It has a number of single storey brick buildings connected together. The wards are clean and well maintained and the patients are served with good food.
It is only when there are heavy casualties due to an operation or attack in the war zones, that they encounter the problem of insufficient space.
The foundation has provided for expansion but additional funds would be required for this. There is an ICU with the necessary monitors but to operate an ICU, separate staff is needed since it is a 24-hour operation.
More surgeons and a consultant anaesthetist would also be required. Since all army doctors are trained in anaesthesia, they are able to handle the surgery at present. However, they hope to have full ICU facilities in the near future.