Four in a row
Laila Nasry and Ruhanie Perera visit Lanka's little miracles-the Badulla quadruplets
Sri Lanka's latest mira-cle, the Badulla quad-ruplets, had made their grand appearance on the morning of October 14. Three days later, when we made the journey from Colombo to see them, the four tiny babies dressed in pink and blue baby shirts lay huddled close to each other in the hospital cot, their eyes firmly shut and their small hands tightly clenched.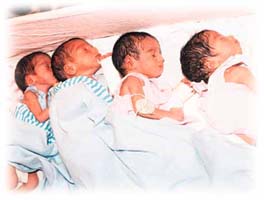 Their regular breathing was the only movement. They were tiny but perfect. A miracle indeed, given that quadruplets are a one in a six hundred thousand chance.
But it was a long and difficult nine months before they entered the world. It took all the courage and patience of a young mother and the skill and dedication of a doctor to see them through.
Long before the birth of the quadruplets, the staff of the Badulla General Hospital had begun preparing for their arrival. This event was after all no everyday occurrence and was complicated by the lack of resources in the hospital and the physical and emotional condition of the mother. Yet, thanks to meticulous planning, gynaecologist and obstetrician Dr. S.A. Ruwanpathirana assisted by paediatrician Dr. Devan Mendis successfully delivered the four healthy, full-term babies without any complications.

The story began many months ago when expectant mother 30-year-old K.A Senani Silva was referred to Dr.Ruwanpathirana from a local hospital.
"Having examined her I asked her to do a scan to determine whether it was a multiple pregnancy," recalled Dr. Ruwanpathirana. As the District Hospital had a very old scanner, they had to go to a private medical centre to get it done. "I saw one head then another and I told her I thought it could be twins. She started crying," Dr. Ruwanpathirana said.
For the mother it was a shock. "I felt really scared because this was my first pregnancy and I had never expected more than one baby. I was more scared when they told me that it might be triplets," says teary-eyed mum, Senani. "But everyone looked after me and soothed my fears."
Until their arrival no one was really sure if there would be three babies or four. The problem was that the scanning was done in sections and there was no way for the doctor to determine whether he was seeing the same baby twice over. Dr. Ruwanpathirana hence did another scan, this time using the hospital scanner which records just 1/3 of the probe. "I had to do the scan three times over to get the proper picture and on this instance I found four heads. I asked the mother to immediately enter hospital."

This discovery added to the uncertainty compelling the doctor to go in for a x-ray. "Generally we do not do x-rays early on in the pregnancy because it could be harmful for the babies. We wait until the pregnancy develops to around 32 weeks. "Waiting was the hardest part as Dr. Ruwanpathirana had to ensure that until then there would be no further complications in the form of acute back problems, pre-term labour or abortion. Nevertheless when it was time to do the x-ray the mother's stomach was so large that it was impossible to record the full picture and it had to be done in sections.
"The x-ray showed triplets but I was convinced I hadn't seen wrong and it was quadruplets. So I told the mother 'we would prepare for four: if it's three it will only be easier'."
In cases of triplets the mother usually goes into labour in 33 to 34 weeks. When it is quadruplets, the time frame is around 31 weeks. In the case of Senani, this had to be avoided, as there were no incubators to accommodate premature babies. There was just one in the hospital which was broken. They had to ensure she completed the term, which was 36 weeks.
"She underwent a lot of hardship. She needed help to walk around and even when she went to the toilet there had to be nurses to help her through, as the Badulla hospital is only equipped with squatting pans," said Dr Ruwanpathirana.
"In the latter part of the pregnancy from about 25 weeks, she was confined to her bed and even that was inadequate for her extra large stomach."
However she turned down the offer to be transferred to the Jayawardenapura Hospital where Dr. Devan Mendis the paediatrician had made arrangements for her. "Neither she, her husband or mother-in-law was agreeable to that prospect. But we came to a compromise that once she delivered, if there were any complications then we would transfer the babies there. That way she was very co-operative."
"I was in bed the whole time but the loku dosthara and all the nurses helped me through. The early months were horrendous and I had constant bouts of morning sickness. At times I even threw up blood. But I trusted the doctor completely and the hospital staff were very kind. They bought milk food for me and organised a pirith pooja," a thankful Senani said.
"We had to fatten her up because towards the end the stomach was getting bigger and bigger and she was getting thinner and thinner." Other than giving nutritious supplements, IV and Ventolin, which is supposed to delay contraction, Dr. Ruwanpathirana, had to play it by ear to ensure a smooth pregnancy. "I went on the Internet to find out how to manage a pregnancy of this sort but I found absolutely no information. There were various cases of delivering quadruplets but not how to manage them before delivery. Even in our medical texts there was no information."
The babies were delivered at 36 weeks during a 'planned C section'. The operation, which was filmed, took around 45-50 minutes and Dr. Ruwanpathirana was assisted throughout the operation for each baby they delivered needed special care.
"I delivered the first and the third. There was a small complication when it came to the fourth for she came out with the cord wound around her neck. Other than that it was a smooth operation," he said. The first little boy weighing 1.7 kilos was born at 10.44 a.m. and soon he was followed by his baby sister weighing 1.6 kilos. Then came a 'malli' and a 'nangi', the former the smallest weighing 1.5 kilos and the latter weighing 1.6 kilos.
"I've seen the babies only once so far," said an exhausted Senani who finds even talking tiring. For her the road has been long and hard and now she is thin, frail and weak. Even though this is only her first pregnancy she is determined not to have any more children. Yet her face lights up with a smile when she talks about choosing names for her little ones. "I can't decide on a name. I have a whole list of names and I'll have to choose four soon. The letter that has been given is ch."
Senani will have to remain in hospital till she regains her strength and can care for her babies. Her husband works as a driver in Colombo while she maintains their home in Bandarawela.
A bank account has now been set up to help Senani provide for her four bundles of joy. Anyone who wishes to contribute towards their well-being can do so to:
K.A. Senani Silva
Peoples Bank Badulla
Jana Jaya Account
Account number 600694

---
How the British press saw Mrs Bandaranaike
Most Sri Lankans I talked to had heard of former premier Sirima Bandaranaike's sudden death on October 10 from the BBC World Service which announced it early that morning.

Britain's quality newspapers carried extensive obituaries the next day. The Guardian, The Independent, The Times and the Daily Telegraph, for instance, reported on her life "in extenso" as befits the world's first woman prime minister who came not from the advanced and liberated west but from what many colonials then still considered a small backwater. Unfortunately the obituaries were quite uneven in quality and often fact was mixed with fiction, simplistic interpretation, gullibility and ignorance, if not a tinge of condescending arrogance.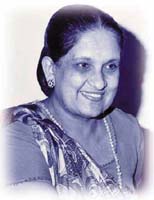 The right-wing Daily Telegraph writes that Sirima Ratwatte was born to a "prosperous landed family at Balangoda, near Kandy, in the central highlands of the British colony of Ceylon".
Balangoda could, I suppose, be considered near Kandy if one is equally ready to believe Edinburgh is near London or Chennai next to China. The only people who might not be perplexed would be the Portuguese on their first trip to Kotte.
But one of the most astonishing observations is made in the next paragraph when the Telegraph's obituarist talks of Sirima Ratwatte's marriage to Solomon Dias Bandaranaike.
"When she was 24, she caused a sensation among her socialite conservative family and friends by marrying the Minister of Health Solomon Bandaranaike, a member of a moneyed but hardly "acceptable" family. Over the years, the marriage helped considerably to break down social barriers".
Contrast this piece of arrant nonsense with John Rettie's comments on the same subject in his obituary in The Guardian. Calling it a perfect match he writes:
"Her marriage, in 1940, to Solomon West Ridgeway Dias Bandaranaike, then a brilliant, young, Oxford-education colonial minister was dubbed the 'wedding of the century'. Both were from the top goyigama caste of landowners, and their horoscopes were found to match perfectly".
Many, many years ago Sir John Kotelawa, then retired from politics( by the people) but still an excellent raconteur told me one evening at his Kandawela residence about the arranged marriage and the pre-marital negotiations between the Ratwattes and the Bandaranaikes in which Sir John and his family had played a role. Sir John's tale makes a mockery of the Daily Telegraph's observations, wherever it had picked up the yarn from. If a third party was considered necessary it had nothing whatever to do with social status.
In fact John Rettie's piece on Mrs Bandaranaike's political ascendancy is the best of the obituaries I read in the British press. That is not surprising for John Rettie lived in Sri Lanka (then Ceylon) as a young boy. His father was a tea planter somewhere in the hill country- Bandarawela or Diyatalawa if I remember correctly. In the late 1970s and early 1980s John was the BBC correspondent in Sri Lanka and also wrote for The Guardian, living and working out of the Galle Face Hotel.
Rettie had an intimate knowledge of Sri Lanka's modern history and politics and of the colonial days. That is why his article is not only informative but written with an understanding and warmth whereas the others appear so soulless.
But, as they say, even Homer nods. "She not only became the world's first woman prime minister but went on to head her country's government three times".
There, of course, Rettie is mistaken. As Sri Lankans would be aware, when Mrs Bandaranaike became prime minister for the third time in 1994 it was largely a ceremonial position.
The Daily Telegraph claims that Mrs Bandaranaike entered politics through the "back door" implying not only that she entered politics surreptitiously and thrust herself into the leadership of the party but that she lacked political experience of any kind.
Again Rettie, who is better equipped to judge, has this to say: "General elections the following year (1956) brought Sirima her first baptism of political fire, as she campaigned on her husband's behalf in his constituency, while he carried his new party's message to the rest of what was still Ceylon".
The Independent actually contradicts the Telegraph's assertion. It says that Mrs Bandaranaike was a "reluctant convert to politics", like perhaps Rajiv Gandhi in later years. In fact she was urged to assume the leadership by party stalwarts.
But Rettie's article is not without blemish. He nods a second time when he says the 1972 Republican Constitution "changed Ceylon's name to Sri Lanka and made Buddhism the state religion- to the dismay of the mainly Hindu Tamils".
It did no such thing. True, Buddhism was accorded the "foremost place".That is a far cry from being given constitutional status as the state religion.
It is rather a pity that in assessing Mrs Bandaranaike's political history most papers failed to mention the attempted military coup in 1962 which tried to topple an elected government and only failed at the eleventh hour.
Almost everybody, if not all, in that military coup - from the army, navy, police and civil service-were from racial or religious minorities. The point is that while some of the papers refer to Mrs. Bandaranaike's "nationalisation"- again wrong- of the denominational schools, most of the media have ignored this historical event.
The British media cannot be unaware of this case, for, those convicted of trying to overthrow the government appealed to the Privy Council. It was the decision of the Privy Lords that led to their release on a technicality.
Only "The Independent" put this unsavoury episode in our history in perspective: "Whatever her faults Bandaranaike-affectionately known throughout Sri Lanka as 'Mrs B'- was someone who believed passionately in democracy. So strong was her belief in the ballot box that she was prepared to risk her life in 1962 when there was a military coup in her country and she refused to agree to the general's demands. Her determination to preserve democracy perhaps explains why Sri Lanka did not go the way of several of its neighbours in the last few decades and become a military dictatorship".
That is sufficient tribute to any political leader and a worthy epitaph. Her last political act was to cast her vote-one of the most precious of political rights-even disregarding her infirmity.
That is testimony to her commitment.