Return of the Reviver
Jayantha Chandrasiri, the creative director of 'Weda Hamine', 'Akala Sandya' and 'Dadubasnamanaya' teledramas and films 'Agni Dahaya' and 'Guerrilla Marketing' has once again returned to the miniscreen with his latest 'Satharadenek Senpathiyo'.
Though limited in numbers to four teledramas and two films so far to his credit, Jayantha has managed to bring some novelty and revival with this few yet prolific creations. Country's history and heritage were always core issues in his productive creations.
He entered the teledrama scene introducing the importance of indigenous medicine in 'Weda Hamine' while he unearthed a traditional martial art, 'Angampora' which had existed long ago in this country in 'Dadubasnamanaya'. He made a story set in 18th century Sri Lanka in the film 'Agni Dahaya' and analysed the country's social, political and economic position and its impact on individual in a few years to come, in 'Guerrilla Marketing'.
At a time when the local teledrama scene is filled with formula themes on hackneyed topics of middle class family lives or cheap love stories Jayantha Chandrasiri has returned to teledrama direction with 'Satharadenek Senpathiyo'.
Famous for his extraordinary themes and approach to novel subject matters the talented director participated in an exclusive interview with the TV Times about his latest venture.
TV Times: There was an extended lapse since you did your last teledrama? What is the reason?
Jayantha: Yes it was seven years ago I did my last teledrama. But I would not call it a lapse because during that period I did two films. When considering the time for investigation, collecting facts and writing the scripts two films for seven years is more than enough for me.
On the other hand it was also due to boredom I has the commercialise nature of this industry. I have a question whether we have enough space to stretch our hands in this field. And I express my gratitude to Hema Nalin Karunaratne of Swarnavahini who encouraged and invited me to do a teledrama. Though I had to refuse him and several others at that stage it was my close friend and actor Sriyantha Mendis and producer Ruwan Jayasinghe who were really responsible for my return to teledrama. With encouragement when I started to write the script I came across a surprising incident where the very day I finished writing my script I received an invitation from the chairman of Sri Lanka Rupavahini Corporation. And it was with the respect I had for the chairman and Rupavahini which introduced me to this medium.
TVT: Can teledrama stand as a medium of art despite its highly commercialised backdrop?
Jayantha: It is something that had never been done. But artistic teledrama can always exist while struggling and fighting against this commercialized setting. For this we need new approaches and strategies. Why there should not be experiments in the medium that the majority audience (nearly seven million daily) daily engage in?
It is true that the medium of teledrama today is based on the 'Patron client relationship' but what we should understand is it happens against the general will. In the beginning I proved this. And it is not that there are sponsors who do not blunt the taste of the viewers. The problem is there are no good works to attract them. I strongly believe that there is an audience who yearns to experience quality works of art.
TVT: Compared to your first two directions 'Weda Hamine' and 'Dadubasnamanaya', the other two directions 'Akala Sandaya' and 'Rejina' did not attract the audience? Do you think the reason was that quality of the audience has gone down?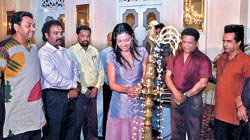 Jackson Anthony, Sriyantha Mendis, Yashoda Wimaladharma, Jayantha Chandrasiri and Buddadasa Vithanarachchi at the Muhurath ceremony.
Jayantha: always admit it was not a problem of the audience but it was a problem concerning me. The artistes who journey on knowledge acquisition without targetting commercial market and do not break the artistic and aesthetic rules would have to face these types of challenges. The limited teledrama artistes always have to face this challenge against the comparatively massive audience that have flocked around the TV. Would he be able to satisfy this majority all the time? This was the problem that teledramas like 'Akala Sandya' and ' Rejina' faced. But still I would say that there was an audience who thoroughly enjoyed them. What I believe is that the responsibility of the artistes is to take the rest of the audience to that level.
To do this we might have to use certain aspects of the popular culture but the artistes should be proficient enough to do this without insulting the audience's knowledge. Usually compared to films it is not an easy task to develop an 'emotional commitment' between the audience and art in teledrama. And this is why most of the people use melodrama. But I have decided that I will never use melodrama however much it attract the audience.
TVT: So your latest 'Satharadenek Senpathiyo' is a continuation of your vision and the usage of the medium for the sake of the art of teledramas, is it?
Jayantha: Of course. I hope to present an analysis on present society. For that I would not dare to use hip-hop or rock music which are in popular culture today. In addition it would have a political discussion based on our culture and which promote our lives.
However this is not going to be a work of art on politics. It is about a political philosophy without politics.
In addition to usual set of artistes like Dr. Premasiri Khemadasa (musical score), Sriyantha Mendis, Jakson Anthony, Buddadasa Vithanarachchi, Mahendra Perera, Yashoda Wimaladarma, Rebecca Nirmalee, Ruwan Costa (camera) he is to employ Roshan Pilapitiya, Buddhika Jayaratne, Duleeka Marapana, Kusum Renu, Chanchala, Nithyawani Kandasamy and a large number of artistes too would join him for the first time. 'Satharadenek Senpathiyo' is scheduled to be released on September 24 on Rupavahini.