Well done and welcome home
It poured and it poured and it poured. And what should have been a festive welcome for the Sri Lankan cricket team, initially planned at Independence Square was shifted at the last minute to the auditorium of Sri Lanka Cricket due to the weather.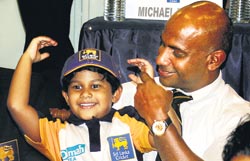 My hero: Sanath's eldest daughter is all smiles
The team came back home around 7 a.m. on Thursday, May 3 and at the Cricket Board headquarters, members of their families were waiting eagerly for their arrival. Among them was M. Prabagaran, brother of spin wizard Muttiah Muralidaran.
Murali and son Naren
"We had a lot of expectations and we were confident they would get into the finals," he said. However, weather conditions on the day of the final affected the outcome of the match. Playing 50 overs would have made the difference, he felt.
"We were all watching the match at home and we didn't feel good about the big score, but Sanath (Jayasuriya) and Sanga (Kumar Sanagakkara) played very well."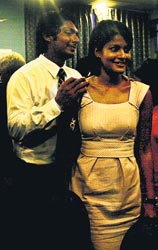 Kumar and wife Yehali
Speaking to his brother after the match, Murali had said that the weather changed the entire match. "The bowlers found it difficult to bowl and it didn't come through from the beginning," he had told him, adding that "250 would have been a good score."
Madhimalar, Murali's wife had been at the Kensington Oval waving banners made by his cousin, said Prabagaran. "I had fun irrespective of whether we won," said Madhimalar.
This was, incidentally, her first World Cup final. "It was amazing to watch my husband play," she said chirpily. "It was bad luck that we couldn't win. We didn't get to watch a good match because of the rain but Sanath and Sanga batted well!"
Asked about little Naren, their son, she said she had to leave him at home with her mother-in-law because she would not have been able to follow the match with him around!
A very tired captain of the cricket team, Mahela Jayawardene thanked the Board and the fans saying that after 40 hours of flying, his speech-making skills were not at their best.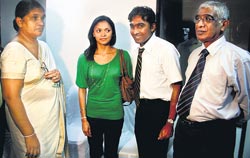 Tired but happy to be home: Captain Mahela with his wife and parents
"It would have been tough for us to get through if not for the fans.""I have been very lucky to have a team like this to lead, it was a very easy task," he added. "The team played with dedication, self confidence and unity." He also thanked the families who had been very supportive and shared the pressures along with them.
Kumar Sangakkara's wife Yehali was in the West Indies for al most two months. What went through her mind at the end? She was a bit disappointed, she admitted "but I thought they played very well to get to that point, so I was disappointed but happy."
"It was an exemplary tournament for us," said Kumar Sangakkara, vice captain of the team. He went on to say it was a "well balanced team when considering "the energy of the young talent of Lasith, Dilhara, Maharoof and Tharanga" and how "Sanath, Vaasi, Marvan and Murali have talent beyond their years! All these helped Mahela to gel the team together."
Something very noteworthy was that "Marvan had to sit out the entire tournament but he took it with a great amount of grace and class!" Kumar said.
Vasana, wife of fast bowling spearhead Chaminda Vaas said that considering the conditions at the final she was happy because they did the best they could.

With his vibrant hair and unorthodox style of bowling, Lasith Malinga was much talked about right through the tournament. So what better way to get a feel of what went on in the Malinga household, than to talk to his parents? Swarna Thenuwara, Lasith's mother, was happy with the team's performance. "Throughout the tournament they played well," she said.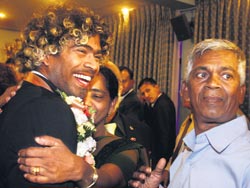 A hug for Malinga from his parents.
Pix by M.A. Pushpa Kumara
At the end of the final, they were rather sad because Sri Lanka's hopes were gone but, we played against 16 countries and became runners up and that in itself is great, she said.
Promising young spinner Malinga Bandara expressed his disappointment that the final was not a proper one. "The day was a bad one with the rain and everything going wrong including the toss."
When the match was over he felt sad and upset. But looking to the future he was confident. "We have a lot of young talent in Malinga, Tharanga and Chamara. In two to three years we can win the World Cup!"
"When they left Sri Lanka I felt proud and thought they would win," said Sandra, 'Master Blaster' Sanath's wife. "I was at the finals and we were a bit disappointed," she said recalling the final moments of the match. "We were in a good position with this kind of team spirit" she said, adding optimistically "we can plan for 2011."
Sandra recalled how their eldest daughter Keshi, was cheering right throughout. "When she realised they had lost she asked me to carry her because she couldn't look at them… After the match she had asked her father, 'why couldn't you hit 40 sixes and win the match?'
Duleep Mendis, CEO, Sri Lanka Cricket, summed it up best, saying, "Whatever said and done you've fared brilliantly well!"