A man ahead of his times
Dr. Amith Munindradasa
The nation mourned the death of Dr. Amith Munindradasa last month. While the portrayal of him as a 'top defence expert' was exaggerated to a point of controversy, Dr. Munindradasa was certainly not a run-of-the mill individual who could be stereotyped.
He was a practical engineer; an amazing theorist; skilful technician; wildlife enthusiast; ardent philanthropist; eccentric inventor; well-read scientist; passionate photographer; remarkable cook.; creative teacher; dutiful family man; humble soul and truly independent being.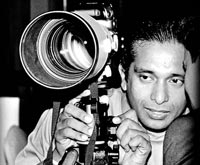 From 2003-2006, he was the head of the Electronics and Telecommunication Department at the University of Moratuwa Faculty of Engineering. While being a frequent lecturer at the Institute of Engineers and the Arthur C. Clarke Centre, he was one of the pioneers who worked on the initiative of establishing a Nanotechnology centre in Sri Lanka. He was also one of the few academics in the country who had his work published in the internationally renowned science journal "Nature". He was a member of two committees in the Telecommunications Regulatory Commission, while playing an active advisory role for the Wildlife Conservation Department.
Even as an engineer, he could not be categorized into one specific field. He was well versed in the fields of nanotechnology, power electronics, mechatronics, astronomy and quantum electronics. This cross blend of expertise and the ability to benchmark his knowledge across technical and non-technical platforms made him an extraordinary engineer and an amazing human being. For example he combined his knowledge of electronics and acoustics with his enthusiasm for nature and pursued a completely different field of "Wildlife Electronics".
Dr. Munindradasa's broad approach to engineering was fuelled by the immense curiosity that he had for the simple things in life. As a child, little Amith would gaze at a glass bottle for a prolonged period of time and wonder why this strange material allowed light to pass right through it. After performing exceptionally well at the year 5 scholarship exam, Amith switched schools from Panadura Sumangala College to Royal College, where he further developed a knack for science and all things mechanical.
In 1985, he was selected to study Engineering at the University of Moratuwa. Even though he had a natural talent for mechanical engineering, he chose the field of electronics, which was a new and emerging field at that time. Unfortunately due to the chaotic political situation of the country, Amith had to wait until 1993 to get his first class honours degree in Electronics and Telecommunication. Even in his undergraduate days he was nicknamed "prof" by his friends due to the thorough in-depth knowledge he had with detailed things.
In 1995 Amith Munindradasa left for Liverpool to work under Dr. Gihan Amarasinghe, and to study for his Ph. D in semiconductors. Having performed well, Dr. Munindradasa was given the opportunity to stay at Liverpool which he refused due to his love for his country.
Yet, his life of research did not end there. Various simultaneous engineering research was prepared and supervised by Dr. Munindradasa, including a high-voltage electrical generator and a multi-phase-axial-flux-permanent-magnetic motor. He had also conducted successful research on high efficient white LEDs.
More than all the research done in theoretical and technical arenas, Dr. Munindradasa loved to concentrate on real life problems. His peers at the University of Moratuwa state that he worked hard to apply electronics into practical life. In his younger days he was said to have had a firm ambition to create diamond out of charcoal carbon. The mature Dr. Munindradasa developed somewhat more humble ambitions. To resolve the conflict between man and elephant he had designed a special collar for the elephants to get a small shock when in the proximity of a village. He had also designed a special siren which is only audible to elephants so that they stay clear of the village.
Wildlife fascinated Dr. Munindradasa. His natural curiosity and innate enthusiasm about life came to a peak when nature was involved. Once he had found two baby bats in the University and had adopted them until they were old enough to hunt on their own. In another instance, he had found a large python in his backyard and had gone to the trouble of bagging it and releasing it to the Sinharaja forest. He loved animals so much so that his friends say that he had a collection of spiders running around in his room.
He went on frequent expeditions to Sinharaja, Kumana, Wilpattu and Yala with his friends and undergraduates of Moratuwa, and at times did various kinds of projects including giving water to animals that were dehydrating in drought. His knowledge in wildlife was so thorough that his friends say that he can immediately identify a creature found in the depths of the Sinharaja forest. Dr. Munindradasa had even discovered several species (including the lankacornubatrachus – a frog species) endemic to Sri Lanka and has written numerous papers on them. Even before going to Israel he had spent the previous night writing a paper on an endemic species that he had just found.
Dr. Munindradasa was a natural animal tamer. Even in his school days he used to handle scorpions, centipedes and snakes with his bare hands. His friends were constantly awed by his uncanny ability to deal with even the toughest of wild animals. In one instance he had saved a friend's life by his swift reaction to subdue a venomous snake encountered in the wilderness. He never feared nature or its elements and once said that human beings will not drown in water if they were not fearful of it. He showed it by floating on top of water without paddling or swimming.
In most of the nature expeditions he took with the undergraduates, he tried to pass on his knowledge and enthusiasm to the students. He taught the students to respect wildlife, and always have a clear perspective on "sustainable conservation". He was one of the few conservationists who believed in a win-win situation between engineering and nature.
As a teacher, Dr. Amith Munindradasa was unique. Rather than asking them to memorize word to word, he always tried to promote creativity and analytical thinking among students. In fact, his question papers were filled mostly with design questions that were open-ended. He had even run into debates with the other University staff who argued that marking schemes should be in place to standardize grades.
The students of the University of Moratuwa fondly referred to him as 'Anaconda'. Not because of any resemblance to the creature, but because he was an "Anayak" (a difficult person) and had a long "konda" (hair). But this difficult person, who gave intricately complex question papers, was one of the most dedicated and committed teachers that the students had ever seen.
As a teacher and as a human being, Dr. Munindradasa was a humble person. As his friends mentioned, he never introduced himself as a University lecturer. Even at an Army check point or an educational workshop, he simply introduced himself as a 'teacher'. His humility was also expressed in the way that he explained the subtleties of technology to complete laymen. Rather than dismissing a person by saying the area was too technical, Dr. Munindradasa would employ a simple example to relate to the person's knowledge level.
He was also one of the few engineering lecturers who was humble enough to teach a subject such as photography to the undergraduates. While the other staff members admit that they were not entirely keen to teach a non-technical subject, Dr. Munindradasa, who was an expert at photography since his undergraduate days, leapt at the chance of teaching something new to the next generation.
However, Dr. Munindradasa was not a teacher who was limited to his books. As a scientist he did not hide under research and theoretical issues. He was a practitioner of science. From his school days he repaired every ounce of broken equipment in his house. Whether it be some electronic equipment like a radio or television, a broken cane chair that needed weaving or a car engine that was severely damaged to the point of no return, he would raise it by pulleys in his own yard and fix it without giving it to anyone else.
For his son's birthday last year, he had made a small electrical car fully equipped with a semi-gear and clutch system, that he himself designed and assembled.
Dr. Munindradasa was a doer rather than a critic. He never sought fame or fortune, and kept a very low profile. Yet he maintained a firm hold on his values and principles, speaking out only when he knew that he could make a difference.
Dr. Amith Munindradasa was simply an awakened and conscious human being who was ahead of his time. Within the 41 years he lived, he gave so much to the world that his untimely death would weigh heavily upon not only on those that surrounded him but also on the countless lives he would've touched.