Ancient village renews its zest for life
Tampitiya, the first Sinhala village between Chenkaladi and Maha Oya is today heaving a great sigh of relief with the capture of Toppigala from the Tigers after so many years. On Tuesday evening when we visited the village of some 600 families, after abandoning a similar attempt after reaching its outskirts the previous day due to the lateness of the hour, we found the ideal village of Sinhalese lore containing a beautiful tank below an equally ideal village temple and an adjoining vast tract of newly cultivated paddy – all dating back to King Saddhatissa's time.
As we turned in from the A-5 highway, a few kilometres before Maha Oya to reach this village, its beginning where most of the houses are located on either side of the road, all looked threadbare.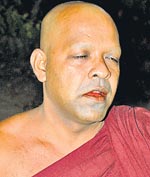 Ven. Tampitiye
Gnanananda Thera: Lifting the spirits of the villagers
The main reason being the people of the village had not cultivated in two years due to periodic shelling by the Tigers and they had been too scared to step into their fields seeing the Tigers placing some objects in them, which they believe are anti-personnel mines.
One of the first villagers we met was H.M. Gunawardena, who runs a small boutique with mainly bare shelves. He said they had survived on the measly Samurdhi handouts and what some eighty home guards from the village earned from the government. Incidentally, though we saw international NGOs swarming the East, with not a single road without a NGO owned flag carrying four wheel drives plying in all directions, they were quite conspicuous by their total absence in places like Tampitiya.
According to Tampitiya OIC Inspector C. P. Gunasekera with the chasing away of the Tigers during the recent military operations, people of the village have now cultivated some 80 acres of paddy after a lapse of two years.
The live-wire in the village, who keeps the people's spirits high, is the Chief Incumbent of the Tampitiya Purana Vihara, . According to the Thera, his great ancestor Dodangolle Arachchi, revived the village having fled Wellassa after the crushing of that rebellion by the British.
He recalls the Tigers of having so far killed 22 from this village. They had even destroyed the temple in November 1985. Since the beginning of the violence in the early '80s at least 30 families had fled the village in fear. In 1995 two nearby villages, Kosgolla and Beragala had been totally abandoned as troops providing security to those villages had been withdrawn for operations in the North and to this day they remain abandoned.