Intemperate language of loose cannons ruin ties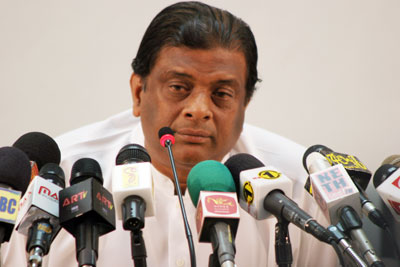 Pondering over a personal opinion
One is left with the inescapable feeling that this administration and its supporters are quite content with the way it conducts our foreign relations and little is to be desired. At least that is the story being touted in public, though doubtless there are those within the Rajapaksa government who would in private be much more concerned that we are antagonising our friends, often unnecessarily.
That private view would be shared by many and one does not need to catalogue all the evidence as though presenting a bundle to court. Those who have eyes to see and ears to hear would not have any difficulty in reaching that conclusion. The pity is that those who demand incontrovertible evidence that the actions of the government and its agencies have not soured our relations with the world do not set the same rigorous standards for themselves when they make blithe statements.
In the same manner we demand "hard evidence" from multilateral organisations and international NGOs, the government too should back its statements and conclusions with such irrefutable proof. This is not to say that accusations made and conclusions drawn in mission reports on Sri Lanka by international organisations such as UN and INGOs are always backed by the kind of evidence that would stand up in court.
In fact there are numerous instances where charges made have been largely based on hearsay and the names of those persons have, for understandable reasons, not been disclosed. So verification becomes well nigh impossible. This does not mean that those who have come to report on, say, our human rights situation, are deliberately cooking the books as it were, though such culinary activity has not been unknown by persons and organisations with dubious motives.
It might be recalled that Alan Rock was among those who levelled serious accusations of human rights violations against Sri Lanka. He charged "certain elements of the government security forces" of "supporting and sometimes participating in the abductions and forced recruitment of children by the Karuna faction."
Whether deliberately or not, this is vague and the danger in this is that other international organisations and watchdogs immediately pounce on such accusations, using them to castigate the government or whoever as though such conclusions were proven fact. It was only last year that experts cast serious doubts about the veracity of a UN report that claimed 720 (such amazing accurate figures in the circumstances) fighters from Somalia's Islamic Courts fought alongside the Hizbollah during Israel's attack on Lebanon.
Like Rock's report this report by the Monitoring Group on Somalia was presented to the UN Security Council. The Guardian newspaper at the time cited an expert Matt Bryden, a regional consultant of the International Crisis Group as saying "We need to treat many of these claims with caution until we see firm evidence."
Ken Menkhaus, a professor of political science and Somalia expert at Davidson College, in the US was quoted as saying dismissively, "To me it's completely counter-intuitive." One might also recall the highly one-sided and hastily written last report of the departing head of SLMM who made serious observations including one about the killing of the 17 aid workers in Mutur, an unsavoury episode that is still reverberating and is the cause of the latest spat with Sir John Holmes.
One could perhaps agree with the UN spokesman who referring to the Holmes controversy said "We regret that this debate has led to the allegation that the event was caused by Action Contre La Faim." But if this is an attempt to whitewash the French group and suggest it is entirely blameless then it is necessary to challenge it.
It might be recalled at the time that relatives of some of the aid workers were quoted as saying that a Christian priest and they themselves urged the aid workers to leave their office and join the trek out of the area. But they were told that they had been ordered by their office in Trincomalee to stay until the next or so. The question is would these dreadful killings have occurred if the workers left as their relatives had urged them to do.
This is not to say that human rights abuses do not happen and that government forces have not been complicit at least in some instances as the government itself has stated. Human rights violations do go on and as long as there are such abuses international and local organisations will level accusations at the government and whoever else is responsible.
One obvious way to counter such international condemnation is by concerted action to stop this happening. At least definite steps should be seen to be taken to minimise abuse. No country has altogether stopped violations because even those in the west who preach to us of compliance with international law and standards are themselves violating them in their own countries.
Certainly the way to set about it is not to behave like the bull in the ceramic shop and go about butting at everyone and everything within range. The intemperate language of government politicians and officials contribute largely to the exacerbation of strained relations between the Sri Lanka government and influential states and international organisations.
The other day a senior cabinet minister Jeyaraj Fernandopulle was reported to have told a media conference that Sir John Holmes was a terrorist and had accepted bribes from the LTTE. This kind of wild accusation without an iota of evidence in support is hardly likely to endear the government to the UN and its influential members or even to our discerning public.
This is not the first time that Fernandopulle has been guilty of such access. Sometime ago he launched a harangue against the German Ambassador to Colombo. On another occasion he contradicted his prime minister and said he should not have apologised or taken responsibility for the eviction of some Tamils from Colombo lodges.
Following the latest outrageous outburst Foreign Minister Bogollagama had once more to intervene and deny that his cabinet colleague's views were those of the government. But Bogollagama cannot get away by saying that these views are Fernandopulle's personal views. He was addressing the media on behalf of the government and if he wished to make any comments that were personal and not of those the government he should have told the media.
How is the media expected to distinguish one from the other unless the minister says so. That is how serious and educated persons conduct affairs and not like in some Katana marketplace. If government politicians and officials defend their case in a sane, intelligent and sophisticated manner one could not fault them for they have a right to do so.
To do that effectively loose cannons should be spiked and the sooner it is done the better our relations with the world would be.
In these matters the media is not blameless. Those after a story will pick a passing remark and make it the centrepiece. Others with their own agenda will give the spin that best suits their purpose.
I have not always been a great admirer of BBC reporting, though there are aspects of it that is commendable. I have little respect for the BBC Sinhala service which is sadly lacking in professionalism and even basic journalistic norms. Reporting on the Holmes affair last week the Sinhala service made elementary mistakes that one would not expect from junior reporters.
At first it called the Secretary General's spokesman Farhan Haq. Further down in its on-line copy it became Franc Huck. Apart from its general inability to write intelligible English, the Sinhala service cited the spokesman as saying that Holmes all along maintained that humanitarian workers were at risk because in 2006 Sri Lanka was the second worse country for them.
Any thinking journalist would have asked whether he thought the situation was as dangerous today, a year or so after the event. Has the situation improved or was it still the same, were surely obvious questions. They should have been, unless of course the Sinhala service as other interests.