Molamure is elected Speaker of First Parliament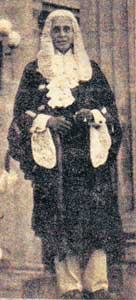 Speaker A. F. Molamure
The first business in the first session of a new Parliament is the election of Mr. Speaker to preside over the meetings.
Sri Lanka (then Ceylon) first elected a Speaker during the days of the State Council which preceded the introduction of a parliamentary system of government. The first meeting of the House of Representatives under the Soulbury Constitution was held on October 14, 1947. (In the twin- chamber of Parliament, the House of Representatives which comprised elected representatives formed the lower house while the Senate with 15 members elected by the lower house and another 15 nominated by the Governor General, functioned as the upper house).
Although it is ideal for the Speaker to be elected without a contest with the concurrence of the government and the opposition, it did not happen when the first Parliament met.
The name of A. F. Molamure (later Sir Francis),
MP for Balangoda was proposed by Minister of Post & Telecommunications,
C. Sittampalam and seconded by MP for Padirippu,
S. U. Edirimanasingham.
The Opposition also put forward a candidate. He was H. Sri Nissanka, MP for Kurunegala whose name was proposed by the MP for Matugama,
Wilmot A. Perera and seconded by MP for Kayts,
A. L. Thambiayah.
In the contest that followed,
A. F. Molamure secured 58 votes as against his opponent's 41 and was elected Speaker. He had been the country's first Speaker having been elected to the post in the first State Council in 1931.
The Deputy Speaker's post was also contested.
R. A. de Mel (Colombo South MP) got 52 votes against Wilmot A. Perera (Matugama MP) who received 47 votes – six more than the Opposition candidate for the post of Speaker. Nominated MP J. A. Martensz was elected to the post of Deputy Chairman of Committees who presides over meetings in the absence of the Speaker or the Deputy Speaker.
Incidentally, Sir Francis Molamure could not complete his term of office as Speaker. On January 24, 1951, he collapsed and died while presiding over the sessions. Albert F. Peiris, MP for Nattandiya who was Deputy Speaker became Speaker amidst protests by the Opposition who walked out when he was elected. (Earlier, Deputy Speaker R. A.
de Mel was unseated and H. W. Amarasuriya was elected Deputy Speaker. He in turn was appointed Minister of Commerce & Trade and Albert F. Peiris then became Deputy Speaker).