New legal eagles learn the ropes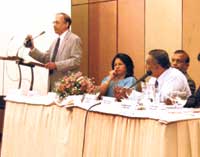 S.A. Parathalingam P.C. addressing the seminar
The new batch of attorneys due to take oaths next week had the opportunity to listen and learn from various senior lawyers and judges at the orientation seminar organized by the Colombo Law Society yesterday. A series of lectures was conducted in the morning on certain vital issues such as the role of the Attorney General, role of the Bar Association, ethics and criminal law practice.
"In addition, a special lecture on child care and women's rights and a stock exchange presentation would also be held," Colombo Law Society vice president U.R. De Silva said. "These youngsters who have just completed their apprenticeships will also have the opportunity to discuss issues or meet with these senior lawyers when they gather in the lobby at the end of the lectures," he said.
Among those who delivered lectures were Attorney General C.R. De Silva P.C., Supreme Court Judge S. Sriskandarajah, Bar Association president, Nihal Jayamanne P.C., Colombo Law Society President Upul Jayasuriya, Romesh de Silva P.C., Shanki Parathalingam and Attorney Kalinga Indatissa. Around 200 who are due to take oaths as lawyers on December 13 and 14 attended the one-day conference held at the Galadari Hotel.