Asian meeting to honour Bibile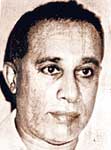 Dr. Senaka Bibile
At a time when Sri Lanka has run into controversy with several important UN agencies, the relationship with one agency has reached its healthiest levels. To mark the 30th anniversary of the worldwide acceptance of Sri Lankan Professor Senaka Bibile's rational drug use principles, the World Health Organisation is holding a regional meeting in Bangkok from December 12 to 14 on the Role of Education in Rational Use of Medicines.
The meeting comes as the Sri Lankan government after decades of delays, dilly dallying, undermining or even sabotage by vested interests finalises legislation to implement a National Medicinal Drugs Policy based on the Bibile principles of rational drug use or the essential medicines concept.
A Sri Lankan delegation including doctors and health activists will take part at the Bangkok meeting. Health Minister Nimal Siripala de Silva in consultation with the WHO has nominated for the meeting a Sri Lankan media representative who for the past few years has been in the forefront of the battle for the implementation of the Bibile principles. This is seen as a sign that the Minister and the Rajapaksa government will go ahead probably next month with legislation for the National Medicinal Drugs Policy despite continuing objections by vested interests like transnational companies and others including some in the medical profession itself.