Dy. Minister's shadow over Puttalam
Armed attack on supporter of Deputy Mayor
No arrests due to political intervention -police
In the wake of an attack on a supporter of Deputy Mayor Alikhan –one Amir Hassan Safran (23)- who had come to have dinner at a down town hotel at New Settlement Road, fear and uncertainity stalk the streets of Puttalam once again. A severely injured Safran has been admitted to the Chilaw Hospital and according to a statement by him, Puttalam MP and the Deputy Minister of Provincial Councils, K.A. Baiz, one of his relatives and several of the Deputy Minister's supporters were involved in the assault.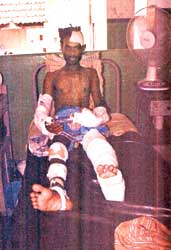 A severely injured Safran admitted to the Chilaw Hospital
"I was waiting at the corner where they made 'kottu', when all of a sudden, a cab came and stopped in front of the hotel and two men got out. They took blades out and one attacked me even before I could think of anything", Safran explained. When his attackers tried to hit him further, Safran said he had attempted to run in the opposite direction. But an object thrown by one of the assailants had hit him on the leg his leg and he had fallen.
He said those who gathered around him then attacked him with blades. Safran said he had recognized all of his attackers and identified them as the brothers of the MP and their supporters. He said MP Baiz was angry with him because he had supported the Deputy Mayor Alikhan in the election. Safran's received injuries to both his arms and legs. A hospital officer said both his arms and legs are severely injured and that there were more than 30 cuts on his body. He added that Safran wouldn't be able to stand for several months.
The Deputy Mayor Puttalam A.O. Alikhan accusing the Deputy Minister of involvement in the matter said innocent people in the Puttalam area are living in fear due to the actions of these gangsters who were destroying Puttalam. Alikhan said that while the Deputy Minister claimed the attack was the work of an underworld gang, there weren't any underworld groups operating in Puttalam other than the group of supporters of the Minister Baiz. He added that this group had the freedom to walk around Puttalam carrying arms.
He added that he had complained to the General Secretary of the SLMC that they were being deprived of a free political stage because by Baiz's actions". The Deputy Mayor further said that whenever a complaint was made against Baiz, he claimed that the President and Basil Rajapaksa would protect him. He bemoaned the fact that unlike Baiz who crossed over from UNP recently, they had worked for years to bring UPFA to power in Puttalam.
Deputy Minister Baiz however said that certain politicians were responsible for revitalising an underworld gang which was once very strong in Puttalam to destroy the area and tarnish his character. "This underworld gang is responsible for the crimes that take place in Puttalam", he said.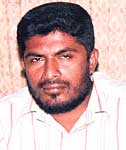 Dy. MayorA.O. Alikhan
He said that on the day of the incident he noticed a vehicle (cab) moving around in a suspicious manner. Enquiries made by him revealed that there were weapons in the vehicle. Believing it could be a threat to his life, he had made a complaint to the police.
He said that he later saw the same cab (LD 3193) parked behind the Police canteen. He said no enquiry had been initiated regarding his complaint. He denied allegations that his relatives were involved in the attack on Safran.
Meanwhile, a senior official of Puttalam Police said that even though the Deputy Minister blamed the police, it was the Minister himself who was protecting the suspects.
He added that five warrants had already been issued against one of the main two suspects -Abdul Rasaad Mohommad Mazru- but no arrest had been made because the Deputy Minister using state powers has prevented it. But he added however that the police would make sure that the people involved in the incident would be arrested shortly.