High price wheels send car importers reeling
Budget 2008 saw the introduction of new taxes, including a heavy excise duty on vehicles that has sparked a drastic drop in vehicle sales and huge increases in retail prices on imported vehicles. The price of all vehicles ranging from cars and vans and commercial purpose heavy vehicles have increased by as much as Rs.300,000 to Rs.500,000 due to the increase in excise duty.
Vehicle importers complain that this is the third tax increase within a year resulting in an immediate drop in sales of many popular makes and brands while opening up the market for cheaper brands from India, Korea and China.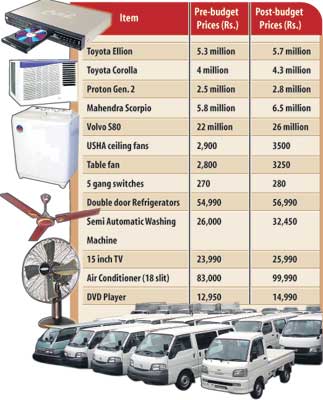 President, Motor Traders Association (MTA) Senaka Amerasinghe said the prices of most cars and vans are now 200% to 250% higher than the Cost Insurance and Freight (CIF) prices, which is the amount paid to exporters. "The prices on certain vehicles have nearly tripled the CIF prices because of the various fiscal taxes imposed by the government," he said. Mr. Amerasinghe said that the public was looking to more affordable alternatives such as the Suzuki Maruti, Indica, Cherry QQ and the Malaysian brand Kelisa which is within the range of Rs.1 to Rs.2 million.
Taxes on a 1800 cc car with a 1.8 litre engine has risen from 237% to 266% which is an increase of about Rs.420,000, while taxes on vehicles below 1500 cc has risen from 173% to 197% inflating prices by an average of Rs.300,000. "We are surviving on the duty free vehicle permit scheme that the government introduced in March this year which has opened the door to some government servants to purchase brand new imported vehicles," he said. Many other vehicle importers are surviving on this same market.
The Sunday Times learns that the prices of some popular vehicle models had increased so steeply that importers have been forced to cut down on imports. A Toyota Ellion which was Rs.5.3 million has now shot up by Rs.400,000 while the new Toyota Corolla has increased by Rs.300,000 to Rs. 4.3 million. Even the price of a Toyota Hiace van, a popular vehicle among school van drivers has risen by Rs.300, 000.
Chief Executive Officer of Swedish Trading, Chaminda Perera said the already crippled vehicle retail industry had been dealt another severe blow by the government as a result of the various taxes imposed on vehicle imports. "The commercial vehicle sector has not been affected so much but sales on passenger vehicles are plummeting," he said.
Swedish Trading, which imports vehicles such as Proton, Mahendra and Volvo has seen a price increase of Rs.300,000 on its popular cars and Rs.4 million on its luxury vehicles. He said that the price of a Volvo S80 had gone up from Rs.22 million to Rs.26 million while the price of a Mahendra Scorpio double cab had risen from Rs.5.8 million to Rs.6.5 million.
Mr. Perera, also a member of MTA said vehicle importers should stop all imports for at least three months to pressure the government to relieve the burdens faced by the industry and the people.
Electrical shocks and boozing blues
The increase in excise duty has also seen the increase of prices in domestic electrical goods as well as liquor. The Sunday Times learns that the price of an USHA ceiling fan had gone up from Rs.2900 to Rs.3500 while a table fan from Rs.2800 to Rs.3250 within the past two months. Electrical items such as refrigerators, televisions, DVD players and air conditioners had risen by 20% resulting in a drop in sales within the past few months.
"Sales have dropped by at least 25% within the past few months mainly because the goods that we import have become out of reach to the average person," said a shop owner in Maradana. He said some electronic items had gone up by as much as Rs.15,000.
Meanwhile the price of a bottle of Johnny Walker Black Label had risen by about 15% to Rs.4640 a bottle while Red Label had also increased similarly to Rs. 3165. The price of a bottle of Bacardi rum had also risen to Rs. 2600 in the retail market. The Operations Manager at Labels, Alpha Orient Lanka, Rajeev Dassanayaka said the illicit liquor trade had proliferated after the rise in excise duty on liquor while more and more poor people are being driven to turn to toxic alcohol such as Moonshine.
He said the government was losing a lot of revenue by increasing excise duty on liquor as imports and purchases are dropping while the black market will thrive making no difference on the consumption of liquor.