Nemesis for cop killer
A special police team deployed to apprehend an underworld gang led by a man identified as Nuwan Harshan alias 'Sanbaba' terrorising residents in the Kandy area in recent days, shot him last week after he tried to escape from their custody, Central Province DIG Kingsley Ekanayake said.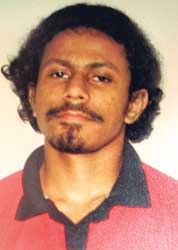 'Sanbaba'
He is also suspected of committing at least nine murders and robbing over Rs. 50 million from the public across the country. The police had been on his trail after a series of violent incidents, with the breakthrough coming when Police began conducting investigations into an incident where a woman carrying Rs. 1.5 million was robbed in front of a bank in the heart of Kandy town, by an armed gang. It was revealed that a person well trained in the use of weapons aided by a highly capable vehicle driver, were behind the attacks being carried out in the area.
Police soon learnt the crimes were being committed by two powerful persons, who had broken away from an underworld gang in Colombo. Acting on this information, officers in civvies arrested one suspect on December 4 at around 5.45 p.m. at the junction to Kalagollagoda in Deepaloka Mawatha, Polgolla.
In the afternoon of the next day, the officers arrested near the Rainbow umbrella factory in Kadugannawa, another suspect identified as Dinesh Sudantha Silva who was a Navy deserter. The suspect had used various names in areas such as Kalpitiya, Kandy, Molamure and Balangoda and has open warrants issued by courts for his arrest for crimes committed in these areas, police said.
After questioning the suspect for a long time on the day he was arrested, police learnt that he was a resident of Wadduwa. Police also identified him as the underworld chief, Wannakawatta Waduge Nuwan Harshana Fernando, who was also known as 'Son baba'. Police also said that the suspect got his name 'sanbaba', with his mother referring to him as 'son' and the residents of his area calling him 'baba'.
"What is notable about these two suspects is that they do not smoke nor are they involved in any indecent activity," police said. They also maintained a close relationship with another underworld chief called Olcot. The police also learnt of a plot to kill senior Wadduwa police officers during the questioning of the suspects.
| | |
| --- | --- |
| | |
| The luxury cars seized by Police | The two Pulsar motor cycles |
On further interrogation, information on various crimes committed by the suspects including murders and robberies across the country, was revealed. One major incident had been the killing of a Wadduwa policeman and stealing his T56 rifle. Another incident had been the robbery at a jewellery shop in a tourist hotel in Mount Lavinia, where over Rs. 400,000 and jewellery had been robbed.
The police also recovered weapons and other items belonging to the suspects. These included a Czech-made Browning 9mm pistol, another pistol, cash and jewellery, 2 Pulsar motor cycles, two helmets that completely cover the face and two luxury vehicles.
Police also learnt that the suspects had bought a land in Yatawatte, Matale and had been building a large house there. 'Sanbaba' had gained special training in the use of weapons and riding motorcycles when he joined a special Army unit while serving in the 3rd Gajaba Regiment. The other suspect was identified as a Navy deserter who was also skilled in the use of weapons.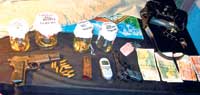 Some of the items recovered by Police
The police also learnt that the suspects had used forged passes issued by the security forces to carry weapons in their vehicles and avoid being stopped at checkpoints. Dinesh Sudantha Silva was remanded by Chief Kandy,Magistrate Harsha Sethunga after he was produced in Court. 'Sanbaba' was handed over to the Kalutara police for further inquiry.
However he was shot as he tried to throw a hand grenade at police officers when he was taken near the Bolgoda tank at Weragama to retrieve the T56 rifle stolen from the Wadduwa policeman whom he killed on June 19, 2006.
'Sanbaba' was killed at the same location where he killed the policeman.