'Aradhana': A tale of love, separation and reconciliation
Wijeya Dharmasri's popular movie, 'Aradhana' will be screened for a limited engagement at Regal Cinema in Colombo starting from December 14 till 19. Directed by Wijaya Dharmasri and produced by Vijaya Ramanayake the film stars Malani Fonseka, Ravindra Randeniya, David Dharmakeerthi, Anoja Weerasinghe, Ratnawali Kekulwela and Tharanga Ramanayake.
Malani and Ravindra in a scene from 'Aradhana'
'Aradhana' is a tale of love, separation and reconciliation. Senaka, a young engineer, has obtained a job in Britain and is making preparations to leave Sri Lanka. Driving through the streets of Colombo shortly before his intended departure, he glimpses in another car a girl whom he takes to be his wife, Jina, from whom he had been estranged several years earlier. This encounter and the memories it revives inspire in him a desire to see her again, and he goes up to the hill-country where she lives. The rest of the story is intercut between the meeting of husband and wife and flashbacks unfolding the past.
Senaka first meets Jina when she and a party of friends visit a worksite where he is employed. He meets her again at the hospital where she works as a nurse. Their friendship grows into love, and Senaka proposes marriage, but Jina is unwilling to marry immediately because it would mean giving up her career. A moment of passionate desire on Senaka's part leads to the consummation of love.
Jina becomes pregnant, and is terrified of what will happen when her parents and the hospital authorities discover her condition. In her despair she takes a drug, but is persuaded by another nurse that the only way out is to disclose her pregnancy to Senaka. She does so, and they are married, though at the cost of a bitter scene Jina's father, who thinks of Senaka as a seducer.
The child is born, and Senaka and Jina are happy in their love for him and for each other. Suddenly the child falls ill, is hospitalised and dies. Shortly after, the doctor who has been puzzled by the cause of the child's death asks Senaka whether an abortion had been attempted. The suspicion this sows in Scnaka's mind leads to a violent scene in which Senaka accuses Jina of having murdered his child and finally drives her out of the house.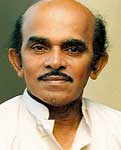 Director Wijeya Dharmasri
The filmmaker Wijaya Dharmasri is one of the outstanding directors of the Sinhala cinema who came to the limelight with his maiden "Duhulu Malak" (A Dandelion).
The film made history in Sinhala cinema as it treated the story of an extra marital love affair with sympathy and understanding for the woman who is caught up in an emotional involvement - a treatment very different from the melodrama and simplistic moralizing through which the theme had hitherto been approached. The film was both a critical and a popular success, and it was hailed as a technical achievement which was remarkable for a director making his first film.
Dharmasri's other popular films were Chudamanikaya - a thriller centred round a jewel robbery, and 'Situ Kumario'- a story of young love. His films exhibit the variety and range of his cinematic interests, since each film has been different in subject-matter and approach.
---
'Sikuru Hathe' at Regal now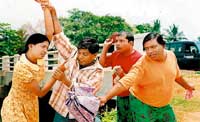 Box office record Giriraj Kaushalya's maiden film 'Sikuru Hathe' is now being screened at Regal cinema Colombo. A week's screening of the film, started on December 7 will be end on December 13. The first production of New Imperial Talkies, the film, an action comedy revolved around a Kapuwa, the traditional matchmaker who faces a dilemma in finding a partner for his own daughter.
It stars Wijaya Nandasiri, Tony Ranasinghe, Iranganie Serasinghe, Himali Sayurangi, Suraj Mapa, Susila Kottage, Rodney Warnakula, Anton Jude, Priyantha Seneviratne, Anaraklli Aakarssha, Wasantha Vittachchi, Sarath Chandrasiri, Sarath Kotelawela and Hemantha Eeriyagama.