The Rainmaker
Starring: Matt Damon, Danny di Vito, Claire Danes
Directed by: Francis Ford Coppola
If you've read the book, you ain't going to be too happy with this. But then, most people who read the book first are never happy with the portrayal in a movie so you should give it a shot. Readers of John Grisham's book will find this film rather less of a thriller and more of a courtroom drama, albeit with a curious flat feel to it.
The story is that of a legal action on behalf of a teenage boy denied coverage for an expensive bone marrow transplant by his family's medical insurer. Changes to the plotline to accommodate the story to the demands of film drama have removed the unique feature of the book – a largely successful attempt to make the details of legal civil procedure interesting. Francis Coppola is a very innovative yet conventional director (you could credit him with authorship of several current movie clichés) and his storylines develop according to convention.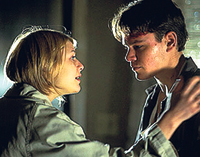 Thus the love affair, which is completely extraneous to the main storyline in the book, is pumped up, and the fascinating battle of wits between the lawyers played down. As in the book, Rudy is the tyro David up against the experienced Goliath, Drummond, but Rudy's inexperience is played up to the point that you wonder how he got this far. The trial judge, who in the book is extremely helpful to Rudy, is replaced in the film by a sympathetic but much more impartial figure. In Hollywood conventional courtroom drama, His Honor or Her Honor doesn't take sides.
Danny de Vito, playing Deck the paralegal (or `paralawyer' as Rudy calls him) who can't seem to pass the bar exam, is just brilliant. Deck is a dishevelled, unimpressive little guy who is nonetheless good at what he does – `rainmaking' or finding new business. His strength is his intelligence, his energy and his lack of pride; he is quite happy to chase ambulances and give cops backhanders for information. His ethics are simple: Fight for your client, don't steal and try not to lie.
Matt Damon as Rudy is wetter behind the ears and not such a quick learner as the Rudy of the book, but ever so often he connects and we understand how he feels. The courtroom drama is filmed in a grand but gloomy court room, in fact the lighting people seem to have been absent. We hardly get a glimpse of the face of one important minor character, Cliff the wife-beater (Andrew Shue) yet there is no apparent reason for this. The way some of the scenes were strung together, and started and finished were vaguely familiar, and half way through it hit me – The Godfather, where scenes just seem to begin and end without any particular reason.
One thing the film does almost as well as the book is send the message (sorry Mr Goldwyn) that America needs to do something about its medical insurance system, if the present chaotic mess can be so described. The court system, while not perfect, comes out of it a bit better (David is able to beat Goliath fair and square) but as for lawyers…well, let's just say things would be a lot better if they stuck to Deck's minimal ethics.
The story also might explain why John Grisham (who has a walk-on role as a lawyer at an al fresco deposition) gave up the law to write books, thus bringing pleasure to millions instead of (hopefully) winning retribution for a few.
Watch it if you liked – The Firm
Movie Hall of Fame – No
Tagline – They were totally unqualified to try the case of a lifetime... but every underdog has his day. He said/she said – Every lawyer, at least once in every case, feels himself crossing a line that he doesn't really mean to cross... it just happens... And if you cross it enough times it disappears forever. And then you're nothin but another lawyer joke. Just another shark in the dirty water.
El Cantante (2007)
It's the 70's, and who knew that Salsa made it this big back then. He was known as Hector Lavoe – the king of Salsa. In a decade where the Musical Biopic genre has been abused, in order for celebrities to gain the limelight and win big at the Oscars, El Cantante (which stars Jennifer Lopez and Marc Anthony) strives hard to achieve this fortune, but fails. This was definitely no Walk the Line or Ray. In fact at the end of the movie, there is not much people can take with them: There was no substantial story Or is it just that seeing musicians on drugs and watching them go through a downfall is no longer shocking or sympathetic but only annoyingly familiar. In El Cantante Jennifer Lopez plays 'Puchi,' the love interest of Hector Lavoe, who becomes his wall to fall back on during thick and thin and also becomes the chief subject behind this film, as it gets told from her perspective.
As Puchi, Lopez' performance is probably her most mature work since Selena, but yet she unequivocally plays herself with the diva behaviour, the flashy clothes and the narcissistic performance (after all she did rob Marc Anthony off the spotlight, when the film is supposed to be about him). In fact Ms. Anthony, playing Puchi in 2002 (almost 15 years after fame decided to leave her character), would have been a rude awakening for Lopez, indicating what life might become for her. Marc Anthony is simply spectacular – his performance as Hector Lavoe is arguably pure Oscar bait and making this movie his breakthrough. Anthony proves himself as an actor who is equipped with the ability of exhibiting diversity and that need to be taken seriously in the acting profession is clearly present through his performance. Unfortunately the film suffered from poor publicity, making an Oscar is a far cry.
Another reason as to why this film fails is because an overexposed Hollywood couple plays husband and wife in the movie, and there is nothing interesting between them anymore that a movie could change. The movie concludes as usual with information as to what happens after – and since this is reality on the big screen, its no happy ending. However keep in mind, that if you're a fan of Salsa and the musical biopic genre this is one movie you must consider viewing.
– Mailed in by Sajeeva Sinniah