Catch the fun
Here are three ways to convince Mrs. Potter from the adoption agency that you are in fact good parent material:
Make sure there isn't a stash of smuggled contraband in the house.

Make sure there isn't a stolen, decaying corpse lying in your flower bed.

Make sure the Sri Lankan mafia aren't after the illegal Sri Lankan immigrants you're harbouring in your home.
Tom Kerwood has failed on all three counts and now he's in trouble...and with his brothers Dick and Harry by his side, he's certain of only one thing – there's bound to be a whole lot more coming his way. If you're planning on catching the fun, be prepared for much laughter, confusion and a general mayhem. Directed by Neidra Williams and Jehan Bastians, Tom, Dick and Harry – the new comedy presented by Silent Hands -– may be just what the doctor ordered for those post-New Year blues.
If it helps, you could consider Tom, Dick and Harry, a crash course on what-not-to-do-when you're-in-trouble-with-your-wife. Niren Neydorff, in his role as Tom, is something of an expert on the matter. His advice tends to be along the lines of – don't let your incorrigible brothers past the threshold. Talking about his wife Linda (Sashini Wakwella), he says, "My character is such that I love my wife very much, but I'm also scared of her." As the play swings into action it's apparent that someone in that house calls all the shots – and not only does Tom know it's not him, everyone else does too. The healthy respect he gives his wife has Tom going to absurd lengths to cover up disaster after disaster, most of which are ushered in by Dick and Harry (who incidentally are scared of Linda too.)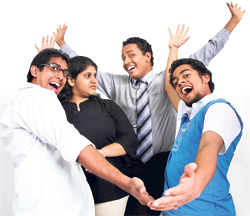 Gehan Blok who plays Dick Kerwood is true to his character when he describes Dick as a "playful" man rather than a criminal mastermind. Admittedly, Dick is only a petty dabbler in crime, but when he lands up at his brother's door with a stash of smuggled brandy and cigarettes, Tom is not inclined to be welcoming. Of course, Dick's sense of timing is impeccable. This is the day that Mrs. Potter from the adoption agency is coming to assess Tom and Linda as prospective parents. With perfect comic timing, playwrights Ray and Michael Cooney now throw Harry into the mix.
With the best of intentions, Harry, played by Anush De Costa, has stolen a corpse from the hospital in which he works. He has concocted a plan so outrageous and improbable that it can only come from a man who loves alcohol as much as he loves his brothers. Suffice to say, it begins with the corpse in a bin bag, waiting in the flower bed and will eventually involve the local detective (Javin Thomas) and possibly a satisfactory solution to a land deal (or so Harry hopes.) Through it all the brothers are dancing around Tom's wife Linda, played by Sashini, who describes her character as "the Sister-in-law from hell." Despite her prim, no-nonsense demeanour, Linda finds herself struggling to deal with the sudden rash of complications in her life and with the unhappy truth that her husband may just be hiding some things from her.
The more, they say, the merrier; which is why we also have Alice and Rupasinghe, played by Sulochana Perera and Miranga Ariyaratne. Remember Yes, Hon. Minister? Than it's very likely you remember Rupasinghe as well. For Miranga, the role of an uncouth, drunkard, who finds himself completely at sea in a strange place is one that can be played with plenty of humour. Neither Rupasinghe nor Alice speak English, reveals Miranga, and this can lead to some hilarious miscommunications – which is exactly what they were aiming for, explains Neidra.
When the Sri Lankan mafia representative (Mahesh Senaratne) responsible for Alice and Rupasinghe's plight arrives on the scene, it only adds to the mayhem. Only one question remains – how in the world are Tom and Linda going to convince Mrs. Potter (Neidra) of their eligibility? Their happily-ever-after hangs in the balance.
The young cast promises to pull it off very well with a lively performance. In Tom, Dick and Harry you can look forward to checking out a bunch of relatively new and talented actors and actresses say Directors Neidra and Jehan. For instance, this is Niren's first big role, and he seems to be relishing the challenge. It helps that his 'brothers' are also fellow Peterites. Having studied together, the trio have established a great working relationship. The cast is also tightly knit, in the sense that most of them have worked with Neidra and Jehan in previous productions and are familiar with the directors' styles.
Tom, Dick and Harry has been adapted somewhat to suit its Sri Lankan audiences. As in the case of the two immigrants, a Russian mobster, has been replaced with his Sri Lankan counterpart. This creates several levels of humour, says Neidra explaining that in normal productions of the play the audience cannot follow the conversation between the immigrants.
However, in the Silent Hands production, we're going to follow every line. Describing the impact of the play, Assistant Director Mahesh Senaratne compares it to watching the snowball that triggered the avalanche.
It begins small, gains momentum, and with every fresh piece of absurdity, has you laughing all the way into the grand finale.
Silent Hands presents Tom, Dick and Harry on January 18, 19, and 20 at the Lionel Wendt from 7.30pm onwards. Directors Neidra and Jehan are assisted by Mahesh Senaratne. Tickets are on sale at the Wendt.
Parking available in front of the Wendt. Sponsors for the event are S.P Solutions, The Sunday Times, Daily Mirror and Efm.