'Jana Karaliya' comes to Thambuttegama
'Jana Karaliya' drama festival is now being performed at the 'Thambuttegama Mahaweli Grounds' for school children and the public of the locale. Organised by 'Janakaraliya Mobile Theatre', a volunteer group to educate the public and the children in the Thambuttegama Educational Zone on drama, theatre, cinema and aesthetic interests the programme will be conducted from February 22 to 26.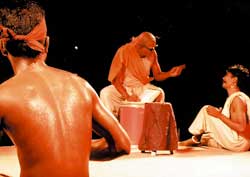 A scene from Jana Karaliya
Dramas to be staged during the festival are; 'Charandas'- which bagged 9 awards at the 'State Drama Festival - 2006' in both Sinhala and Tamil mediums, 'Seethambarapataya' (Script - Mangala Senanayake), 'Andara Mal', 'Makaraksha' (Adoptation by Cyril C. Perera), 'Wahalage Maranaya', 'Kalpanthaya', 'Suralowak Koheda Wena' and two children's dramas 'Dev Lova Gamana' and 'Soru Evilla' (Script - Sumith Samarasinghe).
After the drama festival, an International Film festival and a photographic exhibition will be held at the 'Janakaraliya Mobile Theatre' from March 1 to 6 at the same venue.
In addition to staging of dramas and screening of films 'Drama and Theatre workshops' will be held for the teachers and school children within the Thambuttegama Educational Zone with the view to enhance creativity and upgrading artistic and entertaining skills of teachers and students.
'Janakaraliya' theatre art programme will be directed and administrated by Parakrama Niriella, H. A. Perera, Dilip Rohana and Ravindra Mapitigama. The programme wilt be coordinated by Avanthi Udukumbura and managed by Nishantha Kularathne. 'Janakaraliya Drama Group' is represented by Jayantha Mututhantri, Manjula Ranasinghe, Suneth Shanthapriya, Sumudu Mallawarachchi, Palitha Abeypala, Muniyandi Kalidas, Sokkalingam Krishanthan, Ajantha Shanthakumar, Varni Theresa, Aiosha Tharangani, Sineth Devinda, Thiyagaraja Sivaneshan, Tarzan Sam Paul, Dinesh Sri Livera, Rasaiyah Lohanathan, Malithi Kumari, Selvaraj Leelawathi, lnoka Lankapura, Chandani Malkanthi and Ranjith Sumith Fernando.
Earlier the 'Janakaraliya' Drama Troupe performed drama and theatre programmes in the Hambantota District with the assistance of the Ministry of Cultural Affairs and National Heritage.