Saudi Arabia marks oil's 75th birthday with boom
DHAHRAN, Saudi Arabia, (Reuters) - Conservative Saudi Arabia cut loose for one night with bright lights and loud music to celebrate 75 years of the oil era, which has turned a backward desert kingdom into a super-rich power. King Abdullah watched dancing children and listened to actors and government executives narrating how oil transformed the desert and predicted it would do so for another 75 years.
Now the world's top oil exporter, the Gulf Arab state provides over a tenth of oil supplies and is raking in windfall revenues as prices reach new highs. U.S. crude (CLc1) hit a fresh record of $130 a barrel on Wednesday."Oil made us leap to the 21st century from a way of life reminiscent of the 15th century," one royal told Reuters at the celebrations.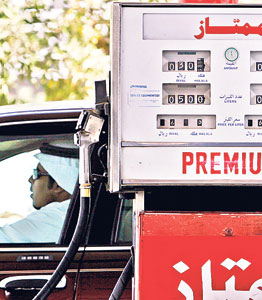 A Saudi Arabian man leaves a gas station in Riyadh, Saudi Arabia. (AP)
The festivities were held in a purpose-built dome raised around the well that first tapped commercial quantities of Saudi oil, now called the "prosperity well". On display was the original copy of the first oil concession Riyadh signed with U.S. firm Standard Oil of California in 1933, heralding a search that had prolific results. The kingdom holds a fifth of global oil reserves.
Since then, oil has been at the centre of a web of diplomatic, economic, political and security interests that bind Saudi Arabia to the United States. Just last week, U.S. President George W. Bush visited Riyadh to ask it to pump more oil to ease the economic impact of record prices on the world's largest energy consumer.
Saudi Arabia made just a modest output increase, with little impact on prices. Washington also agreed last week to help safeguard Saudi oil facilities. Saudi Arabia holds almost all global spare oil capacity, a reserve crucial to meet surprise supply disruptions.
Oil's rise from $10 a barrel in the late 1990s to $130, partly due to soaring Chinese demand, has triggered a turnaround in the Islamic kingdom's economic fortunes and a return to some of the big spending that characterised the 1970s and 1980s. But it has also put Saudi rulers under greater scrutiny in a country about two-thirds of whose 17 million people are under 30 and more educated and aware of what is happening abroad.
Poverty still exists in a country where the royals, who monopolise power, include some of the richest men in the world. Income per capita is the lowest of the six Arab Gulf nations, according to International Monetary Fund statistics, and is less than half that of the United Arab Emirates.
Ordinary Saudis are suffering from rising inflation, which hit a 30-year high in March. Like other Gulf Arab states with currencies pegged to the weakening dollar, Saudi ability to tame rising prices is limited. The higher cost of living is stoking discontent after a 2006 bourse crash wiped out the savings of many.
Oil was discovered in 1938, and production began under the then U.S.-controlled Arabian American Oil Company, Aramco, which was nationalised in the 1970s and is a state oil giant. Abdullah Jumah, its chief executive, promised a brighter future for Saudis.
"Works and projects will make us better prepared for the future, for the next 75 years," he said in a speech.
Saudi Arabia is spending over $90 billion in energy projects locally and abroad. It is expanding crude capacity to 12.5 million barrels per day (bpd) from around 11.3 million. Jumah said Saudi Arabia's future would depend on how fast it develops the workforce. The education system produces citizens well-versed in religious tradition but lacking good English and struggling to compete in the globalised job market. Major firms like Aramco often reeducate graduate hires abroad.
Celebrations broke with the kingdom's usual austerity by including short musical and dance shows and a play, art forms little tolerated by the religious establishment in the ultra-conservative Sunni country."Before oil was discovered ... the only education we had was by clerics," one actor said to an audience that seemed too bemused by the show to react to a comment that would have offended many in the conservative kingdom.