Fury over fuel price increase
Angry students protests in Indonesia
JAKARTA,Saturday (AFP) - Angry students hurled molotov cocktails at police after Indonesia hiked the cost of fuel by nearly 30 percent today to rein in subsidies that are exploding along with world oil prices. More than 100 protesters were arrested as students burned tyres in the streets and threw homemade fire-bombs outside the National University in Jakarta in response to the midnight price hike, police said.
Other rallies broke out in the second city of Surabaya, where students commandeered a fuel truck from state-owned oil and gas company Pertamina, and in Bandung where members of a hardline Muslim group took to the streets.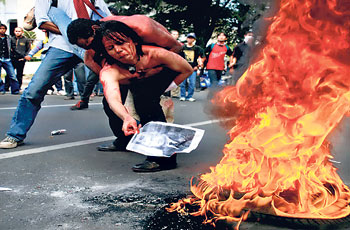 A student demonstrator burns a photo of Indonesian Vice President Jusuf Kalla during a protest against the government's proposed fuel price increases. AP
The major fuel price hike took effect at midnight in response to soaring global oil prices and a ballooning subsidy bill that is straining the budget and sucking state funds away from basic services and infrastructure. Long queues formed at petrol stations ahead of the announcement Friday and 26 demonstrators were arrested at a protest at the presidential palace overnight. Millions of Indonesians live on less than two dollars a day and protesters say higher fuel prices combined with the recent surge in the cost of food will put an intolerable strain on family budgets.
Indonesian motorists are now paying 33.33 percent more to fill their tanks with premium gasoline at 6,000 rupiah (65 cents) a litre, while diesel fuel for transportation has leapt 27.9 percent to 5,500 rupiah. "We will fight against this abuse of power by the government. It's unacceptable," protest organiser Wardah Hafidz, of the Urban Poor Consortium, told AFP. "The fuel hike will be followed by rises in the price of basic food, education and transport fares, meaning more people won't have money to educate or feed their children. This country will collapse."The price hike sparked protests across the sprawling archipelago of 234 million people when it was flagged earlier this month by President Susilo Bambang Yudhoyono, and police across the country are on alert for more unrest. The president had promised not to raise fuel costs until after elections next year, but with oil prices smashing records above 130 dollars a barrel this week, the government felt it had no choice but slash subsidies.
Analysts welcomed the rises and said other Asian counties would have to follow suit or watch their budgets break under the weight of massive fuel subsidies."I think this move is positive for Indonesia in terms of its fiscal position," Royal Bank of Scotland economist Euben Paracuelles said in Singapore on Friday. "It looks like that's where most governments are heading right now."Taiwan's new government has decided to end a freeze on domestic gasoline prices from June, while Malaysia is reportedly looking at making wealthy consumers pay more for fuel under a new two-tier subsidy system. Even regional giant India is reeling from the oil price onslaught, with the petroleum secretary admitting Friday that a fuel price hike was "inevitable" to bail out state oil firms selling at hugely discounted rates.
To soften the blow, Jakarta is offering direct cash transfers to the poor amounting to 14.1 trillion rupiah (1.5 billion dollars). The government was at pains to point out that even with the price hike Indonesians still enjoyed some of the cheapest fuel in the world. But Vice President Jusuf Kalla said the government was not afraid to adjust prices even higher in Southeast Asia's biggest economy if the oil markets continued to climb.
The last fuel price rise in Indonesia was a whopping 126 percent in 2005, sparking mass demonstrations but no long-term unrest.