Chinese leader says quake death toll may top 80,000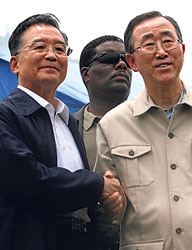 Premier Wen Jiabao (L) and UN chief Ban Ki-moon shake hands as they visit the quake-hit Yingxiu town. Reuters
YINGXIU, China, Saturday (AFP) - China said today at least 60,000 people have been killed in its worst earthquake in a generation and that the death toll could climb past 80,000.
UN chief Ban Ki-moon visited an area devastated by the earthquake in southwestern Sichuan province as international efforts picked up steam to help China shelter and care for millions of homeless.
China's Premier Wen Jiabao revealed the grim new figures while escorting Ban through Yingxiu, a razed town in the epicentre of the earthquake, which flattened schools, homes and other buildings on May 12. Fatalities "may further climb to a level of 70,000, 80,000 or more," the premier told reporters.
The UN secretary-general arrived from neighbouring Myanmar, where one day earlier he persuaded the ruling military leaders to accept a major relief effort for survivors of the cyclone which struck there three weeks ago.
In China, Ban offered further UN assistance and praised China's response to the disaster, according to the state-run Xinhua news agency.
"The United Nations stands ready to provide further support, as required, to the government of China in its efforts to respond to the humanitarian needs caused by the disaster," Ban said earlier in a statement.
Unlike Myanmar, China has accepted international rescue teams and doctors, although it faced some criticism for waiting several days to make its decision.China has been eager since the quake to ease tensions with other countries.