Cannes critics cool as film competition nears end
CANNES, France, May 23 (Reuters) - A lack of memorable movies means the 2008 Cannes film festival has scored poorly among many critics, who argue that after a solid start the main competition faded. Star power was sustained, however, with the red carpet attracting big names like Madonna, Angelina Jolie, Brad Pitt, Clint Eastwood, Penelope Cruz, Woody Allen, Steven Spielberg and Harrison Ford and sports stars Mike Tyson and Diego Maradona.
With two out of 22 films in the main competition this year yet to screen, critics and journalists who have been through 10 days of movies, news conferences, interviews and parties struggled to come up with many highlights. The competition closes on Sunday evening when the nine-member jury headed by Sean Penn hands out the awards, culminating in the coveted Palme d'Or for best picture.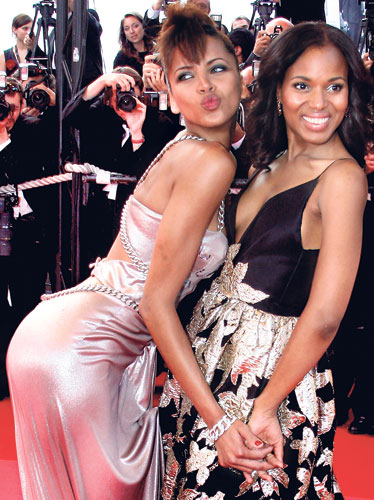 French model Noemie Lenoir (L) and US actress Kerry Washington pose as they arrive to attend the screening of US director Charlie Kaufman's film 'Synecdoche, New York' at the 61st International Cannes Film Festival on May 23, 2008 in Cannes, southern France. The May 14-25 festival winds up with the awards ceremony for the prestigious Palme d'Or, to be determined by a jury headed by Hollywood "bad boy" Sean Penn. AFP
"Even before the halfway mark, the general mood has been one of disappointment," said Jay Weissberg, a critic with trade publication Variety. "Coming off another weak Berlin festival, there is a sense that 2008 is not going to be the best year for films." He and several others highlighted "Waltz With Bashir" as a potential winner of the top prize.
The animated documentary was seen as an innovative way of exploring an Israeli draftee's memories of the 1982 massacre of Palestinians living in Beirut's Sabra and Shatila camps. Other leading contenders included Hollywood veteran Clint Eastwood and Turkish director Nuri Bilge Ceylan, underlining how Cannes seeks to unite mainstream cinema with smaller-budget, independent film making.
Eastwood's "The Exchange", originally titled "The Changeling", features Angelina Jolie as a 1920s mother who loses her son and faces down a corrupt Los Angeles police force and a serial child killer as she goes in search of the truth. Probably more than any other movie in Cannes it has sparked early Oscar buzz, although several critics were underwhelmed.
Ceylan's "Three Monkeys", a brooding family tragedy, leads Screen International's informal poll of critics, while another family drama, "A Christmas Tale" by France's Arnaud Desplechin, is a firm favourite among domestic experts. Italian entry "Gomorrah" was lauded for its brave depiction of the brutal world of the Naples mafia in a drama based on a bestseller by Italian author Roberto Saviano.
Another Italian film, "Il Divo" directed by Paolo Sorrentino, has also been well received. It takes a satirical look at former prime minister Giulio Andreotti, depicting him as the symbol of a corrupt political system. Two-time Palme d'Or winners Jean-Pierre and Luc Dardenne from Belgium are seen as contenders with "Lorna's Silence", while two of four South American entries drew praise.
In "Lion's Den" from Argentina, Martina Gusman gives a compelling performance as a pregnant woman jailed for murder whose life is transformed by her son, and "Line of Passage" from Brazil is a touching drama set in the slums of Sao Paulo. Steven Soderbergh's two-part "Che", about the life and death of Argentine revolutionary Ernesto "Che" Guevara, was deemed by some as too long at over four hours, and Charlie Kaufman's oddly titled "Synecdoche, New York" baffled some viewers.
Hundreds more films were launched in Cannes, including some considered worthy of a main competition slot. They included "Hunger", about Irish guerrilla Bobby Sands, and "Johnny Mad Dog" about child soldiers in Africa. Also out of competition, "Indiana Jones and the Kingdom of the Crystal Skull" marked the return of the whip-wielding archaeologist played by Ford, and although Cannes audiences found fault with it, they expected a box-office smash hit.