A walk through Popham's watte
This unique Arboretum in Dambulla not only offers acres of dry zone trees, but also an educational experience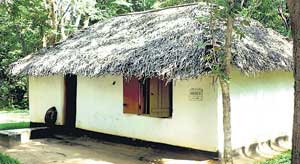 The mud cottage in which Popham lived for 10 years.
Ask for the Popham Arboretum and most people in Dambulla will shrug their shoulders. But ask for 'Suddage Watte' and they will direct you to the man-made jungle just two km from the town on the Kandalama Road.
An arboretum (Ruk Gomuwa) is a place where trees are grown for study and display as a tree garden, without allowing unnecessary undergrowth. "Unnecessary bushes and undergrowth are controlled manually letting the big trees grow freely. It is actually not a man-made forest as some people have branded it. There is no influence whatsoever on big trees, but the scrub is artificially controlled," explains Dilan Peiries, an officer attachéd to the Arboretum.
Sri Lanka's only dry zone arboretum, this was established over four decades ago on 7.5 acres of thorny scrub jungle in Dambulla by British planter F.H. (Sam) Popham. The main building and the rest of Popham Arboretum was designed by famous Sri Lankan architect Geoffrey Bawa and visitors can wander through the mud cottage where Popham lived for 10 years as well as the Bawa-designed house he later moved into and which now serves as a visitor centre.
Walking along the trails of the arboretum one sees some of the finest trees of Sri Lanka's Dry Zone forests including the world's only true Ebony, Diospyros ebenum, the arboretum's icon tree Satinwood or Buruta (Chloroxylon swietenia), Palu (Manilkara hexandra), Tamarind (Tamarindus indica) and Helamba (Mitragyna parvifolia).
The arboretum is also home to a wide range of animals, birds and reptiles. A small herd of spotted deer and mouse deer has made its home here. A large number of birds such as the endemic Jungle Fowl, the Bronze- winged Pigeon and the Grey Hornbill can also be seen.
| | |
| --- | --- |
| | |
| Sam Popham | |
Ruk Rakaganno took over the management of the Popham Arboretum in May 2005. Twenty seven acres were added by the Institute of Fundamental Studies (IFS), which managed the Arboretum from 2001 – 2005, having received it as a gift from Mr. Popham upon his departure from Sri Lanka.
Jayantha Amarasinghe, head of Popham Arboretum has been working there since the departure of Mr. Popham. Funding from various institutions came to almost zero level by 2005 and it was only after Ruk Rakaganno, took over its management that things have improved, he says.
Ruk Rakaganno established the visitor centre in the cottage once occupied by Mr. Popham and this is an all important stop for any visitor, with information on the Arboretum, the species to be seen here and research conducted on growth patterns of the valuable Dry Zone trees, the effects of chena cultivation etc.
"We have knowledgeable guides to show visitors round the grounds and we conduct free classes for the children in the area on forestry management, sustainable tourism and various related fields," Dilan explained. Buddika Dilhan, botanist and head of the Polonnaruwa Open University is working on a volunteer basis to educate children and guide visitors around the Arboretum.
Research officers at the Arboretum are conducting studies into the tree species and other fauna and flora to be found here. The Arboretum is also a centre for the study of the environment amongst schoolchildren, especially those in surrounding communities.
Though an ideal location for those interested in trees and their associated fauna and to learn about the natural wonders of Sri Lanka's Dry Zone, the Dambulla Arboretum, tends to be left off the tourist trail."Groups of visitors are welcome, but advised to book in advance," an official said.
Tourists could eat off a Nelum Kole, and enjoy a refreshing bath in the stream or even camp out during the night. However, campers have to bring their own camping equipment. Food could be arranged if prior notice is given," Dilan said.
Presently, the arboretum is funded by NORAD, CIDA, UNDP's GEF- SGP and other corporate and individual donors, both local and foreign.
A resource centre is also in the pipeline when finances are available and a nursery of endemic and valuable plants has been established to augment income and to ensure the survival of valuable and endangered species.
The arboretum is open to the public every day from 9 a.m. to 5 p.m. except on Wednesdays. For information contact: 2554438 or rukraks@sltnet.lk