Pillars of democracy face danger
Demos and counter-demos as cost of living soars beyond control
Ranil requests former military chiefs to define meaning of "military secrets'
The main opposition United National Party's (UNP) sound and light protest on the city streets last Tuesday may not have generated the same public enthusiasm like last year's Jana Bala Sena.
Then, Opposition cum UNP leader Ranil Wickremesinghe and one time Foreign Minister, Mangala Samaraweera, who had formed the SLFP-M chose to work under the umbrella of a National Congress. The duo had underestimated the strength of their following. Not sure whether they could generate large crowds, they chose Hyde Park for their rally. They feared that if the venue were to be the Town Hall grounds, they might find it difficult to fill it up with people.
However, the turnout, they later learnt, was unbelievable. A procession that began at Borella had reached Hyde Park. Yet, the end of the procession was still at Borella. Such a vast crowd had gathered. If that was to demonstrate their protest against the Government, the occasion was necessitated only by one factor - coming together of the UNP and the SLFP-M factions in an alliance. It showed that a representative gathering of people were behind them.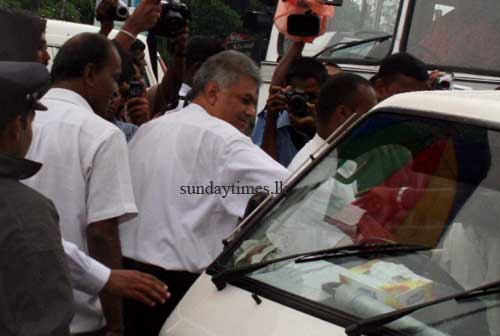 Today, however, more issues have begun to affect the people. Worst among them is the mounting cost of living. The recent fuel price hike has further exacerbated it. Bus and rail fares have gone up. Every conceivable consumer item has recorded a price increase. One need not be an economic expert to say that with the cost of an intensified separatist war and a rising inflation rate amidst an enormous fuel bill has had a crippling effect on the economy. The ordinary man finds it more difficult to live than before though for politicians and their pack, there are fuel subsidies and many other benefits, all from the taxpayer's money.
Some are also skimming off millions if not billions through corruption, undoubtedly the most thriving trade in Sri Lanka. In that backdrop, whilst the National Congress is now forgotten and the UNP has chosen bullock carts, motor vehicle horns and headlights to register its protest against the Government, to say the least, is a tragedy if it is not a comedy. That is a known issue. Most are aware that in a democracy, a vibrant opposition ensures a better quality of life and a safer environment for the vast majority of people. That from a Jana Bala Sena the party has gone backwards and there is no soul searching to correct its colossal blunders is also a well-known factor.
Some are still debating whether the UNP's sound and light protest on the streets was a success or otherwise. Nevertheless, one may not be wrong in saying that the event is clearly a turning point in the course of Sri Lanka's political history. When massive crowds thronged Hyde Park and the road outside for the Jana Bala Sena, the Government appeared confident. Its leaders took note of the large turnout but there was no visible responses that showed either their discomfort or discontent. It was different this week.
The Government or its supporters appear to have come up with an answer. That is the staging of "ready-made" demonstrations to cope with the actions and utterances of UNP or opposition party leaders. It all began with the sound and light protest last Tuesday. In one incident, UNP Anuradhapura District parliamentarian Chandrani Bandara complained that she and party colleague Rosy Senanayake were allegedly abused in filth by acting Officer-in-Charge of the Bambalapitiya Police, Inspector Upul Seneviratne. He, however, denies the charge.
Bandara and Senanayake made complaints against the officer at Police Headquarters on the same day. On Thursday, the UNP held a demonstration on the road in front of the Bambalapitiya Police Station. Interesting enough, just a few metres away, another group put together by a Government politician from the Gampaha District held another protest.
This was in favour of the Police. If the UNPers held placards calling for action against the Inspector, others held aloft placards calling upon people to respect the Police. The latter demonstration also drew groups of police officers who were in civilian clothes. Some among them even held walkie talkies.
No doubt, they were demonstrating their solidarity with a senior colleague. Such actions, needless to say, also have their ill effects. They politicise further an already politicised Police force. Thus, such actions can become counterproductive to a democracy where the Opposition has a role to play. A rise in such trends will only drive sections of the Police into backing the Government on political issues. Thus, they could become an instrument for suppression of dissent.
On the other hand, some of the nuances of their campaign, like many others, appear lost on the UNP organisers of the protest. A retired DIG who did not wish to be identified declared, "that day, if UNP protestors were to get involved in any incident, they would have found it difficult to seek help from the Bambalapitiya Police or elsewhere. Instead of pursuing action against one Inspector for his reported misconduct, they have got more and more policemen against them."
On Friday, Chandrani Bandara raised a question of privilege in Parliament. She said, "I was driving my official vehicle to take part in the protest. Two of my official guards were also in the vehicle. The acting OIC of the Bambalapitiya Police Station started hitting my vehicle with his hands and a baton. He abused me in a degrading manner. He threatened me saying 'I will drag you by the neck and put you into the cell.' He opened the door and tried to pull me out.
His conduct was not only harassment of a female but also a violation of the privileges of an MP. The Courts had declined a Police request to disallow our protest. I have pictures and video clips to prove the incident. I would request that the acting OIC be summoned before the Privileges Committee." Speaker W.J.M. Lokubandara promised action.
There was also another unusual if not unprecedented aspect. A group of Officers-in-Charge of Police Stations had gone to Courts to seek an order to ban the protest campaign. Strange indeed and the question that begs answer is who asked them to do so. If in fact, the UNP protestors were violating the law, they had all the power to deal with them. If they feared there was going to be a breach of law and order, through their higher command, they could have sought instructions. After all, senior Police officers are empowered to take measures to keep the peace if they felt it is endangered. Hence, going to courts to obtain rulings to do their job seems to have other political connotations. The question is whether some politicians or bureaucrats, to say the least, wanted to take umbrage under a court directive to stop legitimate political activity.
Another episode revolving around demonstrations involved UNP and Opposition Leader, Ranil Wickremesinghe. On Wednesday, he swore in 15 Sri Lanka Muslim Congress (SLMC) members elected to the Eastern Provincial Council, he launched a bitter attack against Defence Secretary, Gotabhaya Rajapaksa. He charged he was the "traitor" and not journalists who report shortcomings in the conduct of the war against Tiger guerrillas.
Wickremesinghe said journalists who report shortcomings in the prosecution of the war were doing yeoman service on behalf of the valiant soldiers protecting the country's territorial integrity and sovereignty. He said there was a "serious threat to freedom of expression" and declared the UNP would launch a campaign to protect it at any cost. His remarks received wide play in TV news bulletins on Wednesday night. Before departing to India on Thursday, Wickremesinghe also initiated other measures for this campaign. More on that in later paragraphs.
On Thursday, Wickremesinghe faced a pro Government demonstration when he was on his way to Parliament. Raising an issue of privilege he said: "Today Parliament is being re opened. We were informed that attempts would be made to interrupt our journey to Parliament. We were told that posters were being printed. When I was coming to Parliament, there were two groups. One of them was at the HSBC junction. The other was near Parliament roundabout. They were to block me coming to Parliament.
"In addition, when I was on my way to Parliament, my security detail received information that some vehicles had been put across the road to block my path. I had to use another route. This is a violation of my privileges. Everybody has the right to come to Parliament. What is the problem in us coming to Parliament and attempts being made to prevent us? They can put up posters but how can they prevent us. What did the Police do about it?"
The Speaker: "That is disgusting. This is a democratic country. Any member should be able to come to Parliament without any interruption. This is harmful for democracy. I brought this to the attention of the IGP. He said DIG Western Province (South) will be informed and action taken. I wish to say that preventing an MP from coming or leaving Parliament is a violation of privilege. I will refer the matter to the Privileges Committee."
Wickremesinghe: "I wish to name some of the persons who were present at that time. Thushara Perera, Duminda Silva, Hector Bethmage, Buddhadasa (interruptions). Today is an important day. Today, the President is not present. Why has the President not come? He decided to re open Parliament today but has gone abroad. There are several issues in the country. Journalists are being killed. The Cost of Living is mounting. People are asking what is happening to the war…." (Mr. Wickremesinghe is now in India. Upon his return, he is to travel to France and UK).
This week's events show the need for the opposition to bolster itself to meet the new threats in the form of tit-for-tat demonstrations. Though it may be panic reaction on the part of the Government, for the opposition it has underscored the need to muster its own strength. That is to meet the new threats democratically but more effectively.
In the light of accusations by some defence officials that the media was revealing "military secrets," before his departure to India, Wickremesinghe wrote to one time Army Commander Lt. Gen. Srilal Weerasuriya, who is now President of the Association of Retired Flag Rank Officers. He said:
CLARIFICATION/DEFINITION OF 'MILITARY SECRETS' IN RELATION TO MEDIA
"I have observed in the recent past that there is a 'conflict' between the independent media and government institutions where some sections have been accused of leaking military secrets. Some media persons have been harassed, assaulted and intimidated. This situation has damaged the image of Sri Lanka in the eyes of the international community.
"The ARFRO, as an independent body of distinguished officers, whose collective experience of many years of active service with almost all having done their staff college training abroad on all forms of warfare, may I request you to clarify the meaning of the term 'military secrets' so as to enable the media to give an accurate report on the present conflict and to express their opinion without endangering any pending operations.
"An early response from you would be much appreciated." The Sunday Times has learned that Wickremesinghe's request was placed before a meeting of the ARFRO Working Committee on Friday. A three-member sub committee comprising Air Vice Marshal (retd.) Brendon Sosa, Rear Admiral (retd) D.K. Dassanayake and Major General (retd.) Lohan Gunawardena has been appointed to formulate a response to Wickremesinghe.
Among the areas the ARFRO was looking at were the subjects of troop movements, procurements and promotions. According to one ARFRO member, "reporting on troops movements ahead of an operation can endanger the lives of troops. Thus, it could amount to treachery. However, procurements and promotions are quite different."
He said, most procurements are done through "Registered Suppliers." The tender procedures are also in place to ensure transparency. Thus, the information is in the public domain. Besides the successful tenderer, rivals who fail are also privy to information. Sometimes they seek redress through politicians or the media. Thus, the information becomes available.
In the case of promotions, the ARFRO member said, it is a legal requirement that such instances are gazetted. The purpose of gazetting is to keep the public informed that promotions had been granted to officers. "If reportage of that is to be banned, then laws will have to be amended to make promotions a top secret," the member said.
President Mahinda Rajapaksa and Defence Secretary Gotabhaya Rajapaksa met Publishers and Editors on Friday evening at Temple Trees for a meeting on matters relating to the military and the media.
The week's events show that both for the opposition and the media, two pillars of democracy, tougher times are ahead. It would therefore be not wrong for one to say democracy itself is facing some critical challenges in Sri Lanka.