The bold and the brave
It was time once again to honour those little known heroes amidst us
"A coward turns away but the brave man's choice is danger," said British High Commissioner to Sri Lanka and the Maldives Dr. Peter Hayes quoting Euripides, the ancient Greek writer. His words aptly described the courageous actions of the everyday heroes who were honoured at the BMICH last Wednesday.
These people could have easily opted to not do what they did. But by risking their lives and doing something extraordinary they helped save another's life."There is a choice involved in bravery," Dr. Hayes went on to say, "of either saving yourself or putting others before you."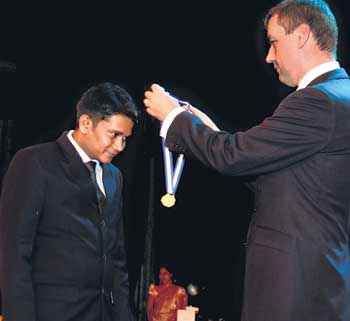 Dr. Charitha Senevirathna receiving the Budal Na Gold Award from British High Commissioner Dr. Peter Hayes.
The 15th National Civilian Bravery Awards organized by the Foundation for Civilian Bravery held last Wednesday recognized 33 such individuals who risked their lives to help others. It was sometime before six on a busy workday evening last November when a bomb left at the parcel counter of the NoLimit shopping mall in Nugegoda exploded causing chaos and terror. Dr. Charitha Prabath Rangana Senevirathna, a student counsellor attached to the University of Sri Jayawardhanapura was passing Nugegoda and to his horror saw several people still ablaze in the fire that followed the explosion.
Charitha saw a woman in pain, struggling to get up. He dragged her across the road to safety. "I saw another man burning. I saw an umbrella nearby and with it I doused the flames," he said. Charitha helped around five people who were trapped in the fire. Some of them survived, but one didn't.
Charitha didn't stop at that. He took the injured to hospital and helped them get medical attention. His actions that day earned him the prestigious Budal Na Gold Award and speaking to The Sunday Times, a beaming Charitha said that he was glad he did what he did. "One person was badly burnt, I had the feeling he wouldn't survive, but I did my best to save him," he said.
In the current situation, his public spirited action is a stirring example of how every person can help wherever he is. World's End at Horton Plains is indeed beautiful. And often when we go there, we hear sad stories – of the people who committed suicide there, the lovers who leaped to their death. Looking down from World's End you know that if you do fall from there, you would have no chance of surviving.
So when A. Bandula Kumara from Meepilimana in Nuwara Eliya heard about a man who had fallen down the precipice while walking to Little World's End, this is what went through in his mind."The police had already been looking for the man, but had been unable to find him," Bandula recalled. Rushing to the scene, Bandula made up his mind, he would try to help.
Clambering down the 500 foot precipice with the aid of a rope, he found the man seriously injured, but alive. After several hours of struggle, Bandula managed to reach the top and the safety of waiting arms carrying the man with him. For this heroic act, Bandula was awarded the silver medal for Civilian Bravery.
What if the driver of your vehicle loses control while on a busy roadway? In February last year, K. W. Kusum Priyadarshana boarded a Badulla-Colombo private bus with his wife and brother. It was around 12 noon and all was fine, until after they passed the Balangoda town. The driver suddenly went into an epileptic fit. Panic gripped the passengers as he lost control and the bus veered off the road.
"One passenger came to the rescue taking partial control of the wheel. But as the driver slumped against his body he too found himself unable to control the bus," Kusum recalled. This was when Kusum came forward to help. Jumping over the driver, Kusum grabbed the wheel and slowly amidst the cries of the passengers, steered the bus back on to the road and brought it to a halt.
Thanks to Kusum, around 60 lives were saved. Had he too panicked and clung to his seat at the back of the bus, it would have been a different story. Neither he, his wife or brother would have lived to receive this certificate of merit he was awarded for his brave deed that day.
Speaking at the ceremony, the President of the Foundation for Civilian Bravery, Kasun P. Chandraratne said the organization's focus is to ensure the continuity of life and it is therefore dedicated to recognizing the selfless actions of those who save or attempt to save the lives of others. After all, this is what being a hero is all about.
Other heroes
Inscriptions on Gold were awarded to members of the clergy - Ven. Badulle Ariyawansa Thera who donated a kidney and part of his liver to two others in need and to Rev. Fr. Alfred Alexander who saved a youth who was being abducted in Wellawatte.
This year's presentation also included the Gold and Silver Asian awards. The recipient of the Gold medal for civilian bravery for Asia was Mohamed Jaisham Ibrahim from Maldives who prevented a man from stabbing Maldivian President, Abdul Gayoom while he was greeting people at a function at Haa Alif Hoarafushi in Maldives.
The Silver award went to Ravi Kumar Tandan from India who helped save a young girl stuck between a moving train and the platform in Mumbai, India.