Built for pleasure not for war
Sigiriya was not a fortress but a private retreat for King Kassapa says Prof. Siri Gunasinghe
"To understand Sigiriya one must understand Kassapa. To understand Kassapa one must understand Sigiriya…for Sigiriya is the reflection of Kassapa's passions. The only clue to Kassapa's character and his mentality is his creation Sigiriya, and it is a work of a genius." A palace on a rock surrounded by water fountains, long stretches of beautiful gardens; provocative murals of attractive women; a perfect setting for a royal pleasure house.
Was this what Sigiriya was during the ancient times - a royal palace built for the pleasure and indulgence of King Kassapa? Sigiriya displays the unrecognized aesthetic side of Kassapa. The infamous story of Kassapa's patricide has robbed him of due recognition for a creation famous for its beauty both natural and man-made, says Prof. Siri Gunasinghe who in his recently released book 'Sigiriya - Kassapa's homage to beauty', presents the theory that Sigiriya was a palace built for pleasure not for war.
Historian and artist, Siri Gunasinghe, Professor Emeritus University of Victoria, Canada, B.A. University of Ceylon (now Peradeniya), Docteur d'Universite de Paris, D. Litt (Peradeniya) and D. Litt (Jayewardenepura, is quite well-known for his contentious theories, be it in Sinhala literature, Sinhala language studies or history.
With his book on Sigiriya he has yet again awakened a scholarly debate by questioning some of the established theories about the rock fortress."When I was reading about Sigiriya and the argument that it was a fortress for King Kassapa who feared his brother would return to reclaim the kingdom, I felt that something was missing. There was no evidence to back up the argument that Sigiriya was a fortress. I felt that many scholars who said this did so without much thought. I investigated more and concluded that Sigiriya would have been built for the pleasure and the indulgence of the royals, not as a fortress," said Prof. Gunasinghe.
Nothing of military nature has so far been recovered to support the theory that it was a fortress, he says, arguing that there was no architectural or other archaeological evidence either. On the contrary all the architectural evidence points to one direction -that Sigiriya was Kassapa's resort where he would have spent a few weeks during the rainy season of the year.
As he says in the book's preface, "Writers on Sigiriya seem to be satisfied with the very short Mahavamsa statement which condemns Kassapa forever as a patricide. Whether that accusation is justifiable or not, is, of course, worth asking, though the answer to that question may not throw any light on Sigiriya itself. However it is my view that there is another side to Kassapa's life and that is the key to understanding Sigiriya."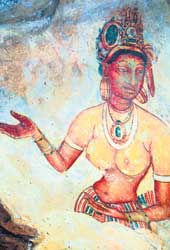 "King Kassapa would have gone to Sigiriya for a few weeks to have a good time. Sigiriya was a pleasant environment created expressly for Kassapa's entertainment. It is impossible to say that the king lived in the hilltop palace all year long. Logistically it would have been a huge problem," Prof. Gunasinghe points out He claims that no sensible king would have isolated himself on a hilltop in the middle of nowhere if he wanted to build a fortress. "If this was the case all Moggallana had to do to win the battle was to surround the hill; they would have been cut off from food, water and any help from the outside," Prof. Gunasinghe said.
Prof. Gunasinghe also believes that Kassapa lived in Anuradhapura and not Sigiriya. Leaving Anuradhapura at the time would have been akin to leaving the throne. It would have been political suicide for Kassapa to leave 'Anuradhapura city' which was the capital before he took over the kingdom. Besides there is no evidence that states that King Kassapa left Anuradhapura, he adds.
However, there is evidence that Kassapa had lived in Anuradhapura. He had repaired Isurumuniya Viharaya and planted trees in the temple gardens. Further the city of Anuradhapura is where the Sacred Tooth (Daladawa), the symbol of power and sovereignty, was kept. No records or other evidence have been recovered to say that Kassapa brought the Sacred Tooth to Sigiriya with him. Thus it is clear that he ruled from Anuradhapura where the symbol of sovereignty was placed, Prof. Gunasinghe points out.
Moggallana, Kassapa's brother entered 'the city' only after Kassapa's death. The venue that is referred to as 'the city' by chroniclers obviously would mean Anuradhapura, he believes. Further there was no evidence to argue that the final battle with Mogallana took place in Sigiriya and not Anuradhapura. "No archaeological finds have been made to say that it happened in Sigiriya, so my argument is that Kassapa ruled from Anuradhapura not from Sigiriya. You have to read between the lines when you read the Mahavamsa and other records," claims Prof. Gunasinghe.
Scholars have various opinions about the famous frescoes, some subscribing to the view that they represent the women of Kassapa's harem while some others have written that they were Apsaras. Attempting to give meaning to the drawings is futile - the pictures only represent an artist's view of beautiful women. It was not unusual to decorate a palace with pictures of women. Sigiriya was not a monastery or a religious place. It was a palace built for a king and decorated with drawings of beautiful women.
"In my opinion most of the arguments and interpretations regarding the murals are based on nothing but imagination. I suggest that these pictures represent nothing but simply beautiful women," says Prof. Gunasinghe. Lavishly illustrated, the photographs by Lalana and Vijitha Yapa vividly capture the awe-inspiring nature of Sigiriya.