Eloquent spokesman for the people
Book Facts: "My Heart Beat" by Imtiaz Bakeer Markar, Reviewed by W. D. Ailapperuma
I am an amateur at writing literary reviews, but the warm and supportive gathering of people from different walks of life at the launch of Imtiaz Bakeer Markar's book "My Heart Beat", and the accolades Mr. Markar has received, have prompted me to pen this review.
The book contains 108 speeches made in Parliament by Mr. Bakeer Markar, former Minister of Mass Communication and Minister of Housing, during a parliamentary career that spanned more than 15 years. The speeches reflect the politician's clear and rational thinking and his communicative powers. I was fortunate to have been present to hear Mr. Bakeer Markar give some of these speeches, and I recall being impressed by his oratorical skills and clarity of presentation.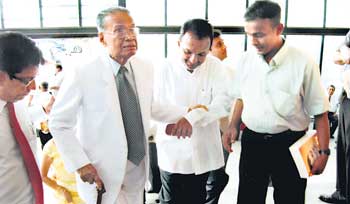 Former Ombudsman and Secretary General of Parliament Sam Wijesinha being escorted to the launch ceremony by Imtiaz Bakeer Markar
Although Mr. Bakeer Markar is a Muslim, and Sinhalese was not his first language, he displayed great oratorical skills speaking Sinhala. The speeches published here were all delivered in Sinhala. The politician is a master of the Sinhala idiom.
As his speeches indicate, Mr. Bakeer Markar always took a principled and consistent stand on national issues. His speech on October 8, 2003, at the adjournment motion on the peace talks, clearly demonstrates the politician's convictions. Launching the debate on behalf of the Government, he began with a quote from a Unesco publication on peace: "Since war begins in the minds of men, it is in the minds of men that the defence of peace must be ushered."
This book well reflects Mr. Bakeer Markar's liberal democratic values and his love and sympathy for the ordinary men and women of this country. In his speech on November 24, 2003, one of his last in Parliament, he quotes from the Holy Quran, summing up with a plea not to desert justice because of hatred or anger.
As a Muslim, he always thought and acted in accordance with the values and principles laid down by the Holy Quran. I recall a speech he made on February 19, 1990, on a supplementary estimate made by the Ministry of Housing, in which he referred to the pettiness of ridiculing the programmes of previous governments while boasting of their achievements in international meetings. He spoke so strongly that the Speaker, K. B. Ratnayake, was prompted to state: "The usually meek and mild and very soft-spoken MP was hitting all over the wicket." This speech is a good example of the former minister's desire for honesty and truthfulness in politics.
I came to know Mr. Bakeer Markar in February 1989, when he was appointed Minister of State for Housing. The team then responsible for human settlement development was led by B. Sirisena Cooray as the Cabinet Minister, with Chandra Ranathunga and Imtiaz Bakeer Markar as non-Cabinet ministers. I was the Secretary of the Ministry, with Michael Joachim and Conrad de Tissera as Additional Secretaries. Over some five-and-a-half years, this team achieved many things, such as the raising of the Maligawila Buddha statue, the construction of the Sugathadasa Indoor Stadium, and the installation of floodlights at the R. Premadasa Stadium.
With his communication skills and rapport with the ordinary people, Imtiaz Bakeer Markar proved a great source of strength. His speeches show that he was always sensitive to the aspirations of all the people of our country; there were no ethnic, religious, language or other barriers to his endeavours.
Mr. Bakeer Markar's speeches are a mirror of this country's recent political history. He expresses concern about the country's future, pointing out that we are at a crucial crossroads, between education and ignorance and peace and terrorism.