As close as you can get to wild comfort
Among the country's many wildlife parks, Yala and Uda Walawe have been popular with visitors for their great variety of wildlife. And it is at these two parks that 'Governor's Camp' offers nature lovers a chance to get close to the wild.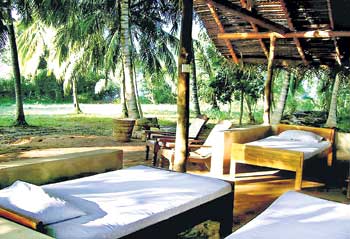 The open air sleeping pavilions at Uda Walawe
Governor's Camp, Yala, is a sprawling seven-acre jungle resort while the Uda Walawe camp is slightly smaller extending to three acres. The concept of Governor's Camp is similar to that of the park bungalows found within the parks where you need to take your rations to be prepared by the cook on site. The buildings are suitably rustic at both locations - twin cadjan pavilions, with dorm room style beds and mosquito nets.
The idea for such camps came about as the owner of the camps and his family have a great love for wildlife and wanted to have a place where family and close friends could experience the jungle. Governor's Camp, Yala was set up around December 2006 followed by the one in Uda Walawe in January this year.
With the locations being large, there is ample space for a big crowd to enjoy a holiday together. The safaris aside, visitors can play a game of cricket, volleyball or even croquet and board games– making the places ideal for a relaxing getaway. In addition both locations have a tree house and sand pit, giving children the chance for a bit of fun.
The security aspect has been a concern for many wildlife enthusiasts in recent months, but, both camps are in secure locations, the management assures. Governor's Camp, Yala, is located about 400 metres from the sea and is at an elevation – so a walk on the sand dunes or on the beach or a sea bath, is certainly tempting. If you like sea and fresh water fishing, you can indulge in this pastime too. It is advisable to take your own gear but a few lines and rods can be arranged at the camp itself.
At Governor's Camp, Uda Walawe, there are opportunities for fresh water fishing, swimming, kayaking, canoeing and boating as it is surrounded by the Kiriibbanara Wewa. With Sri Lanka having a large number of endemic as well as migratory birds, bird watching is enjoyed by many visitors, and of course, safaris, can be arranged to not only Yala and Uda Walawe, but also to Bundala and Lunugamvehera.
| | |
| --- | --- |
| | |
| Ideal place for an afternoon siesta in Uda Walawe | Relaxing area at the Yala camp |
Apart from asking the cook to prepare what you like, from the rations that you bring, visitors can have a barbeque under the stars. At Yala, there's also the tempting option of getting fresh lobster and tiger prawns.
Canvas camp beds as well as tents that can accommodate around eight persons allow you exceed the maximum of 12 persons that can fit into the cadjan pavilions, at the camp. For someone who prefers to just read a book or relax under the shade of a tree there are hammocks available. Another feature of the camp are the open air twin bathrooms.
The camp uses solar energy. And even though camping means the little luxuries at home need to be more or less forgotten, that really is not the case here, as there is hot water, fans, television, radio and reception on mobile phones and mosquito nets. Visitors, though, are encouraged to bring their own linen.
Governor's Camp with its blend of rustic surroundings and creature comforts can appeal to all yearning to escape the city stress. Check them out on their website http://www.governorscampsrilanka.com