Lionel Wendt's silent sentinel takes a bow
The art world pays tribute to Methelis, as he retires after almost four decades
By Marisa de Silva, Pic by Sanka Vidanagama
Over the years, many things have come to be synonymous with the Lionel Wendt...music, theatre, dance and the quiet, somewhat stern-looking 'Master of its Keys'. Always attired in white sarong and shirt, this unsung guardian of the Wendt is a familiar figure silently wandering through its corridors, ensuring its constant upkeep and welfare. His name is known to everyone who has frequented the Wendt over the years. Now after nearly four decades of dedicated service, Methelis (a.k.a. "Uncle Methelis"), bids goodbye today to enjoy a well deserved retirement.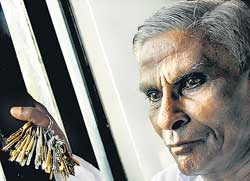 For the man from Kalugala, Dedigama, R.D. Methelis Samarawickrema now 73, what started out as a three-month caretaking job turned into almost a lifetime of service at the Wendt, where he first started work in 1970. Methelis was first introduced to the Lionel Wendt whilst he was working as supervisor and driver on Harold Pieris's Orange Grove Estate in Polgahawela. "In keeping with Lionel Wendt's last wish to transform his home into a centre dedicated to the arts, Mr. Pieris was then in charge of running the Wendt. In 1970 when Mr. Pieris had to go abroad for three months he asked me to look after affairs at the Wendt in his absence as he needed someone trustworthy to do the job. Once Mr. Peiris returned after what turned out to be a six-month vacation, he made my position as caretaker of the Wendt permanent," recalled Methelis.
"Only the downstair auditorium and theatre section and front gallery and Photographic Society were built when I first came here. Later I handled the affairs of the Photographic Society too. It was during this time that the likes of theatre and television personalities like Dhamma Jagoda and his group were given space at Mr. Pieris's home for rehearsals as they didn't have a proper place for practices. Later when the rehearsal room was built at the Wendt, they moved as well. The theatre itself came into operation somewhere in 1972 as it wasn't ready for use till then," recalls Methelis.
Following Harold Peiris's death in 1981, the Lionel Wendt trustees unveiled the portrait of this patron of the arts in 1982, which still hangs in the foyer today. "I had the honour of unveiling the picture at the ceremony," says Methelis proudly. "Furthermore, I also got to interact with and watch thespians of the calibre of E.C.B. Wijesinghe (who starred in all-time classics like 'Well Mudaliyar How" and 'He comes from Jaffna'), Richard de Zoysa, Rohan Ponniah and Steve de la Zilwa," said Methelis.
Many are the famous theatre, dance and music personalities whose productions have drawn audiences over the years to the Wendt and made it the foremost centre of the arts in this country. Methelis has fond memories of interacting with and watching ballets by renowned dancer Oosha Saravanamuttu and great productions such as Henry Jayasena's Hunuwataye Kathawa and Sarathchandra's Sinhabahu and that legend of Sri Lankan dance, the late Chitrasena and Somabandu's productions.
"I still remember the day I last saw Richard de Zoysa. It was February 18, 1990 at about 2 a.m. when he left the Wendt after saying 'Goodnight and see you tomorrow' to me. He was abducted and killed that night. His death was a great loss not just to the arts but, to society as a whole," says Methelis wistfully. Methelis married in 1979 and even had a special celebration at the Arts Centre club upstairs (now the Harold Pieris Gallery). He has one daughter who's now married and working at a bank in Polgahawela.
"He was the sentinel in white over most of my theatre life who kept me, other directors of drama and most of the unruly casts and crews in check, by making us to go home on time at 11 p.m. Though sometimes when the very stern demeanour was met with passionate and apologetic pleas, he would let us go on with our crucial rehearsals till 6 a.m.," says Jerome L. De Silva, veteran director and founder of the Workshop Players.
"I'd especially like to thank Jerome De Silva and Andrew David as they've always supported both the Wendt and us, the workers," says Methelis. "It is with a heavy heart that I'm leaving but, it's time, as I've hardly spent any time with my family over the years, as I only take about 10 days a year during Christmas and the Sinhala and Tamil New Year. I will really miss this place, everyone who I've met over the years and my fellow work mates, who have always shared a healthy relationship with me.
"The Wendt has always been like a home to me as I spent a good part of my youth right through to my adulthood in service to the Wendt. I will drop by on and off for a chat when I'm in town," he says with a smile. Reminisces Andrew David, veteran actor and director, "I've known him for almost 40 years. If there's one word to describe Methelis it would be 'unflappable'. He was almost like the mascot of the Merry-An Singers. He wouldn't allow anyone to break the rules. He came up right from the bottom, now he's practically the face of the Lionel Wendt. We're all going to really miss him. God bless him and may he have a good, long life."
Dramatist and playwright Indu Dharmasena sums it up: "He was like a strict headmaster who we all tended to fear but, I always had a lot of respect for him because he really cared for the Wendt. He was a man of few words but one look from him was enough to make anyone cringe. He treated the Wendt as though it was his home. It wasn't just a job for him. He was such a part of the Wendt that, the thought of him not being there is almost unthinkable."
Although regulars at the Wendt will miss his reassuring presence, his humble contribution to the arts will not be easily forgotten. Thank you "Uncle Methelis".