Reaching out to others, understanding himself with minimal colours
"Who am I? What am I?" Such are the questions Sampath Amunugama asks through his paintings which are being exhibited at the Paradise Road Galleries till June 23.
For years Paradise Road Galleries has been a stepping stone for young and upcoming artists, providing them an opportunity to display their work to both local and international audience as well as gain exposure. Having already held two solo exhibitions there in 2005 and 2007, Sampath sees this as yet another opportunity to reach out to the public.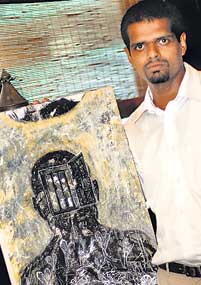 Sampath with one of his creations
This current exhibition by Sampath, who is also the art teacher at St. Thomas' College, Mount Lavinia, features his work over the past year. "I had around 200 paintings that I've done over the last year and thought this would be the best time to exhibit," Sampath says. Having selected about 30, he approached Udayashanth Fernando, owner of Paradise Road Galleries who had encouraged him to display his work.
As any other artist, Sampath believes that art provides him the perfect opportunity to share with others his thoughts, beliefs and ideas. And through these particular drawings, which use mediums such as charcoal, the artist seeks to understand himself. However, as he reminds us the exhibition is not worked around one particular theme. "I wasn't making plans for an exhibition when I started doing some of these drawings last year," Sampath says, adding that he would first sketch any ideas he had and then gradually work around it.
Most of the paintings are figurative, but a few others stand somewhere between abstract and figurative, Sampath says. Most of his earlier works have been abstract and semi-figurative. The artist says that the colours used are limited, with black, white and yellow prominent among them.
Although he enjoyed drawing as a child and participated at various art exhibitions and won awards, he began "thinking like an artist" only when he pursued higher studies. Having completed his degree at the University of Visual and Performing Arts in 2004, Sampath has participated in several exhibitions including a solo exhibition at the Lionel Wendt in 2005. He has also won awards for his work, the most recent being a merit award at the exhibition of 'Young Contemporaries' organized by the George Keyt Foundation.
As for the future, Sampath hopes to further develop his work and technique. "I love what I am doing. I like working as an artist, but it is difficult," he says, adding that there is potential for development of the industry locally, but the lack of facilities and good art critics, is unfortunate.