So much to do while waiting at this bus stop
A bus stand is the third site shortlisted for the first ever Geoffrey Bawa Trust Award for Excellence in Architecture. Make no mistake; this is no ordinary bus stand. It is the Central Bus Terminal/ Retail Shopping Centre in Dambulla. Spread out over approximately 5000 square metres, the terminal, according to Tommy Wijayasekera- the architect is "an extended and glorified version of the rural Sri Lankan concept of activities taking place under the shade of a large tree."
"It is an extremely basic concept," he says, roughly sketching the similarity between the canopy of a tree and the shed which houses the terminal. The canopy, now a prominent landmark in the Dambulla area, houses far more than a few passengers waiting to board a bus. Commuters have the option of either shopping or stopping over for a meal in the food court upstairs. "The terminal is set in a perfect location," explained Mr. Wijayasekera, "because Dambulla is the hub of the North Central Province, and such a centre, with the supporting facilities has proved to be immensely useful."
In addition to the other facilities, the terminal also houses a few rooms in which tuition classes can be held; and a small auditorium for gatherings. The design ensures that minimum energy is consumed because of the natural light that floods in from all sides. Even at noon, the large space is cool and breezy, and in Mr. Wijayasekera's words, "a successful community centre."
Having completed his secondary education at Christian College in Kotte, Tommy Wijayasekera won a scholarship to study architecture at the University of Moscow. He consequently moved to London where he completed his Diploma in Architecture and obtained his licence.
He returned to Sri Lanka some years later and in 1996, founded Architects Co-Partnership Pvt. Ltd. He recalls, "My first exposure to architecture was through my cousin who was an architect; from him I had a great deal of insight into the field. From then on, it was a matter of endurance coupled with an interest in what I did."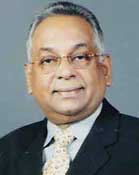 Tommy
Wijayasekera
Thirty years have gone by since he started off in 1978, and for this architect, the three decades have been filled with rewarding experiences.
"I feel that we as a company have done a lot of good work, which includes hospitals, hotels and mass housing schemes. I like the fact that there is a purpose to our work, in addition to which 30 years worth of meeting and working with different people on a regular basis, and travelling extensively has added to my confidence."
Upon hearing that the terminal had received recognition, " I was absolutely thrilled", he recalls, adding that this was the first time he had submitted an entry for such an award.
" I have to make special mention of architect Jagath Siriwardene who almost single-handedly handled the project."
Going back to the basics, the Dambulla bus terminal gives commuters, young and old a place to shop, eat, study, and comfortably kick their heels until it's time for the next bus.