Is this how guardians of the law act?
Open letter to IGP from son of former IGP
Dear Sir,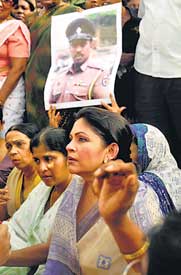 Rosy Senanayaka participating at a protest against the alleged high-handed actions of the police officer
As you may be aware, my father Stanley Senanayake was a career police officer and retired as one of the longest serving IGPs of Sri Lanka. Up to the age of 20 years, I spent my years closely associated with the way of Police life, an inevitable situation experienced by any family member of a Policeman. During this time my father very consciously drilled into us the responsibilities of his job and that of all law enforcement officers.
This included the need to uphold the laws that safeguard the rights of the individual, especially women and children and the need for the Police to act with fairness and responsibility at all times. Our laws also allow us to protest on any issue that we feel is wrong or unfair, irrespective of how inconvenient this is to the authorities.
I was therefore appalled when I was informed of the events that took place in Bambalapitiya where my wife, Rosy and her political colleague were manhandled and abused in the most despicable way by a Police officer.
This is compounded by the fact that he was the Officer in Charge of the Police station at the time. There is no justifiable reason for this act of betrayal of the Police Department, the very institution whose fundamental duty is to protect the citizens of Sri Lanka.
As the head of the department and as a respected officer who is keen to improve the image of the service, you are honour-bound to take all necessary steps to assure the people of our country that there is no place for officers of this calibre in the force.
I earnestly request you to take the disciplinary action that is required and to do so urgently to safeguard the trust that has been placed in you by law to uphold the rights of the people.
Yours sincerely,