Farewell to a teacher and beautiful person
Chitra Arundathi Ranawake
Dear Teacher
It was in 1956, I think, that you joined the tutorial staff of Anula Vidyalaya, Nugegoda, as a young and talented Assistant Teacher, just out of the University of Peradeniya. Miss. Chitra Malalasekera, daughter of the illustrious Dr. G. P. Malalasekera, made an impression on the girls from Day One.
You were my English Language and Literature teacher in the then SSC and HSC classes, and it is no exaggeration when I say that your teaching inspired me to do my very best in the subject at my final examination at university. I remember the preparations for your wedding and the beautiful bride you made, carrying your bouquet of araliya flowers. I remember the birth of your children, particularly of your daughter in 1960, because I had qualified for university at the time and you wanted me to take your classes at school, during your maternity leave.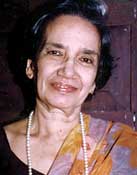 I remember the house you moved into at Rukmale, in Pannipitiya, because some of us girls helped put your house in order since you were just after the birth of your first son. Every time I came home on vacation, I would come to school to see my beloved teachers who made my university education a reality. Even after you left, I kept in touch, and I was aware of the many ups and downs in your life. Once, when I visited you in Nawala, I found you in such high spirits, and I was really happy for you.
Many times I saw you at the Mallika Home, still beautiful, still gracious despite advancing years. Whenever I worshipped and hugged you before leaving, you would give me a blessing, which I valued so much.
Dear Miss, we know that our great Buddha came to this world to show us the impermanence and inevitability of life. You too have succumbed to that reality. Along with your many accomplishments, you knew the Dhamma well, which, I am sure, stood you in good stead, especially in the latter part of your life.
On behalf of the student body of Anula Vidyalaya of the mid-'50s and '60s, , all of whom join me in this prayer, we hope and pray that your journey in Sansara be short and ever pleasant.
Goodbye, Miss!