Road accidents still No.1 killer with 500 fatalities in 2013
View(s):

Speed, recklessness, fatigue, poor driving skills due to slack training, weak law enforcement lead to highways of death  

By Nadia Fazlulhaq

The present trend of deadly road accidents will continue being the leading cause of death by bodily injury, if immediate precautions are not taken, experts in the field of transport warned.  The warning came after a series of road accidents last week killed and injured many commuters and pedestrians. According to police, about 500 people were killed in 591 fatal accidents, during the first three months of this year.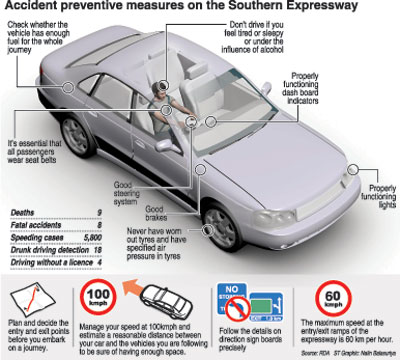 Upto now for this year 11,691 accidents have been reported, out of which 1,901 accidents resulted in severe injuries. In March alone recorded 180 deaths from 168 fatal accidents. Last year, road accidents killed 1,500. Among the recent accidents was one that killed two on the Southern Expressway, the first accident to have claimed two lives after the opening of the highway in November 2011.
Former Information Director and President's Media Coordinator Ariya Rubasinghe's, brother Piyasena Rubasinghe (77) and sister-in-law Chandra (60) died in an accident on the Southern Expressway, while their son was injured, when their vehicle veered off a bridge near the Baddegama interchange on April 28.
On April 21, four including a child, died and seven others were injured in a collision between a van and a three-wheeler at Kalagedihena junction, Nittambuwa. The deceased were a Catholic priest who was in the van, the van driver, and a woman and her child who were in the three-wheeler.
In the early morning of April 25, Puttalam Pradeshiya Sabha Chairman Diluk Pathirage (40) died when his cab collided with a lorry near the Deduru Oya bridge on the Colombo-Puttalam road.  On the night of April 20, about 30 people including children were injured, when an express train rammed into a bus at an unprotected railway crossing at Rockland Junction, Beruwala.
Similarly, on April 21, another 23 persons were injured in a van-bus collision near the Dambulla International Stadium. Another two persons were killed in Dambulla, when their three-wheeler overturned and was hit by a lorry.On April 30, a 22-year-old youth was killed and two others injured when their motorcycle veered off the road and crashed into a tree in Kalawanchikudi, in the Batticaloa district.
Former National Transport Commission Chairman and senior lecturer at Moratuwa University, Prof. Amal Kumarage said that, despite the launch of the Decade of Road Safety in 2012, it has been limited to the launching ceremony, while enforcement has been weak.
"Previously, people had a sense of respect for vehicles. However, at present, there is a lack of road courtesy, respect and obedience to rules. With motorisation, many people are driving three-wheelers, trucks and cars that do not belong to them."
"It was observed that many drivers have not followed a proper driver training programme, and that, Moratuwa University is presently compiling an advanced driver training programme."  He said that present road trials and testing should be fool-proof and rigorous.
"Disregarding traffic police is also prevalent. Traffic police should enforce the law and set an example while dealing in a legal manner," Prof. Kumarage said.
Prof. Kumarage said that 60% of fatal and grievous injuries are caused by speed combined with fatigue, while speeding on wet road and recklessness were the leading causes at present, "Roads are carpeted for high speed and smooth surfaces are laid over old ones which had a safe speed of 50-60km. This gives the drivers a false sense of security," he added.
According to him, accidents on the highway could be due to unroadworthy vehicles, slow moving vehicles, overtaking and the monotony of the landscape inducing sleep. He said that driver fatigue is also contributing to a majority of the accidents.
"Despite advice to take a break from driving continually beyond four hours, long-distance drivers are often ignoring the rule, and authorities are not looking into it as well. Medical conditions of drivers such as eyesight and hearing too have been neglected. There is no annual health check for drivers," he added.
Honorary Fellow- Chartered Institute of Logistics and Transport, Rohan J. Abeywickrama said that there is no proper audit of road accidents and their causes.
"At present, roads are developed for luxury, fast moving vehicles and not for defective vehicles, motorcycles, cyclists, three-wheelers and pedestrians. Therefore, road infrastructure development should be done considering all stakeholders," he said.
Mr Abeywickrema said that present insurance schemes also contribute to accidents caused on purpose.  "A driver with 10 accidents a year, and a driver with no accidents for 10 years, pay the same premium. This is indirectly encouraging accidents," he said. According to him, there is a need to monitor mushrooming driving schools.
"About 26% of accidents are caused by drivers without driving licences," he added. Moratuwa University's head of the Department of Transport and Logistics Management, Dr T. Sivakumar said that drivers and vehicles in the country are not capable of handling the sudden road development infrastructure.
"In many countries, obtaining a driver's licence is very difficult, and one has to go through intense practical sessions. There is a need to develop the present study and testing methods, and to regulate the issuing of licences, ensuring there is no deceit involved," he said. He said that annual vehicle roadworthiness inspection is done only for heavy vehicles, while it was important that all vehicles were checked.
Staying alive with seat belts and within speed limits on  Southern Expressway
Failure to follow guidelines and wear seat belts while travelling on the Southern Expressway (SE), have been the main causes for fatal accidents on the highway, Deputy Inspector General (DIG) Traffic, Amarasiri Senaratna said. The incidents have prompted police to launch a new awareness campaign about the guidelines to be followed, for those using the SE. (See graphic for guidelines)
DIG Senaratne said in most instances of fatal accidents, the drivers had failed to wear their seat belts, while drivers wearing seat belts had escaped with injuries.
"There have also been instances where motorists were found driving on the SE without a licence. In certain instances, drivers with a valid licence entered the SE, but later changed places with a driver without a licence," he said.Since the SE was opened in November 2011, there have been eight fatal accidents causing nine deaths.
He said police have introduced more mobile patrols to check vehicles, while the Road Development Authority has been requested to fix more CCTV cameras to detect if seat belts are not worn and speed limits exceeded.
"Some of the motorists try to check out vehicle speeds by driving at excessive speeds. There is a difference between a luxury vehicle and an average vehicle. In a luxury vehicle, the vehicle's road grip increases with speed, while in a normal vehicle, road grip gradually declines with speed," he pointed out.
He said police will be more vigilant about the road worthiness of the vehicles that travel on the SE. "We will check the condition of the tyres, lights, wipers and the general condition," he added. He said during the past 17 months, police also detected 18 instances where drivers were under the influence of liquor.
DIG Senaratne said as part of an awareness campaign, police have printed guideline leaflets to be given to the drivers at the entry point to the SE. Since the opening of the SE, 5,800 cases of excessive speed have been detected, he said.
Follow @timesonlinelk
comments powered by

Disqus