Concerns, misgivings, unease aside, e-NIC set to invade individual privacy
By Chandani Kirinde
View(s):
The data collection programme of all Sri Lanka's citizens over the age of 15, with a view to establishing a database, some of which would be included in an electronic National Identity Card (e-NIC), has drawn criticism from Opposition legislators. They say it would lead to an invasion
of individual privacy, which a senior Government official in charge of the programme, refutes, saying the data collected would benefit a majority of the people.
The programme is aimed at creating a national persons registry which will include personal information, biometrics and photographs of around 15 million Sri Lankans. However, questions have been raised as to the legitimacy of seeking very personal information from individuals. The application form printed by the Department of Registration of Persons, "Initial Registration/ Re-registration for an electronic NIC, a copy of which was obtained by the Sunday Times, requires people to divulge their phone numbers, e-mail address and also makes it binding for people to give an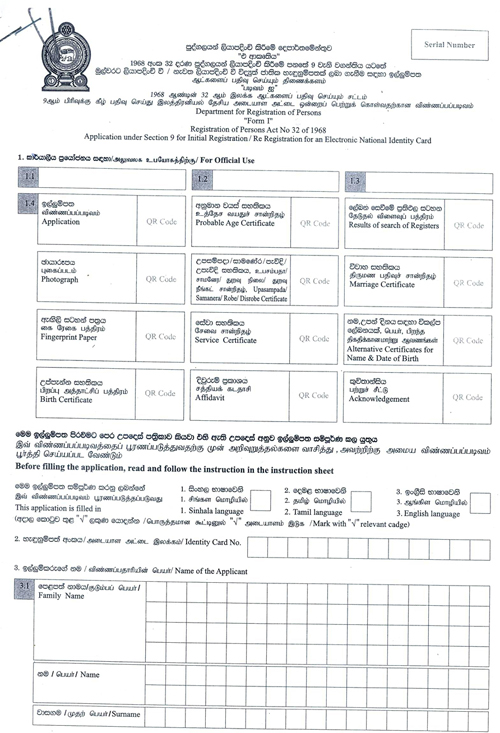 undertaking to keep authorities informed in the "event of a new childbirth, changes in civil status such as marriage, divorce, separation or ordination of any person in my family." People are also required to inform if they adopt a child.
While the data collection gets under way, the amendment to the Registration of Persons Act No 32 of 1968, which was amended twice in 1971, has also been drafted to allow for the issuing of an e-NIC, but some sections in it, such as one which requires the Commissioner General to divulge details of individuals, in relation to threats to national security, has also raised concerns.
Commissioner General of the Registration of Persons R.M.S. Sarath Kumara told the Sunday Times that the programme commenced as a pilot project this week in 27 Grama Sevaka Divisions in the Southern Province before it is implemented islandwide. "As some persons have expressed reservations about being asked to divulge personal information, we will see the feedback from the pilot project, before the islandwide programme begins," he said.However, the decision to start the pilot project has been taken after initial plans to start the programme island wide had to be shelved due to the concerns expressed regarding the nature of the project.
Galle District Independent MP Ajith Kumara who raised the e-NIC matter by way of an adjournment debate in the House last week, said that he fears the information obtained of individuals, could be used against those who are anti-establishment. "People are required to give all their 10 fingerprints as part of this application process. Earlier, only criminals were fingerprinted, but now, every citizen of this country over 15 will be fingerprinted and their data kept in a base which would be accessible to the authorities at the press of a button," he said.
While all the information that people are asked to divulge will not be included in the e-NIC, the information is to be stored in an electronic data bank in which the fingerprint data will also be stored. "When the existing NIC was issued in 1972, there were many fears expressed, including allegations that the programme was undertaken at the behest of various foreign intelligence agencies, but they were unfounded. Similarly, in the long run, the e-NIC will prove more beneficial to the people than a disadvantage," Mr Kumara said.
One objective of the new database creation is to build a "family tree" for the country's citizens. Though the application states that it is not mandatory for people to include information of their parents, siblings and offspring in it, there is provision to include the names, dates of birth and NIC numbers of family members.
Also, according to the proposed amendments to the Registration of Persons Act, the Commissioner General will be required to provide information of individuals from the database in instances where it is needed in relation to national security and public interest, as well as to prevent crimes and apprehend criminals.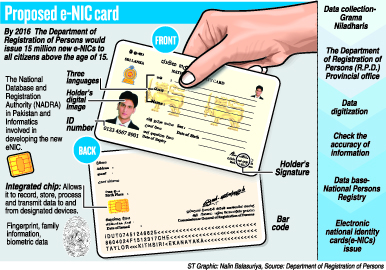 There is also provision in the proposed amendments to exempt individuals or a group of persons from provisions of the amendments of this Act, if such is necessary for national security.
The Director General admitted that concerns have been raised about such matters, but said the programme would be advantageous to 80 per cent of the people. "Law abiding citizens of tie country have nothing to fear. It is those who are engaged in illegal activities who will be disadvantaged by the assimilation of such information, as it would be easier to prevent frauds and other illegal activities," he said.
Despite the concerns, the Department has already set up 331 regional offices for the data collection process and the necessary equipment too has been provided for the purpose. The Department has also issued 15,500 handbooks
to Grama Sevaka Niladharis, while 30 separate posters have been printed in Sinhala, Tamil and English to publicise the new programme. The equipment needed to gather fingerprints has also been purchased and distributed to all the GN divisions, while the security stickers needed for this purpose too have been manufactured. To date, 14,022 Grama Sevaka Niladharis have been trained to take fingerprints, while 1,800 photographers have been selected to take photographs for the e-NIC. As part of this programme, a Secretariat for Persons Identification (SPI) too is being established in Battaramulla.
Not everyone is convinced that the collected data will be safe and will always be in the right hands. "We have no data protection laws, nor do we have enough laws to safeguard the privacy of individuals. In the absence of these safeguards, such vital information could fall into the wrong hands and be used in a harmful manner," warned UNP National List MP Eran Wickramaratna.
The Commissioner General said that the e-NIC would help prevent forgeries to a great extent, and would help expedite providing government services and banking services.
He added that the collection process would be completed by end 2015, with the issuing of the e-NIC commencing from 2016.
Gota's rationale to e-NIC through PRISM
Defence Secretary Gotabaya Rajapaksa, in an article, "Sri Lanka' National Security", published in the latest issue of US-based Defence journal PRISM, has referred to the new, soon-to-be-introduced NIC system that uses biometric information.
"Regarding internal security, the national identity system has been significantly improved. Because, previously, it was a manual, paper-based system, criminal and terrorist elements could easily obtain forged identity cards. This enabled terrorists to operate throughout Sri Lanka under various names and aliases. To address this critical weakness, the Register of Persons Department was brought under the Ministry of Defense and Urban Development, and a new NIC system using biometric information will soon be introduced," he stated in the article.
The Defence Secretary also said Sri Lanka today faces a range of security threats worthy of concern, and identified a few of them.
These include the possible re-emergence of terrorism, the emergence of other extremist groups, the worsening of ethnic divisions and communal violence, the challenges of maritime security and border control, the growth of organised crime, foreign interference in domestic affairs and non-traditional technology-driven threats, including social media.
PRISM, published by the Center for Complex Operations, is a security-studies journal chartered to inform members of U.S. Federal Agencies, Allies, and other partners on complex and integrated national security operations; reconstruction and nation building; relevant policy and strategy; lessons learned; and developments in training and education to transform America's security and development apparatus to meet tomorrow's challenges better, while promoting freedom today.