Year on the Web
6th April 1997
| HOME PAGE | EDITORIAL/OPINION | NEWS / COMMENT | BUSINESS | PLUS
Contents
---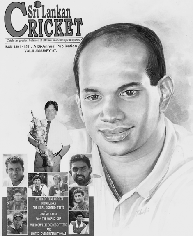 The second volume of Sri Lankan Cricket, a bi-annual publication, with lots of interesting information about Sri Lankan cricket including the History of Test Cricket, Sharp Singles in Our Test Cricket, The Most Senior Cricket Journalist in Sri Lanka, Book Review (The Appeal of Cricket The Modern Game), How Sri Lanka won the World Cup, Incidents in the 1996 World Cup Tournament and Triumphs of the World Cups are featured in this magazine edited by Mr. L.R.Mendis. Copies priced at Rs. 100 each are available at all leading bookshops.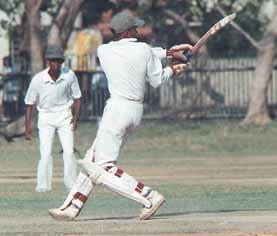 FOUR ALL THE WAY. Rangana Fernando of Isipatana turns this one from Nimesh Perera of St. Sebastian's smartly for a four. Rangana scored a fine 44 and won the Man of the Match award as well in their Coca-Cola Trophy limited over semi-final cricket match against St. Sebastian's Moratuwa. The final between Isipatana and St. Joseph's will be worked off today at the SSC ground. Pix by Dunstan Wickremaratne

Tailor-made pitches tell a sad tale
By M. Ismeth
The selection of the slow Khettarama and Moratuwa Stadium pitches for this month's Test matches against Pakistan, who are known to have the fastest pace bowling duo in the world, has been challenged by cricket analysts in Sri Lanka.
They say the selection of tailor-made pitches to suit the occasion might help Sri Lanka to stand against Waqar Younis and Wasim Akram but whether it will help the local team to grow and build its status as a world champion side, is another matter.
The analysts point out that India also have often made the mistake of selecting slow pitches when it faces powerful pace bowlers in Test matches. As a result the Indian batsmen were not fully exposed to the thunderbolts of pace bowling. Thus, in one glaring instance, they crumbled for 81 last week when facing four top West Indian pacemen.
The analysts also say the selection of slow pitches would not help Sri Lanka's own pace duo of Chaminda Vaas and the exciting newcomer Nuwan Soysa. The latter, especially, might have his confidence blasted if he gets thrashed on a slow pitch by the top class Pakistani batsmen.
The analysts said teams are built and they learn much more from failures and hard tests rather than from easy successes. Thus if the SSC or Asgiriya had been chosen for the Tests against Pakistan, Sri Lanka would have faced the full fire of the Pakistani pacemen but they would have grown much more in maturity than from a temporary success on a slow wicket.
---

Samoans join the CH scrum
Two powerfully built West Samoans will turn out for the CH & FC in the forthcoming rugby season which will start on April 11 (Friday). They are: Lloyd Schuster and Faatonu Tuli.
Lloyd Schuster will play as a center off on the wing. He has represented Manu Samoa in South Africa in the 94-95 season and at the Super Ten Competition during the same year. He is 24 years old, weighs 90 kgs and stands 5 ft. 11 inches on his stockinged feet.
Faatonu Tuli is 25 years old, weighs 105 kgs and is a six-footer. His pet position is that of a flanker or No 8. Tuli has turned out for Manu Samoa Development in 92, 93 and 94. He has also represented the Auckland Samoan A side in 95/96.
The new rugby committee of the CH & FC together with the coaches have decided to adopt a new approach this season where the emphasis will be to develop the skills of young players with the ultimate view of raising the standard of the game in general.
CH will be having a third team as well, to be known as the CH Colts XV.
---

Dinali de Silva wins two singles titles at tennis
Dinali de Silva bagged two singles titles winning the girls under 16 and under 18 singles events at the Nine Hearts Junior Tennis Championships concluded at the National Tennis Centre Courts at Greenpath.
In the under 16 final, de Silva beat Sasha Weerasinghe 6 - 2, 6 - 2 and in the under 18 final she beat Sumangala Rajaratna 6 - 2, 6 - 4.
Top seed Rajiv Rajapaksa beat Vanaka Gunawardena in the boys under 18 singles final in a three setter. Rajapaksa won the first and third sets, while Gunawardena won the second set.
Timothy de Abrew the number 7 seed beat the top seed D. Ranaweera in the boys under 16 singles final thus creating a major upset in a three setter 6 -1, 2 - 6, 6 - 2.
The boys under 14 singles title was won by Ravi Munasinghe who beat U. Walagampaya 6 - 2, 7 - 6 and in the under 14 girls final, S. Wijesekera beat S. Gunatilleka 6 -1, 6 - 4 .
The results of the other age group finals are:
Boys under 10 singles - Yavin Jayasekera beat R. Subramaniam 9 - 2.
Girls under 10 singles - R. M. Perera beat D. N. Premananda 9 nil.
Boys under 12 singles - H. Godamunna beat L. K. S. D. Premananda 9 - 4,
Girls under 12 singles - M. A. Seneviratne beat D. Subramaniam 9 - 4.
292 players participated in this inaugural championships which had 460 entries out of which the breakdowns were: Boys under 14 - 82, boys under 12 - 64, boys under 16 - 56, girls under 12 - 25, under 14 - 30, under 16 - 28 and under 18 - 32.
The Minister of Youth Affairs and Sports S. B. Dissanayake was the chief guest and gave the awards. (AF.)
---

Coca-Cola Trophy
Joes - Pathans clash in final
St Joseph's led by Trewin Mathews will battle it out against Isipatana captained by Suresh Perera, in the Inter-School limited overs final, played for the Coca Cola Bottlers Trophy today at the SSC grounds, with play commencing at 10 a.m.
In the semi-finals played on Thursday, St Joseph's pulled off a thrilling 3 run win over their traditional rivals St Peter's at the BRC grounds at Havelock Park, while Isipatana with a fine team effort toppled St Sebastian's by 6 wickets, at the Nomads grounds.
On their way to the finals, St Joseph's beat Nalanda and St Peter's, while Isipatana beat S.Thomas's and St Sebastian's.
The two teams will be picked from the following.
Isipatana- Suresh Perera, Muditha Fernando, Rangana Fernando, Kanchana Madugalle, Amal Wanigasekera, Man-aram Subasinghe, Nilantha Atapattu, Sahan Wijesekera, Vidura Nuwan, Shalinda Nanayakkara, Prasad Niroshan, Kanchana Rodrigo, Gayan Mendis, Ravi Jayasooriya, Chrishan Jayawardena.
St Joseph's - Trewin Matthews, Mark Fernando, Charinda Fernando, Aminda de Mel, Monto Perera, Angelo Bosco, Weerabala Jayasuriya, Dylan Woutersz, Shinal Warnakula, Roshan de Silva, Ian Daniels. (AF)
---

Robbialac honours Thilini & Deepika
By Annesley Ferreira
The men's and women's national table tennis champions, Thilini L. Piyadasa and Deepika Rodrigo were selected as the up and coming sportsman and sportswoman for 1996 in the Robbialac Pibidena Kreeda Tharuwa Sammanaya and will be presented with a cash prize of Rs 5000/- each at the Robbialac Colours Nite today at the Sugathadasa Indoor Stadium at 6 p.m.
Twenty two other sportswomen will be awarded Rs 7,500/- each at the Robbialac Kreeda Shoora Sammanaya. They are: Swimming - Upeka Samara-wickrema; Athletics - Susanthika Jayasi-nghe; Badminton - Chandrika de Silva; Basketball - A. A. S. K. Mahapatabedige; Bridge-Srihar Saravanapavan; Carrom - Amitha Wickremasinghe; Chess - Vineetha Wijesuriya; Cycling - Asoka Shiromalee; Elle - Asanka Kumari Perera; Golf - Thuhashani Selvar-atnam; Gymnastics - Kalpana W. Senanayake; Hockey- Prasadini Karala-gama; Judo - Thilini Prasadi Pitiyak-kumbura; Karate - W. A. V. Nishanthi Dias; Life Saving - H. P. Geethika Lakmali; Netball - Deepthi Alwis; Rifle Shooting - Pusphamali Raman-ayake; Sports for disabled - Dulani C. Weerasinghe; Squash - Yasmin Zarook; Table Tennis - Dilmini Direckze; Tennis - Saranga Sangakkara; Volleyball - W. M. Udeni Priyadharshini; Cricket - Anura Tennekoon; Football - P. D. Sirisena; Volleyball - W. L. Siriwardena; Robbialac Popular Sportsmen and Sportswomen cash prize of Rs 10,000/-; Swimming - Upeka Samarawickrema; Athletics - Susanthika Jayasinghe; Basketball - Vidura Jayasinghe; Chess - Malintha Fernando; Cricket - Sanath Jayasuriya; Motor Sports - Dilantha Malagamuwa; Netball - Deepthi Alwis; Rifle shooting - Pusphamalie Rama-nayake; Softball Cricket - Priyantha Abeyratne.
---

Australia - 211/9
* FLASH: Australia scored 211 for 9 in 50 overs in their fourth one day international against South Africa in Durban yesterday.
Australia - 211 for 9 in 50 overs (Blewitt 53, A.Gilchrist 77; Pollock 4 for 43)
---

Rohan and Senani clock fastest times
Rohan de Silva and Senani Pilapitiya recorded the fastest times for cars and motor cycles at the Kotmale Hill Climb conducted by the Up-country Motor Sports Club.
De Silva driving his McLarens Special clocked 55.24 seconds and Pilapitiya crossed the finishing line in 60.10 seconds.
Ayanthie Munasinghe won the Ladies race on a Mazda Autozam in a time of 78.19 seconds followed by Nilmini Dheerasekera on a Toyota BR 12 in a time of 81.20 seconds.
The results of the other respective class events are:
Motor Cars Group A: Romani de Silva - Suzuki Swift, Omar Lebbe - Suzuki Cultus, Neville Casiechetty - Peugeot 205.
Group F Cars Formula Ford Standard: Romani de Silva - Van Diemen, Rohan de Silva - Formula Ford, Sheran Cooke - Formula Ford.
Group M Cars upto 1040 CC: Nihal Weerasinghe - Daihatsu Charade, Tissa Wijesinghe - Leyland Mini.
Group M Cars over 1040 CC: Omar Lebbe - Mini Moke, Reyaz Farook - Suzuki Cultus, Prasanna Munasinghe - Suzuki Automatic.
Group M Cars over 1350 CC: Suren Cooke - Lotus Westfield, Devaka Amarasuriya - Proton 2, Upul Perera - Mitsubishi CSR.
Group M Cars over 1665 CC: Cassim Wahab - Subaru Legacy Turbo, Ajith Ratwatte - Toyota Starlet Turbo, Upul Perera - Mitsubishi Mirage.
Group F Formula Ford Modified upto 2080 CC: Rohan de Silva - McLarens Special, Nihal Weerasinghe - Formula Ford.
Group T Turbo charged upto 1040 CC: Gamini Kavikara - March Super Turbo.
Group T Turbo charged upto 1500 CC: Bri Ponnambalam - Renault 5 GT Turbo, Priyanga Munasinghe - Izuzu Gemini Turbo.
Group T Turbo charged upto 2000 CC: Nishan Weerasooriya - Subaru Legacy 4 WD.
Motor Cycles Standard Modified upto 250 CC: Ruwan Peiris - Honda NSR, U. Nandasena - Yamaha, Dinesh Jayasena - Yamaha.
Motor Cycles racing upto 80 CC: Palitha Jayasuriya - Kawasaki, Suraj Perera - Suzuki.
Motor Cycles racing upto 125 CC: Dhammika Krishnaratne - Honda.
Motor Cycles racing over 125 CC: Senani Pilapitiya - KX 500, Shanaka Ambrose - S&A Special, Donald Buultjens - Yamaha.
Motor Cycles 4 stroke open: Senani Pilapitiya - Honda, Chandra Peiris - Honda, Nimal Chandrasena - Honda.
Motor Cars Group A over 14 Kgs: Henry Mudalige - Daihatsu Charade, Dhammika Peiris - Ford Laser, Romani de Silva - Lada Samara.
Motor Cars Group A over 12 Kgs: Dhammika Peiris - Ford Laser, Suminda de Silva - Ford Laser, Sisira Gunasekera - Ford Laser.
Motor Cars Group A upto 10 Kgs: Dinesh Senanayake - Honda Civic, Pradeep Kavikara - Isuzu Gemini, Anura Punchihewa - Nissan Sunny.
Motor Cars Group A over 8 Kgs: Reyaz Farook - Honda V Tec, Praneeth Kavikara - Honda City, Rizvi Farook - Peugeot 205.
---

"Anti Assassins" to play here?
David Pope, a former English Rugby player who toured Sri Lanka with the famous 'Bosuns' Rugby Team in the late sixties was in Sri Lanka holidaying with his wife. When I met him at the Mt Lavinia Hotel he was with another All England Rugby player Dick Uren who too was on a holiday in Sri Lanka with his wife after which they were all going on to Hong Kong.
David Pope, a 6ft 5ins Lock Forward toured with the 'Bosuns' and played three games in Sri Lanka. One in Colombo, one in Kandy against the National side and the third against the Combined Services, winning all three games by big margins. The 'Bosuns' team which included some of the best players in Britain played some superb rugby in Sri Lanka and drew huge crowds at all their matches.
They were very keen to bring the famous Anti Assasins to tour Sri Lanka and I have informed the SLRFU about this.
---

International Rally in Lanka
By Annesley Ferreira
Plans are afoot to conduct an International Motor Rally in Sri Lanka, because the Lankan terrain is just as treacherous and challenging as that of Kenya where most international rallies are held.
This was said by Richard de Soysa who will be the first Sri Lankan rally driver to take part as co-driver in the Safari Rally in Kenya.
A track of international standard is also in the offing which will promote tourism and investment added de Soysa who is trying to unite all motor sports clubs and with the blessings of the Ministry of Sports to make this a reality.
De Soysa will be the only Sri Lankan to hold an International Competition Licence to race or take part in a rally anywhere in the world conducted by the FIA.
---

Umpires for Pakistan tour
By Marlon Fernandopulle
Udaya Wickremasinghe and Peter Manuel were picked to umpire the two tests against Pakistan later this month.
Wickremasinghe will be joined by Englishmen David Shepherd for the first test which will be played at the R. Premadasa Stadium from April 19th to April 23rd.
Peter Manuel and Zimbabwean Ian Robinson will stand in the 2nd test to be played at Moratuwa.
The Sunday Times learns that Robinson's appointment has caused some concern in the Lankan camp. However, according to reliable sources it is very unlikely that an ICC appointed umpire could be changed although the host nation is not in favour of the umpire officiating. K.T. Francis and B.C. Cooray who are the only two umpires in the ICC panel were asked to stand down for the Pakistan series in order to give other Lankan umpires the much needed experience at the top level.
---

Setback for SSC
SSC's hopes of finishing as runner-up in their Inter-Club Division I, Segment A competition for the P.Sara Trophy were further dashed when Colts obtained a first innings lead at Havelock Park yesterday.
Bloomfield are now certain of emerging champions.
Batting first Colts totalled 336 and SSC, who lost their top order batsmen on Friday, were bowled out for190 with Mahela Jayawardena remaining unbeaten on 100. His innings included two sixes and 15 fours.
Batting a second time Colts were 177 for 4 at stumps with Sujith Janaka and Sajith Fernando stroking two half centuries.
Colts - 336 all out and 177 for 4 at close (Sujith Janaka 50, Dulip Samaraweera 30, Chaminda Mendis 14, Sajith Fernando 54)
SSC - 28 for 4 overnight, 190 all out (Mahela Jayawardena 100 n.o; Dulip Liyanage 3 for 41, Eric Upashantha 3 for42) - AF
---

Galle, Tri Star in the scrum
The Rugby season will kick-off with The Under 24, ten-a-side tournament conducted by the Western Province Rugby Football Association .
The competition is sponsored by Dee Bee Holdings, Rajan Agencies and Mlesna at the CR&FC Grounds, Longdon Place, today (Sunday) April 6 at 8 a.m.
The teams participating are: Old Trinitians, Colombo University, CH&FC (2),CR&FC (2), Havelocks (2), Army, Kandy, Army, Galle and Tristar.
Galle and Tri Star will be particcpating for the first time. (AF)
---

Mathews' 84 n.o give Joes victory
A captain's knock of 84 not out by Trewin Mathews enabled St. Joseph's to defeat St. Peter's by seven wickets in their 23rd 'Battle of the Saints' Limited-Overs encounter at the P.Sara Stadium yesterday.
Put in to bat, St. Peter's were able to total 190 for 9 in their allotted 50 overs with useful contributions from Jerome Fernando, Malindra Warnapura, Ramendra Nonis and Lauren Moses.
Chasing a victory target of 191, the Joes reached it in 38 overs for the loss of three wickets.
With this win St. Joseph's have recorded their 14th victory in the series while the Peterites have won nine.
St. Peter's - 190 for 9 in 50 overs (Jerome Fernando 21, Malindra Warnapura 39, Ramendra Nonis 39, Lauren Moses 43; Mark Fernando 2 for 36)
St. Joseph's - 193 for 3 in 38 overs (Charinda Fernandp 45, Trevin Mathews 84 n.o, Monto Perera 20 n.o; Indika Sonal 3 for 49) - AF
---

Mahanama triumph
At the Premadasa International Stadium Mahanama beat President's College Kotte by six wickets.
President's College - 140 for 7 in 49 overs.
Mahanama - 144 for 4 in 41.1 overs.
---

Kalavitigoda shines in Nalanda's triumph
By S.M.D.Sirisena
Nalanda skipper Shantha Kalavitigoda, who set a new batting record against Ananda in their 63rd 'Battle of the Maroons' last week, showed the stuff he was made of when he scored an attractive 58 and helped his side to defeat Ananda by five wickets in the 23rd Limited Over encounter at the SSC Grounds yesterday.
Nalanda made 210 for five wickets in 42.3 overs in reply to Ananda's total of 207 for 9 in 50 overs.
Shantha Kalavitigoda and Danuka Dayaratne were associated in a 84 runs stand for the second wicket for Nalanda which greatly helped Nalanda to cruise to this victory.
Dayaratne who made 77, had 11 boundaries while Kalavitigoda also hit 11 boundaries.
Ananda - 207 for 9 in 50 overs (Rasika Ranasinghe 33, Lahiru Chaturanga 48, Jithendra Perera 20, Eranga Handunettige 18, Chandimal Dharmapala 18; Danthila Dayaratne 2 for 42) Nalanda - 210 for 5 in 42.3 overs (Danuka Dayaratne 77, Shantha Kalavitigoda 58, Pradeep Hedigalle 16, Mewan Porage 25)
Please send your comments and suggestions on this web site to
info@suntimes.is.lk or to
webmaster@infolabs.is.lk