31st August 1997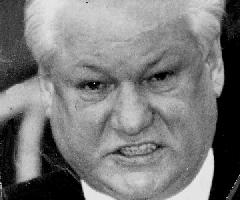 President Yeltsin: "accused two of the major TV networks of "sabotaging" the peace talks"
Since the conventional discourse does not ad- mit the concept of a one-dimensional superpower, Russia is no longer a member of the exclusive "superpower" club. It is a "superpower" only in terms of military. But if arms exports, sales to a rapidly expanding group of regular customers, become a multi-billion dollar business, the question of Moscow's title to "superpower" needs to be re-examined.
The arms trade paves the way for the former Communist superpower to big-time capitalism and thus the spotlight on Rosvoruzheniyas Russia's monopolist arms trader.
President Boris Yeltsin ordered it dissolved to replace it with a new organisation of the same name, reports the Moscow-based British correspondent Chrystia Freeland. And money talks. Already sales to new customers like Colombia, Malaysia and Israel have been so lucrative that the arms trade is a "coveted prize in the power struggles which dominate Kremlin politics"!
And why not? Payment is in hard currency, after all. Success however spoilt Rosvoruzheniya's boss, Alexander Kotelkin. At an air show, he boasted, by the end of this year I am sure our order book will exceed 10 billion US dollars.
That means we will outdo the United States in signed contracts."
New instructions from the Kremlin ("decrees" is the word used by the official agencies) will now loosen Rosvoruzheniya's hold on the arms business, allowing more of the revenue to go to the Ministry of Defence and to arms manufacturers. "This is another important step in the perfection of Russia's arms trade with foreign countries," announced Boris Kyzyk, the President's adviser on arms exports. Rosvoruzheniya now has a new boss - Yevgeny Ananyev, the former head of a bank linked to the Russian producer of MiG aircraft.
But war is war, and a serious business - even a war of words. Poor Mr. Kotelkin found that he was "a casualty of the loquacity of his former patron, Alexander Korzhakov, and ex-Kremlin bodyguard and presidential sauna companion.
And so the nasty finale - Mr. Korzhakov last week published a book of memoirs, rich in embarrassing details about drinking bouts in the Kremlin!
Thus, life at the top in Moscow, a far cry from the days of Lenin or Stalin, Mikhail Gorbachev the idealist tried to create a new society to replace the stern Stalinist mould. He failed. Under Yeltsin the old order has gradually crumbled but nothing new is in place, not yet. The result is a new individualism and opportunism.
The patterns of administration have indeed changed for the better but decision-making, except at the highest level and on vital questions, is characterised by a hit-or-miss approach. Thus, the impatience and the irritation at the highest levels, from President Yeltsin downwards. He has not much time and energy, and what he can spare is concentrated on the major issues, or urgent matters. Predictably, the well-intentioned reformer, seized by frustration, looks for scapegoats.... and there is always one, the media. His understandable anger over Chechnya made him turn his guns on the press.
The media
President Yeltsin accused two of the major TV networks of "sabotaging" the peace talks by holding Chechen government officials responsible for "hostage-taking" in the breakaway region. But, explained Chrystia Freeland, in a Moscow date-lined despatch, the real cause of the quarrel was "a long running battle over privatisation.... the conflict put Mr. Yeltsin in the bizarre position of defending Chechen separatists against whom he waged a fierce war just a year ago. But it could foreshadow a far more critical attitude in the Russian media."
The President's relations with the national media have deteriorated so fast that Mr. Yeltsin took up the issue at a meeting of the National Security Council, no less. He attacked Igor Maleshenko, president of the privately owned NTV television station for claiming that Chechen officials were responsible for the kidnapping of three NTV journalists. Another target was Boris Berezovsky.
President Yeltsin accused the deputy head of the Security Council and a former businessman who exerts great influence over O.R.T., the state-owned TV company of bias and dirty tricks. (A presidential tongue-lashing was how it was described by some privately owned media.)
President Yeltsin's top officials have also maintained a deafening silence on the fate of several Russian journalists covering the troubled situation in Belarus (Byelorussia in the old Soviet Union, and an independent republic today).
A Russian journalist from the state-run ORT was arrested by the Belarus police.
Anatoly Adamchuk made a televised statement in which he admitted the trip to Belarus-Lithuania border. It was, he added, part of "a wider conspiracy at the TV station".
Some viewers told the press that Mr. Adamchuk had "a dead gaze" and a "robotic delivery" as he had been "a pawn drawn into a game above my head".
Five other reporters have not been released by the Belarus authorities while Alexander Lukashenko, the Belarus president himself has accused foreign journalists (Russian included) of "seeking to undermine his administration.
Chechen crisis
On the far more difficult question of the breakaway Chechen republic, President Yeltsin and his top aides have done much better. Since the election of Aslan Mashkadov as President in January, Mr. Yeltsin's senior advisers seem to have responded to this challenge from the armed separatist Chechen movement with tact and realism. "Today, I saw in the president of the Russian Federation a man, perhaps the only man, who can decide things and make peace after 400 years of war.... Decisiveness is necessary, one must take responsibility, and I think Boris Nikolayich has such qualities...."
Though we don't need to neglect the importance and complexity of the Chechen secessionist struggle, the sophistication of the diplomacy conducted by President Yeltsin and his senior aides should not be forgotten. "We are pressing today for the Chechen republic of Ichkeria (the Chechen name for the region) to be recognised as an independent, sovereign state. Only time will tell what its form will be".
On "form" President Yeltsin likes the Tartarstan precedent - extensive autonomy based on a negotiated 'accord' with Tatarstab leader, Mintimer Shamiev.
---
For the Cuban people, the return of the
remains of Che has been the cause of
immense satisfaction.
The mortal remains of Commandante Ernesto Che Guevara and four of his comrades were returned to Cuba in July 1997. Che and his band of guerillas were captured and assassinated in Bolivia on the orders of the Central Intelligence Agency (CIA) on October 9, 1967.
The CIA and its collaborators in Bolivia went to great lengths to obscure the circumstances surrounding his death and the site where he was buried.
It was a sad as well as moving moment for President Fidel Castro when he formally received the casket containing the remains of his closest comrade-in-arms, the Argentinian-born Che, 28 years after his death. Che was one of the principal architects of the Cuban Revolution.
Today Che is an international icon. In the homes of the poor in many Latin American countries, his picture is kept next to that of Jesus Christ; his pictures also adorn T-shirts all over the world. Even Hollywood is cashing in on the Che boom
In Cuba he is remembered for his contribution not only to the cause of the Cuban people but also for the internationalist vision for which ultimately he sacrificed his life. He perceived his life's purpose as part of a struggle in which the fight to break U.S. control over Cuba and Latin America was crucial.
One of the important reasons for Che leaving Cuba at the height of his power was the Vietnam war. He was also profoundly moved by the manner in which the CIA eliminated the legendary Congolese leader, Patrice Lumumba
A huge portrait of Che overlooks the Plaza de la Revolution in Havana, the Cuban capital. According to those who knew him closely, in real life Che was an extremely modest man and would not have been too happy to have become an enduring 20th century myth. Fidel Castro gave Che the major responsibility of aiding the Movement for the Liberation of Angola,the MPLA, and other Left-wing regimes in Africa in the mid-1960s. Che secretly went to Congo to try to keep alive the revolutionary flame lit by Lumumba.
Gabriel Garcia Marquez wrote: "Nothing illustrates the duration and intensity of the Cuban presence in Africa better than the fact that Che Guevara himself, at the prime of his life and the height of his fame, went off to fight the guerilla war in the Congo." Marquez also mentioned, in an article that he wrote in 1976, that the guerilla leader he was helping in 1965 was called Laurent Kabila.
Today Kabila is the President of Congo, after having defeated the forces that were involved in the death of Lumumba.
In Latin America, many struggles, successful ones and ongoing ones, have been inspired by the ideals of Che. Sub-commandante Marcos in Chiapas, Mexico, the Tupac Amaro in Peru and the Sandinistas in Nicaragua consider themselves his inheritors. Che's daughter Aleida told a journalist that her father "lives in a mountain of people" and "is still giving his own killers a headache."
For the Cuban people, the return of the remains of Che and his comrades from Bolivia has been the cause of immense satisfaction. The nation closely followed the 18-month-long effort to locate the graves.
The search by Cuba started in earnest when retired Bolivian General Mario Vargas Salinas said in November 1995 that Che's body was buried in the airport runway at Valle Grande, a small town near the city of Santa Cruz in Bolivia. It was the joint efforts of a team of Argentinian, Cuban and Italian forensic experts, anthropologists and geophysicists that finally located the grave. It is reported that in the course of two years, 210 graves over a total area of 1,295 square metres were dug up.
Cuba was trying to locate Che's grave since 1967 but a CIA-orchestrated disinformation campaign kept the investigators off track.
After Che was killed, his hands were amputated. General Gary Prado, who captured Che, always maintained that his body was cremated and his ashes scattered over the surrounding mountains. Che's daughter Aleida read out a letter when Castro received the casket in Havana.
It said: "Today their remains have come back to us, but they have not returned defeated; they come transformed into heroes, eternally young, valiant, strong and daring." -Frontlilne
---
Paul Thomas once played Jesus Christ on stage, but 20 years later the self-described "lusty" director is seated in a Hollywood bar arguing that more people should watch his porn films for the plots.
Thomas is top director for Vivid Video, a California adult entertainment company that says it wants to take porn to new heights by making it mainstream and respectable. Vivid staged its first-ever Hollywood-style screening for critics recently to show them that between the grunts and groans, porn films can have plots and production values just like real movies.
But in its bid to be respectable, Vivid cut some corners. It deleted all the sex scenes in Thomas' opus "Bad Wives" for the screening. This left only the plot — about a couple of bad wives, one of whom eats soap, and their even worse husbands and the devil, who makes them all happy after a lot of sex scenes that the preview audience did not get to see. "I think there's a lot of people that would enjoy an erotic film as good as the one we showed tonight," Thomas said.
Vivid co-founder Steven Hirsch, 36, agreed, saying the sex scenes were cut out of the screening because "We wanted to show people that we make movies, not just adult films. For the first time in history an adult entertainment company is getting into the mainstream."
Hirsch may never have heard of "Deep Throat" — or maybe he wants his films to emulate its huge success. He is talking big about his company's future. Revenue grew 15 percent last year to top $20 million and he sounds like he wants something that is hard for anyone to achieve in Hollywood — respect.
Like many others, Vivid is trying to cash in on the growing demand for sex on the Internet, satellite and cable TV. Deals with Playboy's cable channel are giving it a higher profile in hotel rooms and homes.
Its Web site, "Vivid University," features "sororities" where female stars are shown nude, scantily clad or having sex. In the interest of "safe sex," the Web site features a "boss button" for office browsers who need a quick switch to more respectable pages.
"We'd be (seen) just as good actors, if not better than actors in mainstream," if porn were not a tainted business, said Dyanna Lauren, who plays Tracy Jo in "Bad Wives." She said her fans want storylines, plots and dialogue. "(Women) like to see a set up," she said.
Vivid will grind out 72 videos and films in 1997, Hirsch said. Nine will cost $190,000 each to make — a huge amount in an industry that usually spends between $7,000 and $60,000.
"It's a return to the way things used to be in the late 1970s and early 1980s," Thomas said. Back then, more time was spent in production and movies were made on film.
With the proliferation of video in the early 1980s, quality went down and the market was flooded by products any amateur could make.
"It was so cheap and easy to do (a video) and most of them had no art. ... The story content suffered," Thomas said.
While bigger markets mean larger budgets for directors like Thomas, he and other industry veterans hope Vivid's new direction does not dilute porn by "going Hollywood."
"R-films, those are terrible," Thomas said, referring to the Hollywood rating for films restricted to those 17 and over. "There's never a pay-off. If you mainstream it too much you ruin (porn).
It has to be a little edgy, a little nasty."
But Vivid is covering all its bases in an effort to diversify.
The company recently signed a deal with Hustler to produce films. Only Hustler's name will appear on the videos.
"In the Hustler (videos), we will focus more on the sex and the story won't be as important," Hirsch said.
Vivid is also throwing a weekly party at Billboard Live, a Los Angeles club, where it shows film clips that look more like MTV than "Debbie Does Dallas."
Is this Generation XXX and will Hollywood crash the party?
"It makes me uncomfortable that porn's getting close to mainstream," said Jon Dough, who appears in "Bad Wives" and who revels in the memory of his early porn days, when it was illegal to film these movies.
Dough liked the taboo of being underground and worries that one day Hollywood will threaten the porns by jumping in. "They're gonna put the little guys out of business," he said.-Reuter
---
Return to News/Comments Contents Page

| HOME PAGE | FRONT PAGE | EDITORIAL/OPINION | PLUS | TIMESPORTS
Please send your comments and suggestions on this web site to
info@suntimes.is.lk or to
webmaster@infolabs.is.lk