5th October 1997
Plantation Homes
By Royston Ellis and photographer Gemunum Amarasinghe
There are few plantation bungalows with the personality of Thotulagalla. It is unique, charming, idyllic... and has no planter in residence.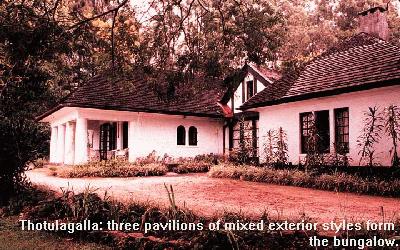 The Thotulagalla bungalow, however, has not been abandoned. As a consequence of the change in management companies in recent years, it is used for visiting company directors instead of as a planter's residence.
That is not the only reason why it is such a splendid bungalow, one that makes every visitor feel privileged to be there. Bungalows dedicated to visiting directors are not always well-maintained; Thotulagalla is, probably because of its history of caring planters.
It is located just over two miles from Haputale, off the road that leads to the Pita Ratmalie and Dambatenne bungalows, both already featured in this series. Strangely, it shares none of the distinctive qualities of those traditional bungalows, having a lively character of its own.
Ferguson's Directory shows the redoubtable F.H. (Sam) Popham, pioneer of Sri Lanka's arboretum, planted there in the early 1970s, and Thotulagalla's tree-rich gardens doubtless owe much to his efforts. Add a view southwards at 5,050 feet above sea level from the plateau on which the bungalow stands, over hills and plains to the coast at Hambantota and to Yala, and you have an idyllic setting.
There is a lotus pond in the garden and a swimming pool too, although that is now no more than an empty tank. By the bungalow's columned porch is a tall tree with a notice saying it is a 'Berum Tree'. This puzzled me until I crushed one of its leaves in my hand and smelt the fragrance of bay oil, the ingredient of Bay Rum.
The bungalow stands out in the lushness of its garden because of its design and colour. Unlike other bungalows in the area, its walls are not grey granite blocks but have been pebble-dashed and painted white. It is built as a trio of pavilions, each with a weathered shingled roof. Viewed from the lawn, its exterior presents a wonderful mix-up of Doric columns and the mock Tudor facade of its dining hall.
The bold porch leads to a main sitting room rich in tradition. By the fireplace is a zink-lined ice chest of antique vintage. There is an ancient scrolltop desk and in one corner, an upright piano well-known in planter circles having been moved from Newburgh Bungalow at Ella to Sherwood and then to its present home. A brass plate attributes it to Julius Feurich of Leipzug, number 19107; it is complete with brass candle holders and engraved brass pedals.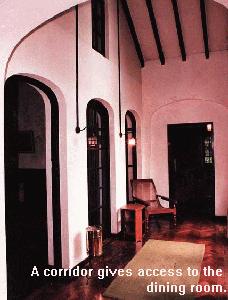 On the sitting room wall is a framed photograph by Gemunu Amarasinghe of the exterior of the bungalow. It was hung there by planter Rohan Jagoda when he was in residence. The room gives access to the body of the house and the bedrooms in the western side of the corridor.
The middle pavilion of the bungalow is the dining area, with servants quarters behind it. It has white walls and exposed black painted beams, no ceiling. Access is from the corridor linking the two outer pavilions. Broad French windows open on to the garden on one side with arched entrances to the dining room on the other. In style it has rather more taste than is usual for a plantation bungalow.
The corridor ends in what is called a Coffee Room but with its dark wood panelling from teak-floor to beamed ceiling and deep brick fireplace, it resembles a medieval snuggery. The master bedroom, complete with teak wardrobe with sliding doors and dressing room with archway entrance, is also in this wing.
Complementing the bungalow's stylishness are period pieces like wooden toilet seats, and a flamboyant Queen Anne mirror. Although no one resides there now, and despite its age of more than 70 years, the Thotulagalla bungalow remains a tribute to the care of those who appreciate plantation traditions.
---
Continue to Plus page 10 - Battling against divisive forces
Return to the Plus contents page
| HOME PAGE | FRONT PAGE | EDITORIAL/OPINION | NEWS / COMMENT | BUSINESS
Please send your comments and suggestions on this web site to
info@suntimes.is.lk or to
webmaster@infolabs.is.lk