Situation Report
21st December 1997
Stage set for an eventful '98
By Iqbal Athas
As the nation is set for another year of Christmas and New Year revelry, for troops deployed in Operation Jaya Sikurui (or Victory Assured), now running into its eighth month, it was a different story.
The pelting north east monsoon, unprecedentedly heavy, is denying to them the barest of homely comforts - a roof above their head and the comfort of a hot, home made meal. On the A9, the Kandy-Jaffna highway they have set out to capture and establish a Main Supply Route, mobility beyond Omanthai was impossible. A few tractors and heavy vehicles that chose to venture out have got bogged down in the muddy terrain and surging flood waters. For soldiers who secure the defences of the highway captured so far, life is hell. Their homes are the dug in trenches that dot every 40 metre. They are flooded. When rains beat in from the tents above, they stay awake until there is a little recess. Then they snooze again, only to be woken up by the next downpour, by enemy gun fire or to allow their colleagues their turn to sleep.
In some of the far corners, meals do not arrive on time because the vehicles carrying them cannot move in the soggy terrain. Where it arrived late, the showers had made it cold and watery. So the men are left with only their ration packs - dehydrated fried rice, mixed vegetables and chicken. Heating the food before perching precariously on high ground or on a log to eat it, is no easy task. There are no twigs or dry leaves to burn so the ration cans can be warmed. So for most, a meal is right out of a cold can.
The rising flood waters have turned treacherous. A soldier from a camp near Kanakarayankulam was reported missing last Wednesday after a bath he had near a flooded area. He had fallen into a deeper pit that was flooded and died.
For troops engaged in "Operation Jaya Sikurui", it seems conditions will not improve for several more weeks. P.M. Jayatilleke Banda, Deputy Director, Department of Meteorology said the ongoing north east monsoon will continue until late February. "There will be isolated heavy rains in northern, eastern, north central and Uva," he told The Sunday Times. However, he forecast a reduction of rainfall during January and February.
Even if intermittent showers fell in the City, it had not dampened seasonal festivity including the obligatory dinners and parties hosted by PA Ministers to their colleagues and the media to mark the end of the budget debate, and more traditionally, the current year.
There was also a star studded event in the defence establishment - cocktails, dinner, singing and dancing - that went on till the wee hours. Black label flowed to the gyrating rhythms of the baila. As one retired officer who took part said "if there was a talent search that night, our best vocalists would have lost their jobs. So would our best dancers."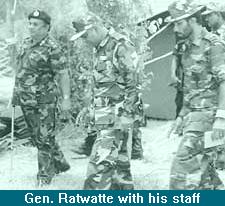 Even the indefatigable Deputy Minister of Defence, General Anuruddha Ratwatte, chose to reciprocate the two dinners the Foreign Correspondents Association hosted him. He invited them to his Stanmore Crescent residence on December 11.
Understandably security was tight. Invitees were requested to assemble at Galle Face Hotel, body searched and taken in coaches. Those who attended were full of praise for Gen. Ratwatte's gracious hospitality. The Sri Lanka Air Force (SLAF) band was in attendance and the event was marked by some guests taking to the floor.
But the most important of all events came during an impromptu press conference General Ratwatte gave. He declared that the linking of the land based Main Supply Route (MSR) to Jaffna would be achieved by February 4 , next year - the day Sri Lanka celebrates 50 years of independence.
"At any cost, we have to reunify the country. Those who scoff at our plans are in for a shock," he told the attentive audience. Later, Gen. Ratwatte who walked around talking to foreign correspondents and associate members (including diplomats) answered questions put to him. Asked whether there would be talks with the LTTE (after February 4) when the MSR is established, he said the LTTE would have to lay down arms first. Asked whether he would meet LTTE leader, Velupillai Prabhakaran, General Ratwatte declared "I will meet him and shake hands with him, but only after we win and he is defeated."
Needless to say Gen. Ratwatte's confident assertions made good copy not only for foreign correspondents but also to the local media. However, the State media, both print and electronic, cautiously avoided any mention. The only exception, however, was the Tamil daily Thinakaran which ran it as the main story on December 13. It is not clear whether it was because the State media were not invited to the event. For that matter, none of the local media were invited. But many of the State run media subscribed to agencies whose representatives were present at the dinner and reported on the matter.
If General Ratwatte's latest assertions come right, Operation Jaya Sikurui, which is 222 days old today will end on or before February 3. Without a doubt, that would be a tremendous achievement for the PA Government and personally for Gen. Ratwatte, who has been running the military machine against the LTTE for the past three years.
Indeed it would be a slap in the face of the cynics and critics. On the other hand should the deadline not be kept then it would be a loss of face for the Deputy Minister who has given many other deadlines which have been by passed unfulfilled. It will also take some shine off the 50th anniversary celebrations of Independence.
Besides heralding the 50th anniversary of independence with a long awaited military victory, it is also expected to coincide with the political victory with the return of a civil administration to the north. That is with the conduct of the forthcoming local elections in the districts of Jaffna and Kilinochchi.
Gen. Ratwatte's February 4 deadline was the focal point of discussion in military circles last week. Officers in the Mess halls and men in the battle areas were guessing about the surprise moves that were afoot to accelerate the operation and end it before the latest deadline. For obvious reasons one cannot discuss impending military strategy or battle plans.
As they have unfailingly done in the past, officers and men in "Operation Jaya Sikurui" are firm in their commitment to achieve the aims and objective. Their valiant dedication has kept them going for the eighth month now.
More than 1,100 soldiers have paid with their lives and 5,500 have been wounded. Yet others, the majority of the troops, have foregone all the comforts to achieve the aims and objectives of Operation Jaya Sikurui. Poor hygienic conditions led to more than 700 being inflicted with hepatitis. Whilst they are under medication, vaccines to counter the disease are now being administered to soldiers in the field. The operation has seen six separate counter attacks, numbered and titled "Operation Do or Die." The last was on December 4 when 154 soldiers, all commandos and special forces, were killed and 481 soldiers were wounded. A further 18 are declared Missing in Action.
Army Commander, Lt. Gen. Rohan de S. Daluwatte has appointed a three member Court of Inquiry, headed by Major General Sathis Jayasundera, Director General - General Staff at Army Headquarters to examine the events leading to the last counter attack. The other members of the Court are Major General Asoka Silva, GOC Two Division and Just five days after Gen. Ratwatte's declaration , Lt. Gen. Daluwatte also effected a series of important changes in the higher command of "Operation Jaya Sikurui."
Major General Neil Dias, who returned from the National Defence College in New Delhi, has been named as the new General Officer Commanding (GOC) of the Army's 53 Division. He succeeds Brigadier Vasantha Perera, who has been named as Co-ordinator, Operational Logistics at Army Headquarters. Brigadier Sarath Fonseka has been named as the new officiating General Officer Commanding (GOC) the 55 Division. He succeeds Brigadier Anton Wijendra who returns to his substantial post as Commandant of the newly set up Army Staff College at Batalanda. Brigadier Lohan Gunawardena who also returned from the NDC in New Delhi has been named officiating General Officer Commanding the 54 Division based in Elephant Pass, the position held by Brigadier Fonseka. These changes are due to take effect tomorrow.
Major General Janaka Perera, who has just completed his stint at the Royal College of Defence Studies in the United Kingdom (and currently on leave) is likely to be the new GOC of the Army's 3 Division headquartered in Batticaloa. Brigadier Nihal Marambe who is presently officiating in this position is expected to be posted as a deputy to Operations Commander, Colombo, Major General Jaliya Nammuni.
There have also been year end changes in the other services.
Navy Commander, Vice Admiral Cecil Tissera, has effected some top level changes. Rear Admiral Daya Sandagiri has been named Commander, Western Naval Area. His present position as Commander, Northern Naval Area (Comnorth) is to be overseen by his deputy, Commodore W.K.J. Karannagoda. The present Comwest, Rear Admiral H.R. Amaraweera has been named as Director Operations at Navy Headquarters. Commodore Mohan Wijewickrema who served in this position has been named Commander (Comeast) Eastern Naval Area based in Trincomalee. Admiral A.H.M. Razeek who has held that post has been named as one of two who will be on an year long stint at the National Defence College in New Delhi.
The other is Air Commodore Donald Perera, Commanding Officer, SLAF base in Trincomalee and Zonal Commander, East. Air Commodore Ravi Arunthavanathan has been appointed to succeed him temporarily. He will assume office tomorrow.
As equally important as the ongoing "Operation Jayasikurui" is the Government's decision to conduct local government elections in the districts of Jaffna and Kilinochchi. The Government has rejected appeals by moderate Tamil parties to postpone the date of nominations to give them time to make preparations. President Chandrika Bandaranaike Kumaratunga, who left for Pakistan yesterday, has made it clear that the Government was determined to go ahead with the local polls. Nominations for 16 local bodies in the Jaffna district (one Municipal Council, three Urban Councils and 12 Pradeshiya Sabhas) and the Pachchilaipallai Pradeshiya Sabha in the Kilinochchi district began on December 6 and will end on Tuesday. In local polls that are being held after nearly 15 years, 571, 484 registered voters will be elegible to elect 234 councillors. There are 14 other local authorities in the north for which nominations have not been called.
Their terms of office are to be extended. They are due to expire on February 18.
Senior security officials said that the security demands posed by the upcoming local polls were enormous. A total of 422 polling stations have to be secured on polls day and before. Polls campaign meetings will have to be adequately secured and the candidates provided adequate personal protection. These additional security demands have arisen at a time when the security forces have reported a marked increase in LTTE activity in the Jaffna peninsula following infiltration of LTTE cadres. The move has prompted plans for a major sweep.
Commenting on the forthcoming polls, one high ranking military official who did not wish to be identified said " our responsibility is not to merely ensure a trouble free campaign period and a poll thereafter. We have to ensure a maximum voter turn out and that they cast their votes in favour of a candidate of their choice. For that we have to create a climate without any fear. That takes a massive and co-ordinated security effort. We have to ensure nothing untoward happens.... no meetings are disrupted...no harm is done to candidates...... "
The fact that the major thrust of the security forces, not to mention the strength, is focused on the ongoing "Operation Jaya Sikurui" is no secret. Since it was launched on May 13, security forces have not conducted any major offensive operations in any other theatre of conflict in the separatist war. And if General Ratwatte's new deadline to end the offensive by February 4 is to be achieved, one would not be revealing any secret in saying that efforts would have to be further accelerated. In plain terms, that would mean the induction of more manpower leave alone more military hardware. When dates for local polls are announced on Tuesday (barring the now remote likelihood of the nominations being put off), demands for increased manpower to bolster security for local polls will become inevitable.
It would then be a limited choice for the security establishment, one of taking a little more time on the offensive and facilitating the smooth conduct of the local poll. The other obvious choice would have been the postponement of the polls. That has now been categorically ruled out. It has become increasingly apparent that the authorities concerned did not contact military officials responsible for security in the north before deciding to go ahead with polls. If their views were to have been sought, there would undoubtedly have been a more detailed appraisal of the serious security implications. This would have also given the authorities a more clearer perception of the intelligence assessments of the ground situation.
And the twin dilemmas come in the backdrop of another subject of security concern. Just before the crack of dawn last Thursday, two main transformers of the Ceylon Electricity Board were wrecked by explosives plunging Bandarawela and Welimada areas in darkness. The explosion which occurred at Diyabubula on the Welimada-Bandarawela Road left a large crater. The incident came barely two months after power transformers in the Badulla town were damaged.
Suspicions point to the LTTE. At dawn yesterday, two transformers at Jayanthipura supplying electricity to Polonnaruwa were blasted. Intelligence sources said yesterday that there was increasing evidence of LTTE infiltration into the plantation areas. They suspect that the act was part of a planned LTTE campaign to widen its attacks on economic targets. They said they were investigating whether these acts had any direct relevance to the independence celebrations being held in Kandy and whether plans were afoot to disturb the peace in the hill country.
The unfolding scenario suggests that in as much as the Government is hoping to gain a military and a political victory in the north that Prabhakaran is equally bent on destabilising security in as wide an area as possible. He could be expected to retain his major focus of resisting "Operation Jaya Sikurui" and the political campaign in Jaffna whilst threatening the security and politico economic stability in areas outside the north and the east.
The incidents which have occurred recently in the hill country plantation areas with its large Tamil community of Indian origin portends problems of a serious dimension. That is if the LTTE make any headway in those areas. These problems will carry its own dynamics with a political scene unfolding in India and the volatility of the Tamil Nadu - Sri Lanka Tamil nexus.
The choice for Prabhakaran and the LTTE is indeed to do or die. For them, it is a political cul de sac and they could be expected to resist the Government strategy with the total repertoire of their military and political options.
For the Government fast approaching the end of the current mandate the year 1998 is a crucial year. The 50th anniversary is a big bang commencement of the Government effort hoping to milk a military success and a political victory to the Jaffna elections as well as with the devolution package at the national level.
The stage is thus set for an eventful 1998 and to the country's sake it is hoped that political exigencies will be subordinated with national interest.
---
Return to the Editorial/Opinion contents page