21st December 1997
Contents

WE DID IT! The Colombo 'B' team relax after edging out Colombo 'A' to win the Willingdon Trophy at the 57th East Regatta concluded at the Beira Lake yesterday. The winning team comprised: Dave Morris (Bow), Rajith Algama (2), Rushantha Wanigatunga (3), Dilruk Aluvihara (Stroke) and Senaka de Saram (Cox). - Pic by Dunstan Wickremaratne.
---
Three one day Internationals vs India begins tomorrow
By Marlon Fernandopulle
A confident Sri Lanka cricket team went back to India after a ten day break to take on a battered Indian team in three One-day series matches, the first of which begins tomorrow in Guwahati.
Sri Lanka's dominance in the One-day games has been splendid . They have won 36 games from their last 50 games and have beaten India nine times in their last ten engagements; a phenomenal success rate which would possibly improve further.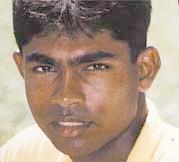 The return of wicket keeper Romesh Kaluwitharana to the Lankan side should add to the confidence of the world champions. Kaluwitharana who went through a bad patch with the bat and wicket-keeping has not done anything exceptional since then, but has got the nod after his successor Lanka de Silva failed to live upto expectations in the Test series and also suffered a minor injury.
However Kaluwitharana will not get the opportunity to pair off with Sanath Jayasuriya as an opener, but will have to bat in the middle order position which could be very demanding especially for a batsman who is not in good nick. He will have very little time to play himself in, and will be required to accumulate his runs at a steady pace.
On most occasions Kaluwitharana's wicket keeping has fallen apart, whenever he expriences a drop in his batting. Thus it would be very important for him to get a useful knock in the middle as it will definitely put him back on track as a reliable wicket keeper.
Batting, will once again, be Lanka's forte. Openers Sanath Jayasuriya and Marvan Atapattu have lately taken a special liking to the Indian attack. The pair will be once again looking to pulverize the attack in the One-dayers and give Sri Lanka their customary resounding start. With Mahanama, De Silva, Ranatunga, Tilekaratne and Kaluwitharana to follow, Sri Lanka's batting looks threatening and has the talent to tear any bowling apart.
Although the team lacks a penetrative bowling attack, their spinners Muralitharan, Dharmasena , Jayasuriya and De Silva have the ability to peg down their opponents with a tidy line and length. Their disciplined bowling plus brilliant fielding have more often than not, restricted their opponents to modest totals.
The Indians after failing to win a single match in the three Test series aganist Sri Lanka, will be looking for consolation in the One- dayers. However after their pathetic performance in the Champions Trophy tournament, and their poor One-day record in the recent past, the task for the Indians is not going to be a bed of roses.
Moreover they will be up against Arjuna Ranatunga's world champion side who are still riding on their World Cup triumph.
The Indians were beaten in all three games in Sharjah and crashed out of the Champions Trophy.
Captain Sachin Tendulkar came in for severe criticism for the manner in which he handled his side. It was quite evident that Tendulkar lacked the necessary skills as a shrewd captain in that tournament.
With One-day cricket becoming more of a thinking game, captains are required to think intelligently and make bold and timely tactical decisions on the field.
It's here where the Lankans hold the edge. 'Skipper Arjuna Ranatunga is well kown for his skills as a captain .
A seasoned campaigner who has played 225 One-day games and captained over half that number , Arjuna Ranatunge will have to use all his experience if the world champs are to beat the Indians on there home soil.
The last time the three teams met, was in Colombo, prior to the Asia Cup and Sri Lanka made a clean sweep winning all three games. India also went down to the world champions in the Asia Cup and thus will be looking to settle scores in the forthcoming series.
---
By Annesley Ferreira
History was created at the Beira Lake last evening when the Colombo Rowing Club Fours won the Willingdon Trophy for the first time ever in their 133rd year of existence at the 57th East Regatta (ARA) concluded yesterday.
The final was an all-Colombo clash. The Colombo Rowing Club 'A' team beat Madras by half a canvas while their 'B' team edged out Calcutta by half a length.
The champion Colombo Rowing Club 'A' team was virtually made up of schoolboys from S.Thomas' Mt. Lavinia, who proved that their recent success in Hong Kong was no flash in the pan.
In the final Colombo 'B' beat Colombo 'A' by a foot.
The Colombo 'B' team comprised Dave Morris (Bow), Ranjith Algama (2), Rushantha Wanigatunga (3), Dilruk Aluvihara (Stroke) and Senaka de Saram (Cox) while the Colombo 'A' team was made up of Aminda Jayasuriya (Bow), Devaka Seneviratne (2), Kavinda Seneviratne (3), Shamintha Ganegoda (Stroke) and Ravin Wanniyathamby (Cox).
Colombo 'A' beat Colombo 'B' to win the Venables Bowls and also emerged as overall champions and thus annexed the Hooghley Trophy.
Krishna Rowing Club, Bangalore dominated the women's events winning the fours, pairs and sculls.
Minister of Youth Affairs and Sports S.B.Dissanayake was the chief guest and Mrs. Dissanayake gave away the awards.
---

Derwin Perera, the national athletic coach has been appointed as Deputy Director of Sports with effect from December 17.
This is the first time that a sports official has been appointed to that post. Earlier this post was held by an Administrative Service Officer.
The Sports Minister had taken up matters with the Salaries and Services Committee and with the Cabinet which resulted in the new post of Deputy Director of Sports being created.
Derwin Perera was promoted Sports Officer on July 1 in 1972 and as a trainer in 1984. In 1987 he was made a lecturer at the Sports Academy.
In 1997 he became the National Athletics Trainer and in 1995 he was made Assistant Director of Sports.
He won a sports diploma in 1979 and went to Russia in 1982.
Derwin also was awarded a post graduate degree from a German University in 1987.
---
BRISBANE, Saturday (Reuters) - Australia A were 192 for two in reply to South Africa's first innings score of 458-9 declared at the close on the second day of a four-day cricket match on Saturday.
---
Naveen Samarasinghe is in line for a double as the finalists were found in the Sqaush Nationals which is in progress at the Hotel Inter-Continental courts. This tournament is sponsored by Orient Exprss lines and is organised and conducted by the Sri Lanka Squash Federation. The finals will be played today. – SI
---
All arrangements have been finalised for the Southern Eliyakanda Sprint 97 hill climb, the second motor sport event organised by the Southern Motor Sports Club to be held today, December 21.
The climb will start from Pearl Cliff turn off and along the road to the GA's residence. Fifteen events will be held including events for ladies.
Well known racing drivers of the island will compete in this speed motor race where the fastest motor car driver and motor cycle rider and also the fastest ordinary vehicle driver will be selected.
---
LONDON, Saturday (Reuters) - English county championship sideWarwickshire said on Saturday that Brian Lara had signed as captain for next season, succeeding Tim Munton. The West Indies batsman, who played for Warwickshire in 1994 when they won the championship, Benson and Hedges Cup and the Sunday league, made a brief stopover in London.
---
By Saif Izzadeen
Four of Sri Lanka cricketers who are now touring India for the three one-day international cricket series are waiting to achieve their personnel milestones.
The four cricketers are Marvan Atapattu, who is 16 runs short of scoring 1000 runs in one day Internationals . Marvan's tally stands at 984. Hashan Tillekeratne is short of 28 runs to scoring 3000 in one-day international. His tally is at 2972.
Left arm bowler Sajeeva de Silva is four wickets short of taking 50 one-day wickets. His tally is 46 at the moment. Roshan Mahanama is seven catches away from 100 catches in one-day internationals his tally is at 93.
---
Indika Prasad and Pradeepa Dilrukshi are the top seeds in the men's and women's table tennis singles at the Western Province TT championships, conducted by the St. John's Sports Club, Nugegoda, and sponsored by Omega Engineering Company to be held on December 27 and 28th at the S. Thomas' Indoor Stadium, Mount Lavinia.
The other seeded players are:
Men's singles - Rohan Sirisena, Dinesh Deshapriya, Nuwan Sampath, P. Thushara, T. Samaraweera, Ranul Sirisena and Samith Prasad.
Women's singles - Mawlee Prajangani, Anuba Karunaratne, Janitha Perera, Sadisi Nirasha, A. N. K. Udugama, Akushla Buddini, Upuli Mendis.
Under 19 boys singles - Rohan Sirisena, Nuwan Sampath, Dinesh Deshappriya, Ranil Sirisena.
Under 19 girls singles - Pradeepa Dilrukshi, A. N. K. Udugama, Sadisi Nirasha, Akushla Buddini.
Under 17 boys singles - Rohan Sirisena, Dinesh Deshappriya, Ruwan de Silva, Praduddha Samaraweera.
Under 17 girls singles - Pradeepa Dilrukshi, Mawlee Prajangani, A. N. K. Udugama, Akushla Buddhini.
Boys under 15 singles - Dinesh Deshappriya, Tharindu Samaraweera, Kushan Weerasuriya, Thanuskha Peiris.
Under 15 girls singles - Pradeepa Dilrukshi, Mawlee Prajangani, Akushla Buddhini, A. N. K. Udugama.
Girls under 13 singles - Mawlee Prajangani, A. C. K. Udugama, Dilani Nadeeshani, Yathindra Dissanayake.
Boys under 13 singles - Tharindu Samaraweera, Kushan Weerasuriya, Thanuskha Peiris, Madusha Warusavithana.
| HOME PAGE | EDITORIAL/OPINION | NEWS / COMMENT | BUSINESS | PLUS
Please send your comments and suggestions on this web site to
info@suntimes.is.lk or to
webmaster@infolabs.is.lk