Book review
Brilliant tapestry of fact and fiction
Children of the Lion by Carl Muller. Reviewed by John Harris
In Shakespeare's Hamlet, Polonius describes the range of theatrical genres available from the troupe that comes to perform at the royal court as including "tragedy, comedy, history, pastoral, pastoral comical, historical-pastoral, tragical-historical tragical-comical-historical pastoral, scene individable, or poem unlimited."
The range of literary devices at Carl Muller's disposal in his recent novel Children of the Lion is no less impressive. Myth, fact and fantasy are juggled with astounding ease as Muller's substantial 984-page work traces the early history of Sri Lanka, beginning with its first Indian conquerors, the disgraced band of 700 Sihapurans who established the Sinhalese dynasty on the island under the leadership of Vijaya in 483 B.C. The tale winds its way through the squabbling and political fragmentation of his descendants until the island was reunified under Duttha Gamini several hundred years later. Along the way Muller recreates in vivid detail the characters and episodes that shaped the island's early history, prominent among which was the coming of Buddhism to the island from the kingdom of Asoka in 247 B.C during the reign of Tissa.
The book's preamble makes the claim that Muller's work gives "flesh and blood to the dry bones of history." No one can doubt the meticulousness of Muller's research - indeed the book includes 50 pages of footnotes and bibliography to substantiate his version of events. It is based heavily upon the Mahavamsa - Sri Lanka's founding epic. But the author also calls into play a bewildering array of other sources, from all academic disciplines. All cultures and all ages. If you want to know of the ancient Buddhist classifications for erotic love, where to find the world's oldest tree, Sri Lankan geotectonic history, or the process for trapping an elephant look no further.
It is this facet which poses one of the book's very few problems to its lay reader. Muller at times seems so intent on displaying his vast researching prowess that the reader is distracted from the book's fictional flow. Muller usually manages to integrate the book's fictional and historical passages with impressive ease. Occasionally, however, the historical passages read more like a list of references that the author feels compelled to include than he had intended. Similarly, though by no means assuming a prior expertise in Sri Lankan history, the immense presence of historical cross-referencing means that the book would take on an added resonance for the reader with a familiarity with its concerns.
But the book's primary achievement is not its historical analysis but its considerable fictional brilliance. Muller's talent lies in his interweaving of fact, fiction and myth into a compulsively readable, rich literary tapestry. Fact and fiction have a curious interaction throughout the book. The dubious line between the two is developed in the book's opening passage, where the reader is simply told that "the lion crouched in the sky." We then read that the lion in fact refers to a cloud in the form of a lion. But as the eyes that spotted the cloud turn earthward, they see a real lion wreaking havoc on a trail of caravans the real turned imaginary turns real once again. Muller has a keen sense of the balance required between fact and fiction, and the same page frequently houses bald historical fact harmoniously alongside fantastically imagined fiction.
This balance also enables Muller to enhance historical occurrences in delightful ways. Explaining, for example, the shrinking of Sri Lanka's land mass over the centuries, Muller relates that the gods punished the irrational wrath of a father by destroying eleven twelfths of the island with an irate typhoon. Similarly, he tells us of a king who installs a bell that can be rung by any of his subjects seeking justice, whether human, bird or cow.
Muller is captivated primarily by periods of turmoil and development, and not so much by years of smooth-running glory. The book's focus reflects this bias. The achievements of uncontested monarchs are covered with a historian's brevity whereas the intrigues and indecision of those less omnipotent are delved into with fictional flair. Muller's narrative voice manipulates the story with considerable effect.
Perhaps the most important presence of Muller's narrative voice appears when he deals with the Mahavamsa, on which his story is based. Though making extensive use of its passages, and following its story quite closely,Muller is simultaneously very aware of its limitations, and the need to embellish its version. At one point, he criticises the 'bald statements' of the Mahavamsa version, and at another warns us that "the picture presented by the ancient chroniclers must be viewed with care". Muller's intention is to create a more complete literary canvas than can be garnered from the versions of historical sources. Leading up to the book's final conflict, Muller quotes the four-line Mahavamsa version of events which he describes as a ' classic anticlimax.' He then goes on to develop the same event over twenty pages. Muller begins with a kernel of source material and develops it, using research and imagination, into a brilliant literary episode. This is Muller's strength, and it is this which rewards the reader willing to take on a literary creation of such epic dimensions. Another dimension which gives this ancient tale modern significance is that the Sri Lanka it describes was a diverse, assimilating place, where cultures encompassing a wide variety of languages, religions and beliefs strove to forge together a peaceful interactive existence. Over the course of time, "legend ,literature, myth and magic fused, grew and gave rise to widspread beliefs." Through all the years the book covers these attempts at cultural integration produced dramatic failures, resulting in 'a land where brother slays brother," but also registered noteworthy successes. In that capacity, this tale, and many other such tales, deserve a closer look. For, as the book wonders, "must there be turmoil and hatred in order that a land achieves distinction and character?
- The India Magazine of her people and culture
---
Kiran Desai,creates a hullabaloo with her debut novel Hullabaloo In the Guava Orchard
Impish Fable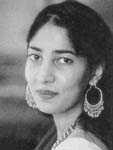 Sampath works in the Shahkot post office. Climbing up the government hierarchy is not his scene. So when the rest of his family goes for a wedding, he takes a bus out of town and climbs the guava tree. He stays there, crowded out from the harsh world below by the guava leaves.
Funny? Can you laugh at or empathise with Sampath's escapism? Or just baulk at the enormity of one man's tragedy couched as comic cameo? On a crowded train in New York last month, an Indian commuter reading the advance copy of this novel started slapping his forehead and drumming his thighs, making two other commuters move away from him. "I hope my readers laugh as much as I did while writing this book," says Kiran Desai, 26, creator of Sampath of Shahkot in her debut novel Hullabaloo in the Guava Orchard, which is the cause of much agitated whispering in the portals of the publishing world on the eve of its worldwide release in April (Penguin in India, Faber in the UK, Grove Atlantic Press in the US, apart from publishers in 11 countries).
Hullabaloo resonates with old-world charm and new-world noises, the '60s sounds and smells that we know belong to a little town called Malgudi. Kiran comes from true literary stock too. Through the '70s, '80s and the '90s we read her mother Anita Desai, twice shortlisted for the Booker prize in 1980 (Clear Light of Day) and 1984 (In Custody).
Now the daughter arrives writing in chaste Narayanesque style — R.K. Narayan is a family favourite — laughing while she writes, impishly winking at her characters as they spring to life. The mantle of literary gravitas really does not weigh heavily on young Kiran as she spins a hilarious tale with smattering of Rushdiesque flourish "about an orchard with guava trees and in this orchard there is a hullabaloo", as she says, before bending double with laughter on the sofa in her mother's Cambridge home where most of the book was written. The finishing touches were given last winter as mother and daughter retreated to a villa in Mexico. Kiran worked in a room near the kitchen so that she could raid the refrigerator and Anita wrote in the verandah as if to frisk the muses winging by. Mother and daughter chat like friends, and to prove their culinary expertise rustle up a lunch of mildly spicy chicken in thick curry, raita and glorious looking yellow rice with spinach.
"I always knew she had a wonderful talent for the comic," says Anita, who teaches creative writing at the Massachusetts Institute of Technology. "She would come home from her classes in Delhi and entertain us with her wonderful imitation of her fellow students and professors. But who would have thought she would turn her talent for humour into writing?"
Yet, a writing career was hardly on Kiran's mind when she entered Bennington College in Vermont eight years ago to work for a degree in ecology. Kiran took a course in creative writing to lighten her load but a story she wrote about a man obsessed with his hair got an encouraging nod from writer and critic Philip Lopate. "I fell in love with writing with the first story I wrote but I wanted the space of a novel to be able to immerse myself in a subject for a longer period, to disappear into the world I was creating," Kiran says.
- India Today