...Where jumbos romp
By M.Mahasenan
"Going to Uda Walawe is fun," I said. (Or you can make it serious and educational if you want to.) 'Its educational. Its eco-tourism," Programme Officer of the Wildlife Trust, Wasantha said. (Stress on Eco-tourism.)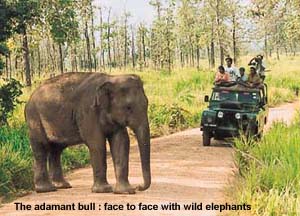 First to Avissawela, then to Ratnapura and off the Ratnapura-Badulla road lies the 'holiday resort' commonly called Uda Walawe. After about a four hour journey, I reached the entrance of the national park.
Parked in a row at the entrance of the Uda Walawe were the green safari jeeps. I started taking some photos. A man came running up to me with the thundering query "hey who are you? why are you taking pictures?!"
I replied that I was from the papers.
Sunday Times?
Lankadeepa? Yes, they knew about Lankadeepa. And that established my identity. There are a few soft drink stalls too, with the local flavour.
Inside the sanctuary are three camping sites and bungalows. What you can see in Uda Walawe is nothing unusual. The same elephants that you see at the zoo but still worth seeing. They are in their natural habitat.
I would say this is what I saw during the stay: Elephants, elephants, elephants, elephants, elephants, elephants, elephants, , peacock, elephants, elephants, elephants, elephants, elephants, peacock, pea fowl, elephants, pea fowl, elephants, elephants, , elephants, elephants, elephants, elephants, deer, deer, spotted deer, , elephants, elephants, eagles, ——al (tail of a jackal) , elephants, elephants, elephants, peacock, elephants, elephants, elephants, elephants, —kal (hind side of a jackal), elephants, elephants, -tag(hind side of a stag), fa- (nose of a fawn) elephants, elephants, elephants (A lot of elephants and few other animals here and there).
On the bank of the Walawe ganga, was our camp site. It takes about an hour from the gate to reach it.
Wasantha, who accompanied me on the expedition-as they call it-had brought three tents, considerable baggage.
The camping site is called sanda gamayas or something like that.,(See box) one of the three similar whateveryoumaycallit sites. Anyway the site was good, despite its unpronounceable name.. It was a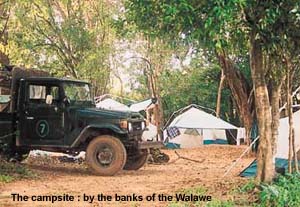 romantic place. Reminds you of Tom Sawyer and Huckleberry Finn, and all that kind of inspiring thing. It was a place under the cool shadows of three huge hovering trees. It was cool and the river was muddy because of the rain, Wasantha said. "It rained last night, so they said," he added.
It was time to hop into the jeep, saththu balanna, as they say, to see the animals, again.
In fact I saw more safari hikers-in their open jeeps- than I saw elephants.
"Vasse nisa aly adui," (Pardon my Sinhala)-"Not much elephants because of the rains," our guide said. Still we saw elephants, pea fowl, elephants…oh no, not again.
Going around in an open top safari jeep- is almost funny. It is interesting also. But people look fancy, jutting their heads out of the iron grid jeep frames. You don't realize the figure you'd cut until you see somebody else..
My guide was a small made young chap, a descendent of the legendary Silindu from Beddegama. Short, about four feet five, lean but with a cunning air about him. Dissheeled hair, brown. Strict though.
He wouldn't allow anybody to get off the jeep. No chance.
"Nobody is allowed to get off the vehicle in strict natural reserves," he said and stuck to the rule. In his four year career as a guide he had only seen four leopards, he said.
He seemed to know every nook and corner of the Uda Walawe, every tree and every twig probably also about every hair on every animal.
"Sir is from the papers no? We have been on casual employment for the last four years, sir. (Stress on four) Can't you write about us sir?," (Stress on Sir).
"Well,… let me see, yes, yes, I can write something about you." That put a stop to Silindu's list of complaints.
The old battered Land Cruiser safari jeep growled and puffed through the jungle tracks.
On either side of the jungle track was huge grass. Amidst all that grass were the animals-elephants, elephants, peacock, pea fowl and all of that.
You can't see any animals, seated in the safari jeep. You need to stand and travel to catch a glimpse of these majestic mammals.
Back at base, Wasantha had erected all three tents. It was twilight. Only the glimmer of dim light from nowhere, and the light from the three hurricane lamps had Walawe glittering.
Except for the camp fire to keep the animals away.
The whole thing was tiring- these safaris are. Just by the campsite is the river bank, chilling waters, but silent. Took a dip. Now that revives you . Dinner was ready, consisting of hot noodles, prepared by an unforgettable cook who also comes on these expeditions.
You sleep like a log, after a tiring safari and won't wake up even if a lizard creeps up your leg upto your thighs. You wake up to a morning you will never see in a city.
In the morning after a good night's sleep in the tent (with a tree frog and a lizard next to you keeping you company) its time for another round of safari- before the breakfast. Again elephants, pea fowls and all that .
This time we encountered a couple making love, I mean courtship, by the track side- and the bull was really smart, smart. "Gee, see how long it is," I heard a husky female voice commenting behind me. By the way I was accompanied by a lively family.
That was perhaps the closest encounter. The bull in its musth was adamant and violent, and refused to allow us to pass by. The driver had to frighten him, and he finally gave way. But the encounter was worth the experience, particularly with a jeep in that condition.
"Suppose the elephant started charging at us, can this vehicle go faster than the animal. Suppose the engine stops? Suppose there was a puncture?" But neither of these things happened. And I am here typing this.
Back at camp we had breakfast kiribath, katta sambol, bread jam butter, kadale. Hot steaming tea.
There was a croc on the bank next to the campsite, about 20 feet away and don't ask me where it was last night.
That is part of the thrill of this expedition. And there was a kabaragoya who was loitering near the camp. "He likes the aroma of the food," the cook said. I wonder how the cook knew the fellow was a he and not a she.
After breakfast another round, and lunch of rice and curry. The trek towards home began. I was back at the Wildlife Department at 7 in the evening. Tired but some with new experiences to add to my repository of stories.