Frederica talks to Tris Bartlett
Frederica: Could you tell me what exactly it was about the article I wrote for The Sunday Times that upset IA?
Tris: It was not just IA. You are basically writing about LTTE fund raising activities in Norway. You have also used various quotes from the Norwegian Ambassador Jon Wetsborg. As a result the implications for IA, both with the LTTE and the Norwegians is bad.
Officially we, do not support either the Sri Lankan government or the LTTE. You can say that we do not have the trust of either side at the moment. We have to maintain a neutral side. Your article was not neutral.
Frederica: When you say either side who are you referring to?
Tris: The Sri Lankan government and the LTTE. The LTTE in London phoned us up and said they were upset at the negative aspect of your article.
Frederica: Did IA actually write to the LTTE and apologize for the negative aspects of the article?
Tris: No . But we spoke to a lot of people, and we asked the LTTE about the article.
Frederica: What did they say?
Tris: Very anti-LTTE, very anti-Tamil.
Frederica: You and Martin both told me that IA would be writing to the Norwegian government and the LTTE to apologize for the article. Has this been done?
Tris: We have apologized to the LTTE , and yes, we have written to the Norwegians as well.
Frederica: Did the Norwegians object to the article to IA in London?
Tris: Kumar Rupesinghe handled this. I cannot confirm if they did object one hundred percent or not. According to Kumar, they have. Kumar phoned up Jon Westborg who was in Norway at the time and also phoned Colombo who according to Kumar had said they were very unhappy with the article.
Frederica: But the Norwegians have not protested to the The Sunday Times. This is what I cannot understand, when IA says I have fractured its relationship with the Norwegians.
Tris: What you do not know is that, IA has been in negotiations with Norway for a huge grant, not just for its Sri Lanka projects but to sustain the entire organization.
Frederica: IA did not figure in the article.
Tris: Yes, but you are an IA employee. And the implications were serious. In your contract it does state that in the event of a conflict of interest you should discuss previously with the Programme Manager.
Frederica: There was no conflict of interest, for the simple reason I was never told how close IA's relations are with the Norwegian government and the LTTE.
Tris: I wouldn't say they are close with the LTTE. But they should be closer.
Frederica: Tris, I have previously written articles criticizing the Sri Lankan government and the Sri Lankan armed forces. How is it that IA did not find those articles incompatible to its work in Sri Lanka. The moment I wrote an article criticizing the LTTE, IA found it incompatible? How is that?
Tris: I do not know exactly what you have been writing on the conflict.
Frederica: I have been writing on the conflict for the last four years, and I have also criticized the Sri Lankan government. You are fully aware of that. This is what puzzles me. The moment I wrote an article that criticized the LTTE, IA finds it incompatible.
Tris: It's a fair point. I cannot answer that.
Frederica: This whole relationship IA has with the LTTE. I of course did know that IA needed to maintain contact with both sides to a conflict, as a conflict resolution organization. But I didnít realize the extent and this is why I did not see fit to consult IA first before writing a story criticizing the LTTE.
Tris: Yes, it is important, and we have to maintain that contact with both the government and the LTTE. With regard to your article we have also received complaints from the Tamil diaspora in London complaining that your article was very anti-Tamil.
Frederica: I still cannot understand IA's position as far as the Norwegians too.
Tris: I think what upset the Norwegians was the little box you had in the article where you quote the Ambassador saying if Prabhakaran were to apply for entry into Norway his application would be considered. And then you go on to say that Prabhakaran is registered with INTERPOL for the assassination of Rajiv Gandhi. That is what really upset the Norwegians.
Frederica: Why?
Tris: Because that is where you do quote the Ambassador.
Frederica: So? He knew I was quoting him on that. In fact I even double checked with him on the phone and told him I was quoting him, and Westborg (the Ambassador) agreed. He specifically repeated to me that in the event of Prabhakaran
applying for entry into Norway his application would be considered. Because Norway does not regard the LTTE as a terrorist organization. So, Westborg was fully aware that I was going to quote him with regard to this statement.
Tris: But as I said before I do not know for sure what the exact position is with the Norwegians, as it is Kumar who got in contact with them and according to him, the Norwegians are very unhappy.
Frederica: And LTTE too?
Tris: Yes, definitely. They said it was very anti-Tamil. And Kumar was in touch with both the LTTE and the Norwegians even before I was. It was Kumar who brought the article to both Martin and my notice.
Frederica: So the LTTE in Sri Lanka too, must be unhappy with the article?
Tris: Yes, the LTTE in London operate with instructions from the LTTE in the Wanni.
Frederica: So, in truth, both the Norwegian government and the LTTE put pressure on IA as a result of this article I wrote?
Tris: Yes.
---
IA rattled by Eelam Octopus
International Alert, is an organisation best known in Sri Lanka for the fact that it's headed by a Sri Lankan, Kumar Rupesinghe. IA specialises in conflict resolution- a fine art which is close to the hearts of the IA membership. But, within the confines of the Alert offices in Colombo, it appeared that IA was stymied by conflict — that IA doesn't perhaps quite know how to resolve potential conflicting situations that crop up within its own offices.
Frederica Jansz, a Sri Lankan who had worked for International Alert for a considerable length of time, was also in charge of the keys at the IA offices in Colombo. Last week Ms Jansz was peremptorily asked to return the keys, and she was curtly informed that she had been relieved of her post in IA as programme officer for Colombo.
She was informed of her termination by Tris Bartlett, who has now taken over the Colombo office of International Alert from Ms. Jansz.
Thereby hangs a tale. Frederica Jansz is also a correspondent for this newspaper, The Sunday Times. On Sunday May 31 she wrote a special investigative piece for this newspaper, entitled "LTTE rides high while Lanka sleeps on counter-offensive." ( The article was sub-titled "The Eeelam octopus in Norway.") The long and the short of it seems to be that the LTTE was rankled by this story, which among other things quoted Jon Westborg the Norwegian Ambassador in Sri Lanka as saying that " Norway works within the structure of international agreements, and that therefore Norway has to take cognisance of the fact that the name of Veluppilai Prabhakaran has been registered with interpol." He added that in cases in which names of people who have committed crimes have been registered with Interpol, the Norwegian police will cooperate with international authorities to apprehend people who have been responsible for these crimes.
This article has apparently been deemed to have negative implications for the LTTE in Norwegian soil. But, the catch is that since International Alert operates in Norway, and since Federica Jansz works for the organisation, it had been construed that the article which has been damaging for the LTTE had somehow come to be associated with International Alrt.
For this reason, Frederica Jansz was asked to quit the offices of International Alert, which had given her the explanation that "she has not maintained neutrality in the article and not steered clear of the conflict of interests clause in the contract which permitted her to write to local journals as part of her employment agreement with I A"
IA's Tris Bartlett had also maintained that its policy was officially neutral, and therefore could not be seen to be anti LTTE in any way. However, the fact remains that Frederica Jansz was writing to The Sunday times in her personal capacity, as a freelance journalist. This means that there is no reason for anybody to concoct a connection between what she wrote for The Sunday Times and the purported stand of the international Alert with regard to the LTTE.
But, Tris from IA has told Ms Jansz that her journalistic work is incompatible with her work at International Alert, and that her services have to be terminated as a result . No other details were given in writing. But, when she e-mailed IA authorities in Norway seeking an explanation for her abrupt termination , there was no explanation forthcoming.
However, Ms Jansz asked the IA official in Sri Lanka whether her termination was due to the fact that the LTTE was unhappy with her article. The IA official said "yes definitely."
It appeared that IA was bending over backward to please the LTTE, whose offices in Norway had registered their strong protest with IA over the article.
But the abrupt termination of Ms Jansz leads to several questions, which can be best encapsulated perhaps in the following form:
(A)-isn't IA an international organisation that stands for lofty ideals such as the freedom of expression etc., and is it not correct that even at the time of going to press Mr Bartlett was working in tandem with an official from Article 19, Miss Elizabeth Nissan on a workshop entitled "the cost of war." Article 19 is of course more than well known for its strong advocacy of the freedom of expression, especially in the print and broadcast media.
(B)-in the light of the preceding, isn't it rather incompatible with IA ideals that one of its employees was asked to leave the services of IA without so much as an inquiry or a show cause, over an article this employee had written in a local journal?
(C)-aren't IA credentials impugned by the fact that it has bent over backwards to please the LTTE, which on its own admission was displeased with the Article? Even if the IA wants to maintain a neutral position with regard to the Sri Lankan ethnic conflict, aren't IA credentials irrevocably damaged when the organisation goes to the extent of sacking one of its employees in order to please the LTTE which on the own admission of the IA official has expressed its displeasure over the article?
These queries may be posed , perhaps, keeping in mind the track record of IA as a peacemaker and conflict resolver in the international arena. In Sierra Leone, a human rights organisation in Norway, the Michelsen institute investigated a complaint that IA practices in Sierra Leone may have actually prolonged the conflict there. The Michelsen report also confirmed that international Alert's involvement in the release of some British hostages in Sierra Leone left it vulnerable to accusations of being unprincipled and partial to the junta over the democratically elected government of President Kabbah.
We refer you back to some of the queries ( abc ) enumerated above. Is IA principled? Is IA partial to one group involved in the Sri Lankan conflict? Or is IA being partial to one party in the conflict as it was in Sierra Leone?
The Sunday Times contacted Tris Bartlett, however he refused to comment on this issue. Norwegian Ambassador was not available for comment
---
Foreign Minister denounces IA agenda
Foreign Minister Lakshman Kadirgamar, denounced what he called the "agenda" of foreign non-governmental organizations that were aiming at winning Nobel Prizes through conflicts in Third World countries.
He said for some it was the business of survival. They live on grants and donations and have to sing for their supper.
Mr. Kadirgamar was speaking in a general interview granted to The Sunday Times on reports that International Alert, the Norwegian NGO had sacked free lance journalist Frederica Jansz from their staff because she had written an article critical of LTTE activities in Norway.
Foreign Minister Kadirgamar said that the Government of Sri Lanka is interested to know what the LTTE is doing, both in Sri Lanka and overseas.
If an individual is exposing the LTTE then they are doing a service to the country.
"As a result if that person falls foul of his or her employer, then the Sri Lanka Government's sympathy is entirely with the victim.
We are not interested in the agenda of International Alert," he said.
Mr. Kadirgamar said that if front offices for the LTTE exist in Colombo then the government will initiate action to have such offices investigated thoroughly by the government's National Intelligence Bureau, (NIB).
He further said that the Sri Lanka Government was not interested in maintaining any relationship with an NGO, whose credibility is questionable.
---
They came out in protest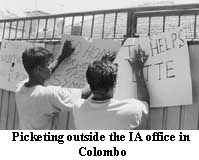 "International Alert stuff your Kroners and your cronies", "NGO's hands off Lanka," were some of the banners held outside the International Alert office at Kinross Avenue, Bambalapitiya on Friday by the Colombo Human Rights Front.
The Front, had organised the picketing and protest against the dismissal of Ms. Frederica Jansz by the IA for writing an article for The Sunday Times against LTTE activities in Norway and elsewhere. Ms Jansz was working as the Sri Lanka programme Manager for International Alert.
The Colombo human rights front leader told The Sunday Times his organisation was against the International Alert's decision to sack Ms Jansz for being forthright in her writing about the LTTE. It now seems clear that Non Governmental Organisations (NGO's) in Sri Lanka do not like activities of the LTTE being exposed. His Organisation calls upon the Government to expel NGO's acting against the interest of the country, Mr.Perera said.
Some of the other placards held outside the International Alert office read "IA helps LTTE," Go home Norwegian Tiger sympathisers."
As the office gates were closed, the protesters decided to hang the placards on the gates before they dispersed peacefully.
Meanwhile, Police who arrived at the scene asked what the protest was all about and after listening to Mr Perera, told them to disperse peacefully, after they had protested.
---
Adnan Khashoggi and Komis Kaakkas
From The Blue Corner
By Paakshikaya
Reading Viruddha Paakshikaya's harangue (what else could one call it?) last week I couldn't help but wonder whether The Sunday Times was biased towards Viruddha Paakshikaya and his party.
Its Editor always reminds me of space limitations in his esteemed newspaper, but last week, Viruddha Paakshikaya began his litany on page six, was continued on page seven and was allowed to carry the full text of two letters, one by Her Excellency the President to the Bribery Commissioners and the other by Her Excellency to the Leader of the Opposition - letters we had already read in the media!
I was about to tell Mr. Editor about this anomaly but on the other hand, a friend of mine said, maybe The Sunday Times is on my side - Viruddha Paakshikaya's article was so long, no one would have read it! So I shall only rephrase what my late leader S. W. R. D. said and remind Viruddha Paakshikaya - a good article must be like a lady's dress - short enough to arouse interest but long enough to cover the subject!
But I digress. To revert to what Viruddha Paakshikaya said last week, he refers to Sri Lanka's Adnan Khashoggi having "Access" to all parties. He even quotes Khashoggi as saying "I have good friends on all sides of the political spectrum; the best that money can buy..." and attempts to draw parallels between Khashoggi and our own product.
Well, Viruddha Paakshikaya, you would have heard what our leader, President Kumaratunge had to say about such profiteers. She called them "Komis Kaakkas", and you would agree that it would rival even R. Premadasa for pithy vernacular expression, though she schooled at Sorbonne.
Then, Viruddha Paakshikaya goes on to defend his leader, Mr. Clean, Ranil Wickremesinghe's Economic Advisor. This Jack-of-all-trades is a super businessman - diplomat - party loyalist, says he.
Let us consider these roles one by one. His business acumen was such that his company had to be bailed out by the then UNP government, when it ran bust.
His sole credentials as a diplomat is being a Consul to some country with whom we do no business with.
As for his loyalties - now! He's so loyal to his party. In 1989, during the election campaign, he was with us, wasn't he, Viruddha Paakshikaya?
When candidates were going to get envelopes of spending money from the SLFP, he was in the room seated with our big shots - I think, with Anuruddha Ratwatte who was then our administrative secretary - doling out the cash to us.
But, Viruddha Paakshikaya, I won't dwell on this subject of your super-advisor - perhaps the next Paskaralingam - any more, because he's your problem, not ours!
But, let me return to the subject of corruption, Viruddha Paakshikaya. You know that we have moved decisively to sack the stubborn Commissioners of the Bribery and Corruption Commission. Though your UNP is making a hue and cry about this, the President proved beyond reasonable doubt that they do no work.
Moreover, our MPs have also made allegations of misconduct against them - damning stuff indeed. One is charged with wrongfully using an official telephone. Another is accused of banging his official car and getting it repaired wrongfully - you maybe oblivious to these things, but we are alive to them.
Then, Viruddha Paakshikaya talks of Rasputins in the Commission. These Rasputins you talk of come handy my dear Viruddha Paakshikaya when we have to draft these indictments! They are indeed loyal government servants, or shall we say servants of the government? Isn't that the only way to go up in life? Surely, Viruddha Paakshikaya, you made use of them; So why not us? Why, you can even make use of them again if and when you come to office, sometime in the next millenium!
As you must surely be aware, Viruddha Paakshikaya, there's nothing else that we can do if the Commissioners refuse an Executive request to relinquish office.
There are procedures to remove them and a Parliamentary Select Committee is the proper procedure - that is the velvet gloved approach of our President Kumaratunga, much in contrast to the iron-fisted tactics of your Presidents Jayewardene and Premadasa.
Viruddha Paakshikaya, you argue saying that the Select Committee will go on and on, but that can happen only if the UNP wishes to dilly-dally - a tactic you are so good at, as proved by the UNP's stance at the Select Committee on Constitutional Reforms.
But if you in the UNP are honestly concerned about getting work done by an efficient Bribery Commission you could support us, and the new Commission could be at work by August; examining - among other things - the credit cards of Minister Mangala Samaraweera, which you want scrutinised so much.
I'm saying so boldly, because we are sure you wouldn't find anything incriminating.
But you don't want this Bribery Commission story to end that way, do you, Viruddha Paakshikaya? Of course not, because, if it does you know you will have to live sadly ever after in the Opposition.
Therefore, what you want to do is to make political capital of this issue while allowing a Commission costing millions of tax-payer's rupees to charge school principals for accepting a few hundred rupees worth of cups and saucers - and eventually discharge them for lack of evidence!
Isn't this a big farce, Viruddha Paakshikaya? We too would have enjoyed this spectacle if not for the fact that it is a national tragedy and that the major Opposition, the UNP, is hell-bent on perpetuating this tragedy for their own political convenience!
Shame, Viruddha Paakshikaya. You owe us all an explanation for this. Can you provide it?